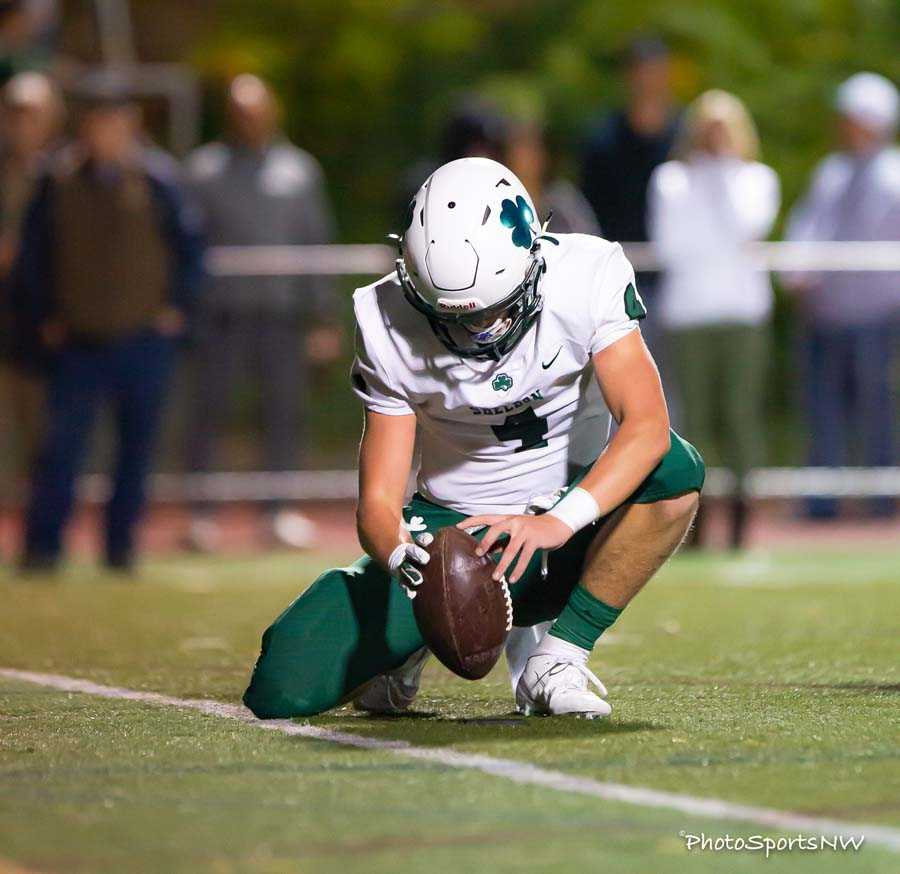 Every Friday night (and one special Thursday), we'll offer you PATs, a few nuggets from the night that was. Be sure to check out Jerry Ulmer's comprehensive Football Notebook, published Sundays, for an in-depth look at all of this week's action from across the state.
Corbett puts on a blanking good show
The Corbett Cardinals had a lot of starters out for their game with Salem Academy, but that did not prevent them from recording their third shutout of the season. Corbett scored on an 87-yard drive in its first possession, then relied on its defense the rest of the way. The Cardinals came up with four turnovers and recorded a safety in the 3A win over the winless Crusaders.
North Bend dogged in win
North Bend / Powers held Springfield to 68 total yards in a 38-7 win, which halted the Bulldogs' two-game losing streak. The victors rushed for 302 yards, with both Divenson Willis and Jake Posey eclipsing the century mark.
Churchill rallies the troops
Churchill got its first win of the 2019 season on Thursday. The Lancers fell behind 7-0 at halftime to North Eugene but scored once in the third and once in the fourth to defeat the Highlanders, 14-7. Deonte Jones rushed for 230 yards on 22 carries with a score to lead Churchill. "Our kids worked extremely hard and put together their best performance of the season," said coach AJ Robinson. "Hopefully we can get back to work and build some positive momentum."
Central Catholic rams Centennial
Central Catholic rushed for 242 yards and connected for five touchdown passes in a 49-0 shutout of Centennial. Jaden Fulsher started at QB for Central and threw scoring strikes to Jordan King, Ethan Flynn and Miles Jackson and two to Kalvin Souders.
Newberg passes on chance to throw in big win
Justin Holton rushed for 212 yards and five TDs and freshman Hudson Davis added 128 yards on the ground and another score in Newberg's 55-21 win on the road versus Century. The Tigers, who had zero passing yards in the game, also blocked a punt for a touchdown, part of LB Conner Crosskrey's big night.
Crater dominates for a whole half
Crater and South Eugene played an exceptional first half, which Crater won, 31-26. Crater also played an exceptional second half, winning 26-0. Add it up and the state third-ranked 5A team came away with a 57-26 win at South Eugene. Bryce Boettcher threw for 224 yards and three scores in the loss for the Axe, including a 99 yarder to senior Jake Trone with two minutes left in the second quarter. South Eugene worked to keep this a competitive game in the second half. The Axe failed to convert twice in the red zone, including at Crater's one-yard line, else this game might have been close for four quarters.
Reynolds picks off win over Scots
A close game that was tied at 14-14 just before half turned into a comfortable 42-20 Reynolds win thanks to four David Douglas interceptions.
A Worsch way to win
Corvallis used five touchdown runs from Izaak Worsch to down McKay, 42-7, for its second win of the season.
***
That's all we have time for tonight. We'll get after it again tomorrow night. Be sure to check out Jerry's report on Sunday!