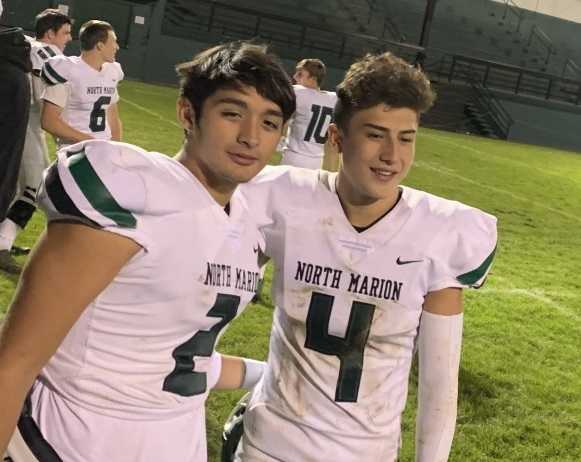 ESTACADA – North Marion put on a dominant performance in a 35-7 win at No. 8 Estacada in a 4A Tri-Valley Conference football game Thursday night.
The victory over the Rangers (4-2, 1-2) allows the Huskies (4-2, 3-0) to keep pace with No. 5 Gladstone (5-1, 3-0) for first place.
"Our plan was to play fundamental football," North Marion coach Calvin Griggs said. "We knew we could match up with them in all aspects of the game. We just wanted to come out and play our game."
The Huskies were effective in shutting down Estacada's run-heavy offense, holding the Rangers to 89 rushing yards and 34 in the air.
"North Marion was blitzing, and their seven-man box was too much for our line," Estacada senior tight end Nate Hagel said.
The Huskies layered their scoring in the first half with five touchdowns. Three of them were on the ground, a 36-yard and one-yard run from junior Tanner Saucedo and a five-yard run from senior Hunter Wierstra.
The others were passes from senior quarterback Sergio Jimenez to Saucedo for a 13-yard score. Senior Brady Hansen contributed with a 30-yard catch from Jimenez as well to seal the Rangers fate.
"Our offensive lineman blocked the best they have blocked all year," Jimenez said. "We know Estacada is a tough team and we came out ready."
Rangers assistant coach Jim Carey said of his team's defensive struggles: "We didn't block, we didn't tackle, and we got outhit. That was a first-half 'Nightmare on Elm Street.'"
The Rangers were finally able to score in the fourth quarter, a 12-yard TD pass form senior Isiah Schaffer to Hagel.
"We had trouble moving the ball all night," Estacada coach Andy Mott said. "It's nice to put some points on the board, but we didn't come out with the intensity we had been practicing with all week."
North Marion moves on to play host to undefeated league rival Gladstone next week in what is likely to determine the winner of the Tri-Valley.