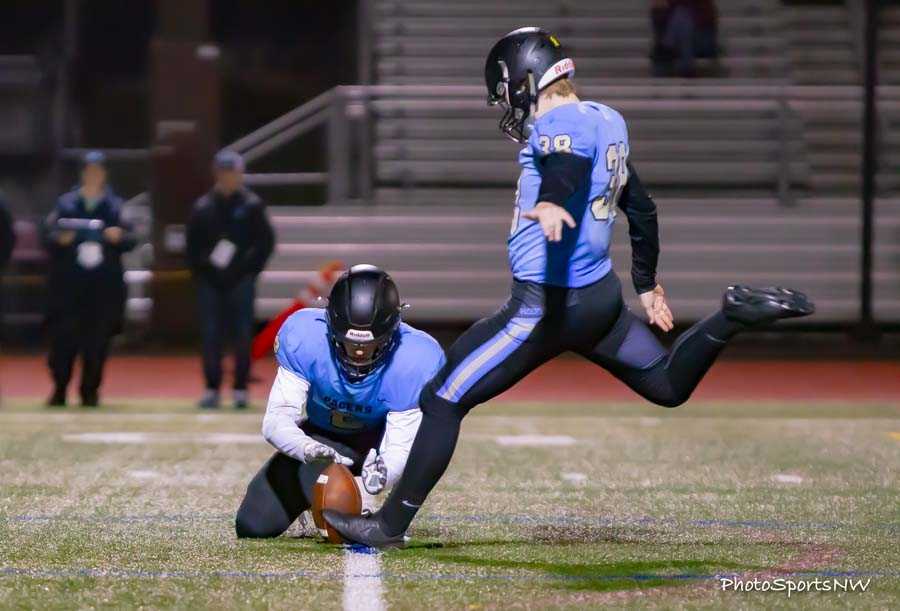 Every Friday night, we'll offer you PATs, a few nuggets from the night that was. Be sure to check out Jerry Ulmer's comprehensive Football Notebook, published Sundays, for an in-depth look at all of Friday's action from across the state.
The Big O
When 4A No. 3 Mazama and 4A No. 4 Marist Catholic met last year, the defense of Mazama prevailed in a low-scoring affair. Tonight, Marist's high-scoring offense carried the day in a 55-21 home win. Spartan QB Max Campbell sparked the win, completing 21 of 26 passes for 313 yards and four TDs. Lucas Tuski caught one of the scoring aerials and also rushed for 115 yards and three more touchdowns.
Sunset Downs Aloha
Sunset scored 30 unanswered points in its 37-14 home win over previously-undefeated Aloha. Caleb Kim rushed for 179 yards and had two short scoring runs for the Apollos, including one that tied the game in the second quarter. Sunset went ahead on a safety to take the lead into the half, then used a scoring run and TD pass from Callum Craig to salt away the win. Sunset the held the high-powered Aloha offense to just 159 yards total. "I couldn't be more proud of our defensive effort," said Sunset head coach Damien Merrick. "The kids bought in to the plan and executed it with great effort and enthusiasm all night."
Keen on Keenan
Keenan Harpole carried 30 times for 287 yards and SEVEN touchdowns in Mountain View's 67-19 thrashing of Southridge. Harpole had five of his TDs in the first half as the Cougars opened a 47-13 lead at the break. Luke Roberts had a big night on both sides of the ball for Mountain View, scoring twice from distance on offense while picking off two passes on the defensive end.
3A Suits Yamhill-Carlton
Yamhill-Carlton had five wins total the last four years in 4A. Moving down to 3A this year, the Tigers have won six times without a loss in 2019. Friday, Y-C got two rushing touchdowns from QB Jamie Garcia and Garcia also tossed a scoring strike to TE Trey Richmond in its 28-20 win over Scio.
Worse President, Better Team
Monroe, No. 5 in 2A, shook off a body blow when winless Jefferson returned the opening kickoff for a touchdown by scoring four touchdowns in its first eight plays on its way to a decisive 54-21 win. Zach Young carried the ball just seven times but did major damage, picking up 300 yards and finding the end zone five times. Dylan Irwin led the Monroe defense. Jefferson scored twice in the fourth on scoring tosses from Isaac Deleon to Zach Wustig.
Thurston Spreads the Wealth
Seven different players scored for 5A No. 1 Thurston in its 60-20 win over Redmond. Colt QB Caleb Crist finished 15-of-22 for over 200 yards and four TDs. Austin Carter had a touchdown pass and also returned a kickoff for a touchdown in the loss for Redmond.
38 Special
2A No. 1 Heppner put 38 points on the board in the first quarter on its way to a 50-0 win over Irrigon. Brock Hisler ran for 113 yard and two TDs and Jayden Wilson threw for two and ran for another in the Mustang win.
PAT Not Necessary
This column is entitled "PATs: Points After Friday Night Football" but none was needed in the Lake Oswego/West Linn game, as Casey Filkins scored on a short run as time expired to give the defending 6A champion Lakers the 20-17 win. I'm not gonna lie…this one's going to hurt from the West Linn perspective. But hat's off to LO. The Lakers made the plays they needed to make in winning time.
***
That's all we have time for tonight…Be sure to check out Jerry's report on Sunday!