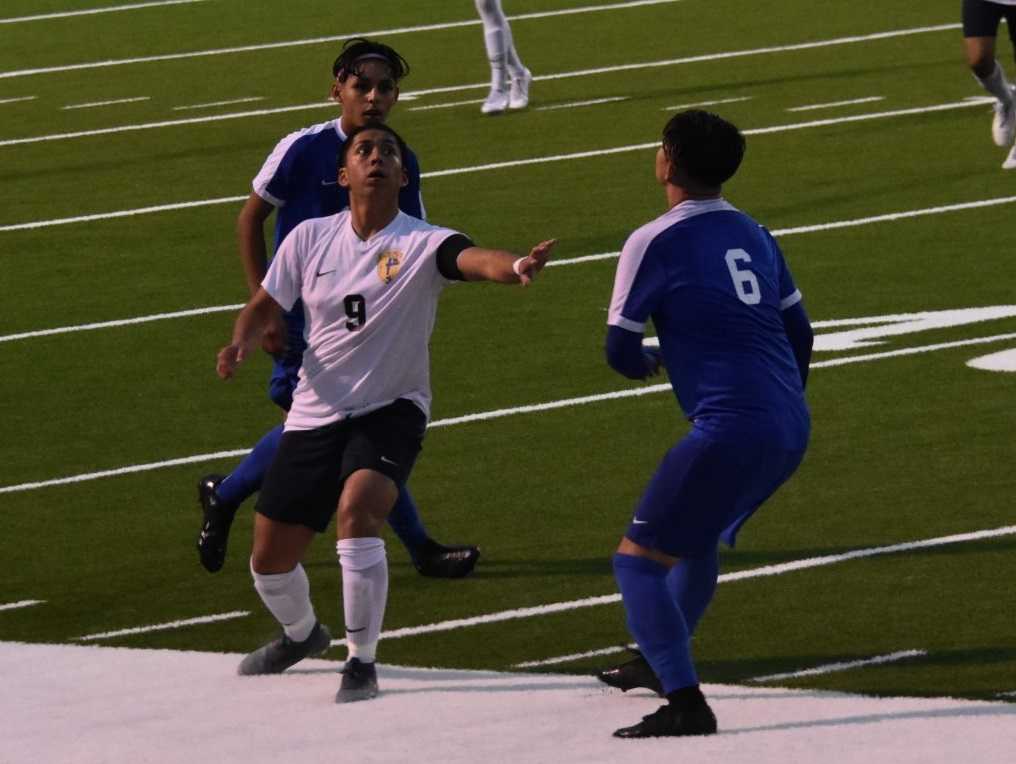 WOODBURN – Stayton continues to have Woodburn's number in boys soccer.
Omar Renteria scored in the 10th minute as the Eagles, ranked No. 1 in the OSAAtoday 4A coaches poll, beat the reigning state champion Bulldogs 1-0 on Thursday in a key Oregon West Conference match.
Stayton (10-2, 9-1), which also defeated Woodburn 2-0 on Sept. 19, stands alone in first place ahead of the No. 2 Bulldogs (8-2-1, 7-2) and Cascade (8-2, 7-2).
Stayton can wrap up the outright conference title by winning its last two matches, Tuesday at Sisters (1-10, 1-9) and Oct. 29 at home against Cascade. The Eagles lost at Cascade 1-0 in the first round of conference play.
"We've got to practice hard all next week. We've only got one game before Cascade comes to town," Stayton defender Nolan Cramer said. "We don't play anywhere better than on that turf, and we've just got to show it. … They feel like they've got our number and we've just got to show them they don't."
Stayton certainly has had its way with Woodburn the last two seasons. Since the Bulldogs moved down from 5A, where they won state titles in 2016 and 2017, all three of their losses have come against Stayton. They are 1-3 against the Eagles and 24-0-1 against everyone else.
Woodburn was eager to get even with the Eagles on Thursday at home, where it hasn't lost since 2015, an unbeaten streak of 40 matches.
But Renteria got the Eagles on the board early with a blooper putback in a cluster inside the box. Stayton coach Chris Shields said it was an "act of God" that the ball dipped under the crossbar and found the net.
"It didn't look like it was going to go in from anywhere from over here, and all of a sudden it swoops on down," Shields said. "It probably should have been a 0-0 game."
Woodburn's best chance came after a Stayton handball gave the Bulldogs a penalty kick in the 22nd minute. But Stayton goalkeeper Ivan Pelayo saved the shot by Diego Amezcua.
In a blustery downpour, the Eagles dug in on defense to preserve the lead. Renteria and Jayden Esparza played out top to take advantage of any potential run-outs.
"We want to be able to counterattack. We want to be able to sit back defensively and let them have that possession," Shields said. "They're a really good possession team and we want to counter that. We had opportunities, we didn't capitalize on those."
-- Jeremy McDonald
Other key games Thursday:
Damascus Christian 6, Crosshill Christian 2: Keon Miller and Micah Colburn each scored twice as Damascus Christian (13-0, 10-0) defeated Crosshill Christian (12-1-1, 8-1-1) to win the 3A/2A/1A Special District 7 title in a battle of unbeaten teams.
Miller put Damascus Christian ahead 2-0 in the first 10 minutes by scoring off assists from Carter Clear and Grae Miller. Colburn converted a pass from Grae Miller to make it 3-0 midway through the first half.
Crosshill Christian cut it to 3-1 early in the second half when Obed Hernandez scored off a corner kick, but Damascus Christian quickly answered when Nathan Bogdan headed in a corner kick from Keon Miller for a 4-1 lead.
Colburn scored to extend the lead to 5-1, and after Crosshill Christian's Kruse Withan made it 5-2, Damascus Christian's Zach Nelson turned a pass from Maksim Leontiy into a goal for a 6-2 lead.
Phoenix 4, Hidden Valley 1: Victor Martinez scored four goals as the Pirates (8-1-2, 6-0-1) strengthened their hold on first place in the 4A Skyline Conference with the home win over the Mustangs (8-2-1, 4-2-1).
Martinez converted assists from Ty Clayton, Caden Gallegos, Miguel Conches and Randy Rodriguez. He scored in the 40th and 42nd minutes for a 2-0 lead, and after Hidden Valley made it 2-1, he added goals in the 50th and 60th minutes.
Center backs Dan Martinez and Logan Jenkins were key in shutting down Hidden Valley's aggressive attack.
Liberty 2, Forest Grove 0: Visiting Liberty (10-1-1, 3-0-1) moved into first place in the 6A Pacific Conference by blanking the Vikings (8-2-1, 2-1).
Chris Miller scored off an assist from Omario Stewart in the 25th minute to put Liberty ahead. The Falcons fought off a strong attack by Forest Grove early in the second half, then made it 2-0 in the 60th minute when Ivan Orozco converted a cross by Stewart, sending a spinning ball into the lower corner.
La Salle Prep 1, Wilsonville 0: The Falcons (9-0-1, 3-0) took sole possession of first place in the 5A Northwest Oregon Conference by going on the road to beat Wilsonville (5-3-3, 2-1).
Luke Strange put away a penalty kick in the 68th minute for the game's lone goal. The Falcons got the chance when midfielder Wade Nichols was fouled in the box.
Wilsonville's best opportunity came in the first half when a header by Joey Friedman appeared headed into the goal, but the Falcons cleared the ball off the goal line.
Ridgeview 1, Hood River Valley 0: The Ravens (8-1, 5-1) pulled even with the Eagles (6-3-2, 5-1) atop the 5A Intermountain Conference with the home win, avenging a 3-0 loss at Hood River Valley on Sept. 26.
The game was scoreless until the 65th minute, when Ridgeview's Tristan Glass found the net. Hood River Valley pressed Ridgeview's defense late, getting two good looks from Fabian Magana, but could not get the equalizer.