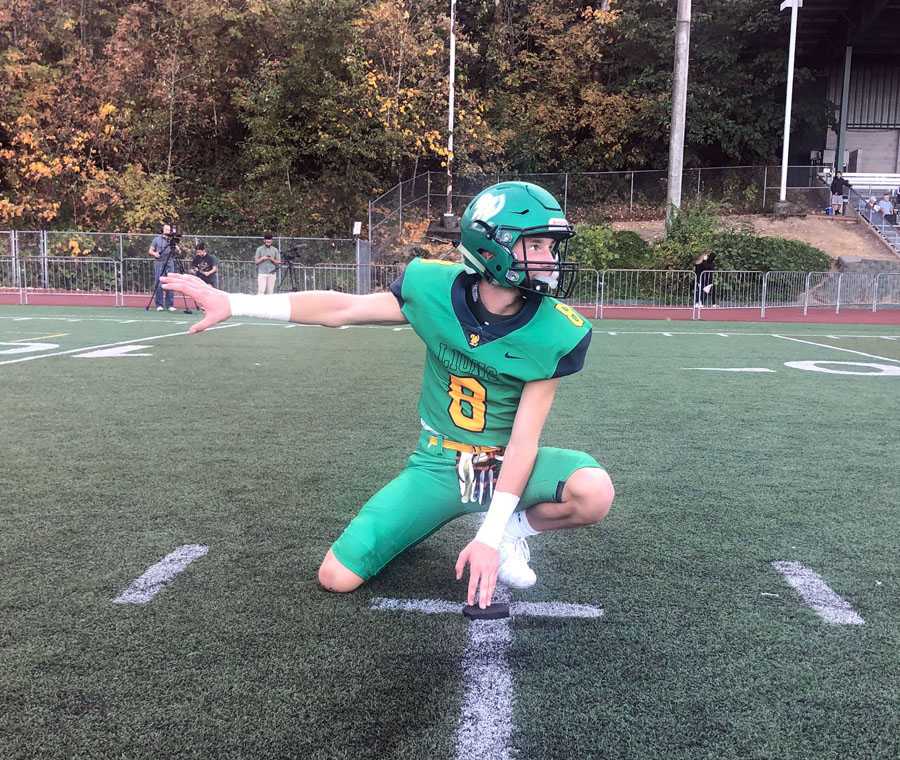 Every Friday night, we'll offer you PATs, a few nuggets from the night that was. Be sure to check out Jerry Ulmer's comprehensive Football Notebook, published Sundays, for an in-depth look at all of Friday's action from across the state.
Eagle Point Cannot Keep Up With Jones
Deonte Jones rushed for 326 yards on 34 carries with three touchdowns and Dylan Carson added 128 yards on the ground and two scores in Churchill's 44-13 win over Eagle Point. Carson also threw a TD pass to Orion Osborn and Simon Dexter connected on a 44-yard field goal for the Lancers, who have now won two in a row after an 0-5 start. "We are getting better each week," said coach AJ Robinson. "Our kids have bought in and are playing together."
Tuski's Night Trunk-ated in Marist Catholic Win
Lucas Tuski scored three times on just seven touches, Lucas Patterson returned a punt for a score, Hagan Stephenson took a kick to the house and Kenny Weber had three of the team's seven sacks in Marist Catholic's dominating 49-14 win over Junction City.
Jesuit Possessed in Southridge Win
Rommel Moreland was scintillating in an opening drive for Southridge but Jesuit could not be stopped. The Crusaders answered with a scoring drive of their own scored six more touchdowns, one for each possession, before Moreland scored again for the Skyhawks in the third quarter. Ted Atkinson finished with more than 300 yards rushing and seven touchdowns for Jesuit, which scored on each of its nine possessions in the 63-12 win.
Sherwood Grounds Newberg
Sherwood has dominated Newberg since making the move to 6A and tonight was no different. The Bowmen used a dominating run game to lead start to finish in the 35-14 road win. Clay Peden and Brody Stevens each gained more than 100 yards and fullback Lucas Voss had two rushing touchdowns as well as a 70-yard reception to lead Sherwood's offense. On defense, junior backer Bryan Cuthbertson recorded 11 tackles and has already set the school single-season standard.
Tonight's West Linn Star? Lions' Line I Ain't Lyin
Gavin Haines rushed for 236 yards and scored three touchdowns, including jaunts untouched from 80 and 54 yards, as West Linn knocked off previously-unbeaten Tualatin, 34-20, on the road. Linemen Ryan Seth, Luke Popma, Tucker Parrish, Kyle Dramov and Darren Wiancko, with help from tight ends Mitchell Duea and Damiko Tidmore Jr., helped the Lions win at the point of attack. Ethan Coleman threw two TD passes, both to Casey Tawa, including one from 93 yards one play after Tualatin had pulled within 21-20 midway through the third quarter. Kainoa Sayre had over 100 yards rushing for the Timberwolves, who were outgained 499-262 on the night.
Dominating Wins Just Part of Monroe Doctrine
Monroe jumped to a 29-0 lead after one and 49-0 lead at the half in a 49-8 win over Central Linn. Brody Ballard was effective in the ground and through the air and accounted for 194 yards of total offense and three touchdowns. Zach Young chipped in with 246 yards rushing and three scores on just seven totes. On defense, Austin Teran and Dylan Irwin combined for 21 tackles.
Flip to Wilson the Difference in Aloha's Win
Mountainside led Aloha, 16-14, after three quarters, but a two-yard TD toss from Timothy Dennis Jr. to Regan Wilson early in the fourth gave the Warriors the lead in Aloha's 22-16 win.
Lebanon Extends Olive Branch in Rout
Lebanon piled up 412 yards on the ground, led by Keith Brown's 176 yards and four TDs; and Gatlyn Anderson led a defense that yielded just over 100 yards of total offense in the Warriors' complete game win over South Albany, 63-12.
Heppner's 52 Picks Up Win
Kason Cimmiyotti had two interceptions in undefeated Heppner's 52-0 blanking of Weston-McEwen.
Colts' Win Is a Snap
5A No. 1 Thurston snapped Willamette's four-game winning streak with a 63-7 win on the road. Wes Kommer ran for 160 yards and four touchdowns in the win for the defending state champs. Cade Crist added three TD tosses.
La Salle Finds the Room to Win
Ryan Rosumny threw four touchdowns, two to Riley Peterson; and ran for a fifth in La Salle Catholic's 49-14 win over Milwaukie / Milwaukie Academy of the Arts.
Central Catholic Ram Tough
Silas Starr eclipsed 100 yards receiving, Miles Jackson and Zach Grisham both ran for 100 yards and Cade Knighton had a short but extremely efficient night (15-17 for 268 and three) in Central Catholic's 63-17 home win over Sandy.
Grizzlies Can't Get Over the Hump
Ashland was 6-0 for the first time since 2014 and had routed everyone leading up to tonight's game versus 5-1 Crater. But the Comets were out of this world on the road and won, 48-13, behind the stellar play of QB Trever Davis.
Defense Continues to Impress for West Albany
West Albany now has given up 29 points, TOTAL, through seven games after the Bulldogs' 49-7 won over Corvallis.
A Win Not in the Cards for Lincoln
Jefferson rushed for 432 yards in an impressive 50-18 win over Lincoln. Damir Collins collected 241 yards on the ground and three touchdowns and added an 82-yard kickoff return for the score for the Democrats, who got another 179 rushing yards combined from DJ Jamison and Dondrae Fair. Tre Anderson and Malachi Spinks were defensive standouts.
Beaverton Eager for Victory
Carson Budke threw four touchdown passes and Trent Walker and Patrick McKenna were scoring stars in Beaverton's 48-34 win over Sunset.
***
That's all we have time for tonight…Be sure to check out Jerry's report on Sunday!