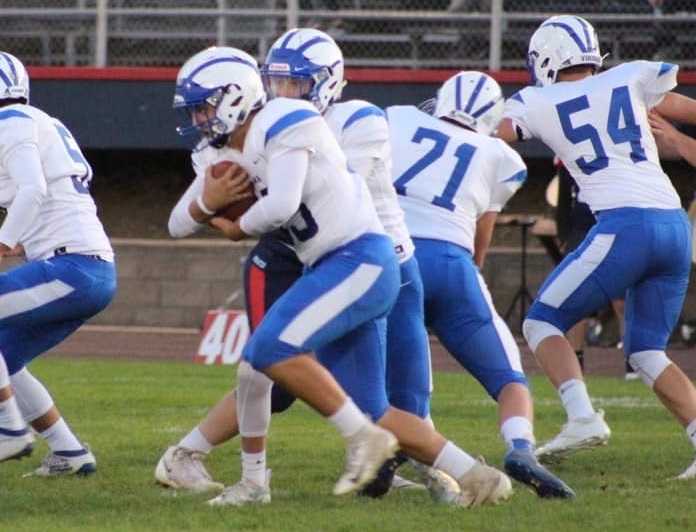 The championship of 4A Skyline Conference football came down to one play Friday night when No. 4 Mazama played host to No. 5 Henley, its crosstown rival.
Facing fourth-and-goal at the half-yard line, and trailing by three points in the waning seconds, Mazama could have played it safe, attempted a field goal and taken its chances in overtime.
But Vikings coach Vic Lease, despite not having the services of standout fullback Charlie Baker, decided to let it all ride on one final play.
"We went for it," Lease said. "I have total confidence in these boys. There was no quit in them at all. They just have grit."
Junior fullback Jason Ortega, pressed into duty when Baker aggravated an ankle injury on the final drive, followed the blocking of junior left tackle Dominic Hankins and dove for the goal line. As Ortega landed, the ball squirted loose, but officials ruled that he had broken the plane for a touchdown with 11 seconds left.
The Vikings (7-1, 4-0) won 14-10 over the much-improved Hornets (7-1, 3-1) to give them their sixth consecutive Skyline title. And the way the season has gone for Mazama, it was fitting that a backup scored the winning touchdown.
"We've lost some very good players and we've been able to do this," Lease said. "Our mantra has been, 'Next guy up.'"
In their first two games, the Vikings lost three all-conference players to injuries. Senior quarterback Nate Beck was lost for the season with a torn ACL and senior linebacker Cooper Hamilton and junior defensive back Cole Brosterhous suffered broken collarbones.
Mazama has remained competitive behind a defense that has posted four shutouts. Senior inside linebackers Ben Hoegee and Cadence Baltz have led the way.
"There is no better combo of linebackers, in my opinion," Lease said. "They flat-out get after it. They're physical and they read really well."
Lease said his offense has not played well in the last month, and Friday night the Vikings fumbled five times, losing four. But they managed to drive 84 yards in the last six minutes to pull it out, even though Baker – who rushed for 203 yards on 38 carries – had to leave the game.
"The kids just persevered," Lease said.
Streaks halted
Two long losing streaks came to an end Friday with home wins by 6A Canby (1-7) and 4A Junction City (1-7), teams that hadn't tasted victory since 2017.
Canby won 35-28 over Oregon City (2-6) in a Three Rivers League game to end its streak at 22 games. Junction City dispatched winless Cottage Grove 36-22 for its first win after 15 consecutive defeats.
Canby got a big game from junior Chance Miller, who ran for 103 yards and two touchdowns and had 165 receiving yards, including one score. After coming within seven points in three games this season, the Cougars got their first win since beating Newberg 34-27 in the third game of the 2017 season.
"It means a lot," first-year Canby coach Jimmy Joyce said. "Some of these kids hadn't won a game in their high school career. That's huge for a town like Canby that takes so much pride in its football. It's been down, but I think the kids, fans, students, everyone has seen the progress the team has made. It's a big monkey off the back."
Joyce scrapped the wing-T offense, which helped the Cougars reach the semifinals six times since 1983, in favor of the spread. Progress has been steady, even if it has been obscured by a rugged schedule.
Canby has promising building blocks such as Miller and sophomore quarterback Michael Gibson, who took over as the starter four games ago and has thrown 11 touchdown passes.
"We have a lot of young talent," Joyce said. "We bring back two-thirds of our team next year. We rotate about 10 linemen, and we only lose two. Most of them are sophomores."
Junction City controlled the game against Cottage Grove as the offense, which had scored 53 points all season, exploded for 36 points in the team's last game.
Junior quarterback Riley Sangermano completed 19 of 23 passes for 200 yards and four touchdowns. Senior Tanner Gibson rushed for 120 yards, the team's first 100-yard rusher of the season. And senior Estifanos Gerdes caught seven passes for 138 yards and one score.
"It's been a long two years," said Richard Milne, Junction City's coach since 2013. "There were tears of relief on a couple of those guys. They were kind of overwhelmed by the end of the game."
The win was particularly sweet for Gibson and Gerdes, two-way starters and leaders of a 10-member senior class.
"They were the two guys that were losing it after the game," Milne said. "They were making plays all over the place. Leadership-wise, they've just been phenomenal."
The Tigers had to forfeit a game last season because they didn't have enough players. With 30 sophomores and 15 juniors in the program this year, though, things are looking up.
"We just had two classes back-to-back that were really small classes," Milne said. "It's tough. Last year we had a freshman starting on varsity. This is a turning point. We have a lot of young guys. We've kind of swung."
Maverick progress
Senior night ceremonies had deeper meaning for 6A Mountainside prior to the team's 38-8 win over Westview on Friday.
The 22 seniors represent the first class of players to go through the program. They were sophomores when the school opened in 2017 and were part of the first varsity season in 2018, when the Mavericks went 3-6.
"Having to be leaders from when the school opened, we kind of treated them like seniors from Day One," coach John Mannion said. "We've had a high standard for them. Our whole senior class has been phenomenal. It's a bunch of different kind of leaders."
Among the seniors, Mannion said, receivers Yule Schrock and Carlos Mentero lead by example, tight end Jonah Amaya is a vocal leader and running backs Aiden Pacino and Logan Verplanke show the way with their physical, hard-nosed style.
It's part of why the Mavericks are 5-3 and headed toward their first playoff appearance.
"We know we have a long way to go," Mannion said. "There's a lot of season left here now, but also just as a program to continue to develop. We're still learning. We've been competitive with everybody."
The Mavericks bounced back from losing to Beaverton 21-14 and Aloha 22-16 by dominating Westview. Sophomore quarterback Brian Mannion – the coach's son and the brother of NFL quarterback Sean Mannion – made his first varsity start and threw three touchdown passes, two to Montero.
"He played a good game," John Mannion said of Brian, who is 12 years younger than Sean. "He's been working awfully hard at it."
The regular starter at quarterback, junior Justin Hughes, spent much of the game at receiver, catching a touchdown pass. John Mannion said that the versatile Hughes, also a playmaker at defensive back, is "a backbone of our team. He's a real dynamic player."
Mountainside also is getting standout play from senior defensive lineman Jontae Allen (13 sacks), the son of former Oregon State linebacker James Allen, and junior running back EJ Broussard, who has rushed for 700 yards and 13 touchdowns and has seven sacks at linebacker.
"He's a guy we're super excited about," the coach said of Broussard, who did not play Friday after injuring his shoulder against Aloha but is hopeful to return soon.
Banking on line
Graduation stripped reigning 4A champion Banks of a quarterback who threw 34 touchdown passes (Hayden Vandehey) and two receivers who combined for 24 of those scores (Blake Markham, Blake Gobel).
Yet, after beating Molalla 45-6 in the regular-season finale Friday, the Braves find themselves 8-0 and holding the top seed to the state playoffs. Forgive coach Cole Linehan for not being too surprised.
"I'm a line guy, so knowing you have your whole offensive line and defensive line back, you knew you had a chance," Linehan said. "I'm encouraged by the way the kids have played all year.
"They found their own identity. Even winning it last year, the kids just have a chip on their shoulder like they always do. They just want to prove who they are."
It all starts up front. Banks has a fourth-year starter in left tackle Walker Copley and three third-year starters in center Andrew Nichols, left guard Risdon White and right guard Luis Rascon. Junior right tackle Tyler Exline went down with a season-ending injury two weeks ago and was replaced by junior Cade Buchanon.
"That's a lot of experience. That's a lot of football," Linehan said. "They've played in a lot of big games."
Senior Tanner Shook, Vandehey's backup, has thrown for 1,605 yards and 16 touchdowns, often targeting seniors Jarred Evans (42 catches, 668 yards, nine touchdowns) and Jacob Slifka (35 catches, 657 yards, eight touchdowns). Senior Martial Stegemeir has rushed for 544 yards and 10 scores.
"Going into the season, we thought we were going to have to grind it out, run the football," Linehan said. "But we've found guys like Jarred Evans and Slifka. They spread the field really well. But we can also pound the rock, which is fun."
The defense has held opponents to 72 points all season. White and Copley have been stout up front, Evans and Slifka have been solid at cornerback, senior Gabe Streblow has been a force at safety and senior middle linebacker Bryson Cook is "the best linebacker I've seen in 4A," according to Linehan.
"Defensively, we were good last year, but I don't know if we were as good as we are this year," Linehan said. "That is surprising to me just because of the kids that we lost."
Impromptu 8-man
Stanfield and Riverside – 11-man teams that play in 2A Special District 6 -- took the unusual step of playing an eight-man game Friday night.
Riverside (0-8, 0-4), depleted due to injuries, was set to forfeit the 11-man game to Stanfield (5-2, 2-1) before the schools agreed to change the rules. Host Stanfield won 44-14.
"Honestly, we probably would've cancelled it, because it did us no good," Stanfield coach David Salas said. "But it was senior night, and it was our homecoming night, so that kind of became bigger than the game."
Salas said the game wasn't ideal preparation for Stanfield, which will finish the regular season with a big game against No. 1 Heppner (8-0, 3-0).
"It was a pretty big week, so we were more focused on 11-man as opposed to teaching something we'd never play again," Salas said. "It was just kind of one of those things where you do the best for the kids."
A glance at Week 8 highlights from across the state:
6A
Aloha rallied from a 26-14 halftime deficit with three consecutive touchdowns and held on to defeat North Medford 35-33. Timmy Dennis Jr. threw four touchdown passes for Aloha. … Sprague forced an incomplete pass from its own five-yard line on the game's final play to beat Mountain View 35-28. Carson Vankenpen had two touchdown catches for the Olympians. Keenan Harpole rushed for 185 yards for Mountain View. … Price Pothier rushed for 109 yards and two touchdowns and Gabe Ramos had two interceptions in Newberg's 21-0 win over McMinnville. … Griffin Line completed 24 of 35 passes for 426 yards and two touchdowns as Sheldon blitzed Roseburg 44-14. … Logan Going completed 7 of 11 passes for 207 yards and two touchdowns as Grant beat Franklin 51-7. … Kainoa Sayre rushed for 131 yards and three touchdowns to lift Tualatin over Lake Oswego 34-8. … Eight different players scored for Sherwood in a 56-7 rout of Liberty …. Clackamas took advantage of four turnovers to subdue David Douglas 56-30. Clackamas' Austin Atkeson threw three touchdown passes, two to Richard Kennewell, who had five catches for 116 yards. Jermaine Robinson had three touchdown catches in defeat. … Beaverton led 42-0 at half in a 49-14 win over Southridge. Cody Davidson caught 11 passes for 225 yards and four touchdowns for the Beavers. … Kade Wisher rushed for 304 yards and three touchdowns as Jesuit defeated Sunset 49-26. Campbell Brandt had his ninth interception and returned a punt for a score for the Crusaders. … Josh Burns rushed for 171 yards and three touchdowns and caught a scoring pass to propel Tigard past West Linn 42-21. … McNary took over first place in the Mountain Valley Conference with a 27-23 home win over West Salem. The Celtics took the lead with 1:07 left on a 65-yard touchdown pass from Erik Barker to Junior Nunez. … Cade Knighton threw touchdown passes to Silas Starr and Jordan King in Central Catholic's 53-14 win over Barlow. … Bend defeated Lakeridge 34-33 behind Nate Denney, who rushed for 345 yards and four touchdowns on 38 carries.
5A
Crater led 49-0 at half on its way to a 56-0 win over Eagle Point. Gavin Acrey ran for two touchdowns and returned a punt 83 yards for a score. … Ashland beat North Eugene 35-7 as Rieger Sayre ran for a touchdown and threw for three scores, two to Nathan Carter. … Unbeaten Thurston scored all of its points in the first half of a 49-0 win over Springfield. Cade Crist threw two touchdown passes and ran for three scores. The Colts had a 422-0 edge in yards. … North Bend blasted Ridgeview 72-0 as Divenson Willis ran for three touchdowns and Ian Spalding ran for two scores and caught a touchdown pass. … Lebanon led 21-0 at half and defeated Crescent Valley 35-22, spoiling the Raiders' debut on their new home field. … Corvallis got a six-yard touchdown run from Isaak Worsch with 50 seconds left to top Central 28-21. … West Albany buried Dallas 56-7 as Porter Phillips rushed for 164 yards and three touchdowns and returned an interception 79 yards for a score. Connor Wolfe caught five passes for 186 yards and two touchdowns for the Bulldogs. … Wilsonville rolled over Wilson 62-26 as Payton Dart caught four passes for 69 yards and two touchdowns and returned a kickoff 90 yards for a score. … Parkrose extended its winning streak to five by beating La Salle Prep 41-16. Jay Jay Hudson and Taydrian Jackson combined to rush for 272 yards and four touchdowns. ... Deonte Jones rushed for 233 yards and three touchdowns as Churchill defeated South Eugene 26-14, the Lancers' third consecutive win after starting the season 0-5.
4A
North Valley stopped a two-point conversion after Phoenix scored a touchdown on the game's final play – a 28-yard pass from Zach Dungey to Trystan Norris -- to hold on for a 43-42 win. Drew Hansen ran for three touchdowns for North Valley. … Marist Catholic won the Sky-Em League title by beating Marshfield 27-21 behind Max Campbell, who threw four touchdown passes, two each to Dylan Martin and Michael Lee. … Estacada turned back Crook County 38-13 as Isaiah Schaffer ran for two touchdowns and had an interception. … Seaside held Tillamook to two first downs and zero total yards to win 18-0. Brayden Johnson rushed for 96 yards for Seaside. … North Marion edged The Dalles 21-20, getting the go-ahead score on a touchdown pass from Sergio Jimenez to Tanner Saucedo. … Gladstone overran Woodburn 51-13 as Mason Scheehean ran for three touchdowns and caught a scoring pass. … Valley Catholic defeated Astoria 32-29. Trey Eberhart ran for three touchdowns and tossed a scoring pass for the Valiants. ... Cascade rushed for 358 yards, getting 181 from Joe Baxter, in beating Philomath 64-13.
3A
Kiegan Schaan passed for four touchdowns, two to Kristian Fralich, to lead Cascade Christian past Brookings-Harbor 49-0. Fralich had a 74-yard punt return for a score. … Aliiloa Kaeo-Wailehua returned from missing a game with an injury to complete 15 of 17 passes for 287 yards and three touchdowns, run for a score and return a punt 55 yards for a touchdown, leading St. Mary's past South Umpqua 58-20. … Siuslaw blanked La Pine 32-0 behind Elijah Blankenship, who passed for 215 yards and two touchdowns and ran for 101 yards and two scores. Brayton Thornton had three interceptions for Siuslaw. … Sam Vidlak threw for six touchdowns to lead Hidden Valley past Douglas 62-6. … Josh Davis and Jake Merrifield each rushed for more than 100 yards in Sutherlin's 54-21 win over Pleasant Hill. … Santiam Christian amassed 520 yards to turn back Harrisburg 43-22. Ely Kennel threw three touchdown passes and Marcus Fullbright rushed for 206 yards for the Eagles. … Clatskanie took over first place in Special District 1 by rolling over Amity 42-6 as Cedrix Moses rushed for 147 yards and three touchdowns and James Helmen threw for 251 yards and three scores. … Vale cruised past Umatilla 49-7 as Keegan Mizuta rushed for 175 yards and four touchdowns.
2A
Jayden Wilson threw three touchdown passes and ran for two scores to lead Heppner past Grant Union 41-18. … Weston-McEwen routed Portland Christian 37-7 as Blane Peal threw two touchdown passes and ran for a score. … Monroe took over first place in the Central Valley Conference by racing to a 41-0 lead at half in a 48-0 win over Oakland. Dylan Irwin rushed for 196 yards and four touchdowns on 13 carries. … Jefferson got a fumble return for a touchdown from Isaac Deleon and an interception return for a score from Xander Koslow in a 28-8 win over Central Linn. Zach Wusstig rushed for 205 yards for Jefferson. … Kennedy held Culver to 80 total yards in a 40-6 win. Bruce Beyer ran for a touchdown and caught a scoring pass for the Trojans. … Coquille throttled Gold Beach 45-8 as Gunner Yates ran for touchdowns of 58 and 45 yards and returned an interception 90 yards for a score. … Sean White and Reef Berry returned interceptions for touchdowns and Wyatt Dyer had a kickoff return for a score in Bandon's 56-6 win over Reedsport.
1A
Days Creek's Gerritt Wentland completed all nine of his passes for 142 yards and five touchdowns, three to Cade Martin, and ran for a score in a 46-20 win over Butte Falls. … Powder Valley handed Pilot Rock/Nixyaawii its first loss, winning 48-36 as Reece Dixon passed for 251 yards and ran for 250 yards. Tanner Corwin passed for 324 yards and four touchdowns, three to Logan Weinke, for Pilot Rock, which led 36-26 in the third quarter. … Justin Jenks ran for three touchdowns and threw for a score as Riddle ended a four-game losing streak by beating Myrtle Point 50-26. … North Douglas' Wyatt McDaniel rushed for 220 yards and two touchdowns and caught a 33-yard scoring pass to lead his team past Mapleton 36-20. … Yoncalla dropped Elkton 51-6 behind Jordan Aguilar, who rushed for 241 yards and four touchdowns on 16 carries. … Camas Valley led 60-0 after the first quarter – running 12 plays – on its way to beating Glendale 68-22. … Brian Lemon caught three touchdown passes in Lowell's 52-26 win over Oakridge. … Hosanna Christian blanked Bonanza 58-0, led by Spencer Crawford, who threw for 212 yards and five touchdowns, four to Will Maupin. ... St. Paul led 46-0 after the first quarter and won 66-0 over Falls City. MItchell Curtis and Bryce Williams returned interceptions for touchdowns for the Buckaroos.