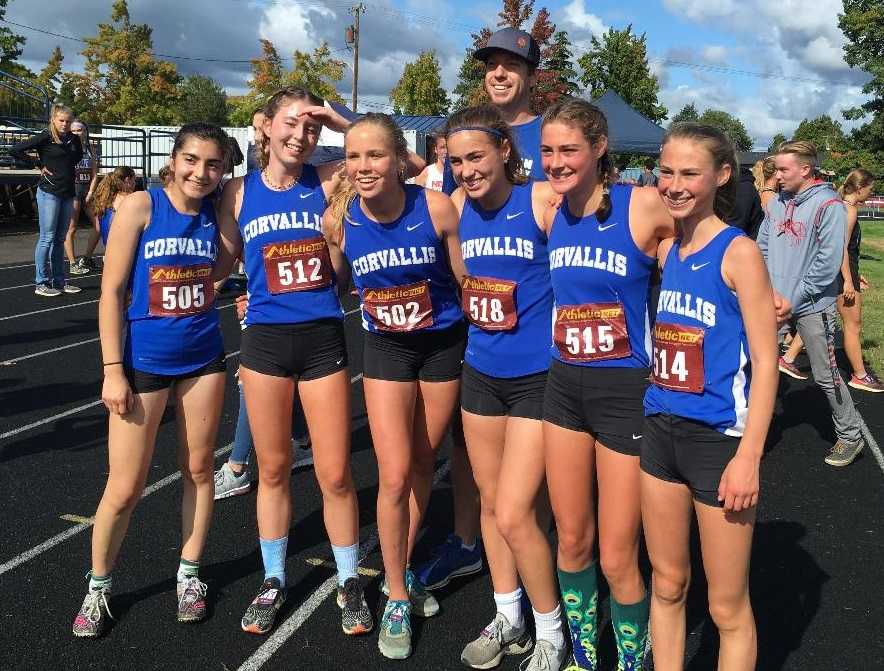 Corvallis has never won a team championship in girls cross country, but that could change, now or in the near future, with the talent assembled in the program.
The Spartans hold a slim lead atop the most recent OSAAtoday 5A coaches poll and will compete in a loaded Mid-Willamette Conference meet next Saturday at Crystal Lake Sports Park in Corvallis.
Corvallis' top six runners consist of three sophomores and three freshmen.
"It's a solid group that is very tight with each other," Corvallis assistant coach Scott Gatherum said. "They all have strong, unique qualities."
Up front is sophomore Madeline Nason, who won a sprint finish against Wilsonville's Samantha Prusse to win the Harrier Classic on Oct. 5 in Albany with a personal best 5,000-meter time of 18:12.5.
Nason finished 10th at the PDXC Oregon State Middle School Championship as an eighth grader at Linus Pauling and made a big improvement as a freshman at CHS. She finished third in last year's 5A girls state final. Then, last spring, she rose to No. 3 on the school's all-time list in the 3,000 meters.
"One thing about Maddie is that she never met a challenge yet that she's backed down to," Gatherum said. "Whether it's a practice, a race, or she's cheering on her teammates, she's into it 100 percent."
Nason is running about 45 seconds faster than a pack of teammates that includes freshmen Ava Betts, her younger sister, Avery Nason, and Ronja Soares, and sophomores Vivienne McFarland Price and Kaia Anspacher.
Soares moved to distance running from soccer.
"Ronja was a surprise," Gatherum said. "She has been a great addition to the team with her energy and her commitment."
Her addition, plus that of the new freshmen, caused a shift in the culture of the team.
"We didn't know exactly how it'd all come together earlier in the summer, but by August we saw the makings of it," Gatherum said. "Regardless of where they place this year, this group has a couple of years to run and train together and we can already see it strengthening the program as a whole. It's helping our JV runners and our boys, too."
Corvallis finished ahead of North Salem by 32 points at the Warner Pacific XC Classic in Portland on Oct. 19. The Vikings are another team looking to unseat the defending champions from Hood River Valley in the 5A girls final, Nov. 9 at Lane Community College.
Corvallis will meet North Salem in the Mid-Willamette Conference meet, and probably again at state.
In the meantime, this team will attempt to grow and get better with every workout. The seventh and eighth runners on the team, seniors Olivia Dever and Allyson Bomber, offer leadership and experience to their young teammates.
"Our 7-8 runners have been leaders in a way that's not traditional," Gatherum said. "They've helped the girls to be mature in their approach to racing. They've helped the younger girls learn the ropes and what it feels like to step up and not panic."
Corvallis finished sixth in last year's state meet, one spot behind cross-town rival Crescent Valley, which also has a strong team.
The Spartans' highest finishing girls team finished second to Summit in 2012.
Corvallis' most successful cross country era came more than 50 years ago when the boys won three in a row from 1965-67.
Doug Binder is the editor of DyeStat.com