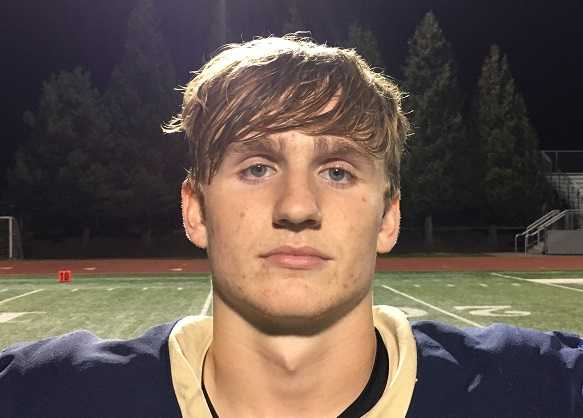 HILLSBORO -- Maybe it's time for everybody to pay serious attention to Liberty.
The unranked Falcons improved to 3-0 on Friday night with their most impressive performance of the season, a wire-to-wire 38-20 home win over No. 9 South Medford, last year's 6A runner-up. Liberty bolted to a 17-0 lead and extended its edge to 38-7 in the third quarter in handing the Panthers (2-1) their first defeat.
"We don't want to be overlooked," Liberty senior quarterback Bradley Norman said. "We want to be taken seriously as a program. We're hoping to put Liberty on the map."
The convincing nonleague win over South Medford -- following victories against Sprague and Beaverton -- is certain to get noticed.
"This win kind of solidifies that we're good," senior running back Cole Smith said. "It makes us feel that we're good."
The 6-foot-2, 185-pound Norman, a third-year starter, was in command of the team's pistol offense. He ran for 104 yards and a touchdown and passed for 96 yards and two scores, both to Smith.
Liberty's defense forced four turnovers, getting interceptions from junior Marquis Brown and sophomore Jacob Winchester and fumble recoveries by seniors Jarett Boyce and AJ Records.
"They're not bad, man," South Medford senior running back Terrence Butler said of the Falcons. "Liberty's definitely a challenge. Nobody should look down on them."
The Falcons built a 17-0 lead on a 30-yard field goal by senior Nik Reitzug, a 1-yard run by senior Jed Steinhoff and a 9-yard pass from Norman to Smith.
South Medford made it 17-7 on an 11-yard touchdown pass from senior Giovanni Bottero to junior Austin Boster and was driving for another score late in the first half when Liberty delivered a devastating blow.
Butler fumbled on a screen pass and Records picked up the ball and raced 85 yards for an apparent touchdown, but a blocking penalty on the return nullified the score.
"My defensive coordinator told me, 'That was our touchdown. Now you've got to finish the job,'" Liberty coach Eric Mahlum said.
Liberty, starting at its own 48-yard line and 16 seconds left in the half, didn't sit on the ball. Norman completed two passes to the South Medford 28, and as time expired, he heaved a pass into the end zone toward Smith, who wrestled with senior defensive back Jace Campbell for the ball.
The official ruled simultaneous possession, giving Liberty a touchdown that opened a 24-7 advantage at half.
"I dove underneath it and caught it, and then the defender landed on top of me, and so we were wrestling for it," Smith said.
The Falcons started the third quarter with two touchdowns – a sensational 55-yard run by Norman and a 1-yard run by Smith – for a 38-7 lead, and the outcome was all but sealed.
Liberty senior running back Bryan Bafaro, making his season debut after sitting out the first two games, had 66 yards on 12 carries and caught four passes for 25 yards. The addition of the 6-1, 210-pound Bafaro gave the Falcons a boost, especially considering they have been plagued by injuries early in the season.
"I decided that I was going to have shoulder surgery in the summer, and then I just missed football too much and I decided to postpone my surgery," said Bafaro, a standout baseball player. "It was a little rough not seeing live action to come into a full game, but it was pretty good."
Mahlum said of Bafaro: "We've been losing people, and to get one back, we'll take it. It's one more guy that defenses have to gameplan for."
South Medford's Bottero, who threw for four touchdowns in the first two games, completed 14 of 24 passes for 160 yards and one touchdown with two interceptions. Boster had four catches for 100 yards.
Butler, coming off a three-touchdown game against Canby, rushed for 66 yards and one touchdown on 14 carries for the Panthers, who tried to make sense of the loss.
"I feel like our team wasn't ready," Butler said. "We thought we were doing pretty good for our first two games, and we just weren't expecting them to hit us this hard.
"They played hard, and we played good at the end, and I think that's when we realized what we were up against. We're a young team, and we just need to fix things and play harder."
Liberty will get two more tough tests – games at Oregon City and unbeaten Lake Oswego -- before opening Pacific Conference play Oct. 5 against Glencoe.
"This win means a lot," Bafaro said. "It's a foot in the door for us to take on Oregon City and Lake Oswego. We're feeling pretty confident. We're doing our thing. I'm excited for next week."
Bafaro said the season-opening win at Sprague set the tone for the Falcons.
"Our atmosphere just changed in our locker room, and out on the field we just have so much more style," he said. "We figured this team could do some damage this year."