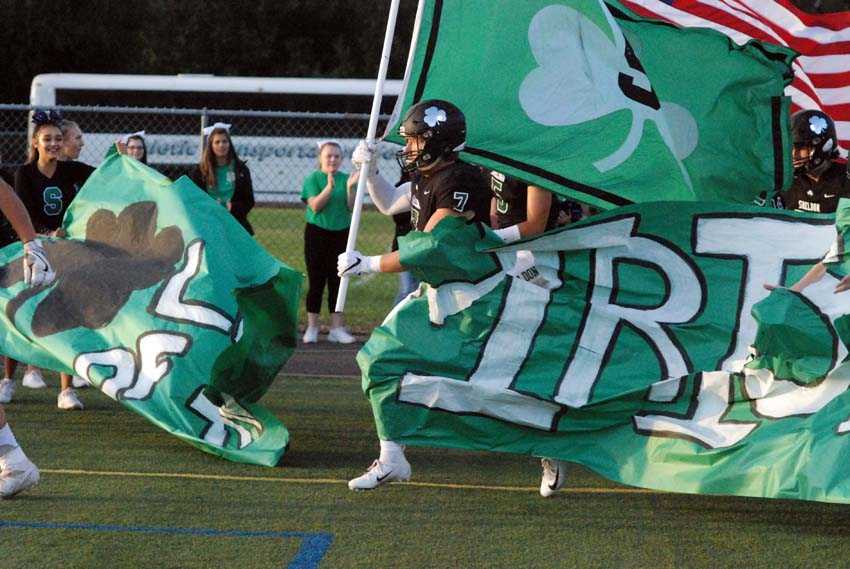 EUGENE -- The Sheldon Irish got their star quarterback back from injury. The West Linn Lions lost their star quarterback to injury. That was a huge part of the story in Sheldon's 42-27 home win on Friday night in a 6A nonleague football game.
Michael Johnson Jr., who missed the Irish's first two games because of a shoulder injury, returned to rush for 162 yards and one touchdown and passed for 167 more and another score as No. 7 Sheldon improved to 2-1 on the season. The loss dropped No. 3 West Linn to 2-1.
"I was ready to get back out there with my teammates," Johnson said. "When you're playing you sometimes take for the game for granted. When you're not playing you realize how much you miss it. I was so happy to be out there and enjoying the moment."
West Linn put the first points on the scoreboard, taking advantage of a fumbled punt that Cole Peters recovered to go 30 yards in six plays, capped by a Dawson Jolley two-yard run.
Sheldon answered immediately when Zach Folsom took the ensuing kickoff back 84 yards for the touchdown, shredding West Linn's kickoff coverage with equal parts, speed, power and deception.
West Linn's second drive ended three yards short of Sheldon's goal line when Ethan Long, West Linn's senior quarterback headed to Arizona State, was stopped on a fourth-down draw play. Long injured an ankle on the play and did not return.
Long's replacement, junior Ethan Coleman, engineered a 75-yard scoring drive on his second possession, with Tanner Moore catching the scoring strike from three yards out. But Sheldon answered immediately, going 67 yards in four plays, including a 33-yard pass to senior tight end Patrick Herbert and two Johnson runs totaling 28 yards, including a three-yard jaunt for the tying score.
"He brings a lot of speed and is another threat the defense has to look out for," Herbert said of Johnson.
Sheldon converted the extra-point kick, giving the Irish a 14-13 halftime lead.
Sheldon marched downfield to start the second half, but its drive ended two yards short of West Linn's goal. The Irish got the ball back after an interception and scored five plays later when Johnson hit Folsom from 11 yards out. The extra point made it 21-13 Sheldon midway through the third.
West Linn responded with a 71-yard drive, which featured two outstanding catches from senior wideout Jake Mastandrea and was capped by Jolley's second scoring run of the night, this one from seven yards out. West Linn's two-point try failed and it trailed 21-19 late in the third quarter.
The fourth quarter belonged largely to Sheldon, which took advantage of West Linn special teams woes and the special running instincts of Johnson to move the ball at will. Running back Matthew Burgess cashed in all three drives with scoring runs, which more than countered one final West Linn score, an 11-yard scoring toss from Coleman to Cade Knutson.
West Linn outgained the Irish 498-385 but Sheldon had a massive advantage in special teams and had the X-factors: Johnson on offense and Herbert, who helped shut down the West Linn running game in the second half and was unblockable rushing the passer, on defense.
Coleman was terrific in relief of Long, completing 21 of 39 passes for 276 yards and two touchdowns with one interception. Mastandrea and Knutson combined for 16 receptions for 200 yards. Jolley added 157 yards rushing on 21 carries.
Johnson ran 22 times for 162 yards and completed 8 of 11 passes for 167 more. Herbert caught four passes for 70 yards. Burgess added 50 yards rushing on 16 carries.
Afterward, Herbert could not stress the importance of this win enough.
"The team had been down and lost some confidence after the Week 1 loss," Herbert said of a 51-50 overtime defeat to Graham-Kapowskin (Wash.). "We got back on track tonight."