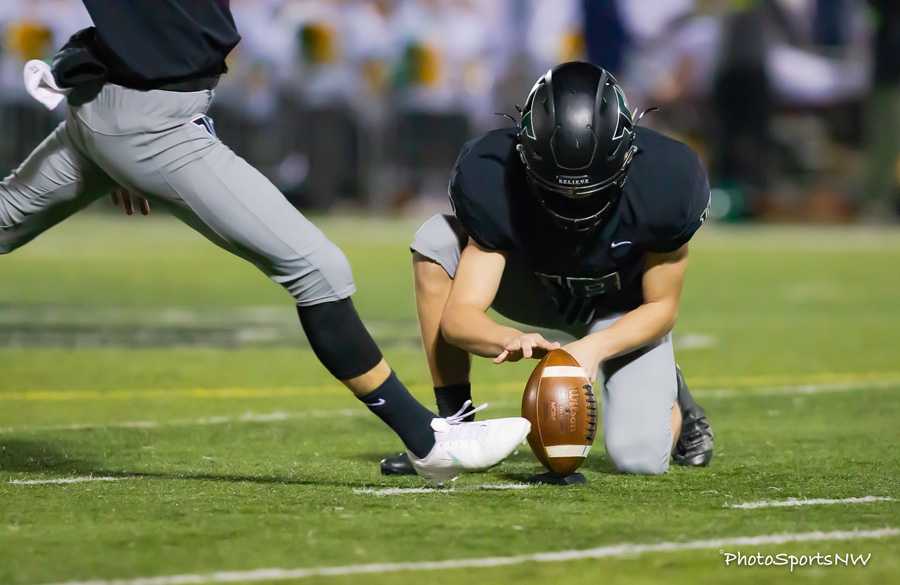 Every Friday night, we'll offer you PATs, a few nuggets from the night that was. Be sure to check out Jerry Ulmer's comprehensive Football Notebook, published Sundays, for an in-depth look at all of Friday's action from across the state.
Penn Is Mighty In Tigard Win
Drew Carter hit Tyler Penn with a 29-yard touchdown pass in the third quarter, which extended a 16-14 Tigard halftime lead to nine points in a 23-21 win over Tualatin. The Timberwolves scored with less than two minutes left in the game on a short Kainoa Sayre run to make things interesting but the ensuing onside kick failed and the Tigers held on the complete an undefeated regular season.
Junior Achiever In McNary's Win
Junior Walling scored four touchdowns in McNary's 35-15 win over South Salem. For the second straight year, the Celtics started 0-5 before winning their final four to capture the Mountain Valley Conference title.
99th Battle for the Bridge Lacks Suspension
West Linn scored touchdowns on all seven first half possessions in a 52-7 win over Oregon City. Ethan Coleman threw three touchdown passes, two to Damiko Tidmore; Gavin Haines found the end zone three times on the ground and Ethan Loun returned a punt for a score for the Lions, who held the Pioneers to less than 20 yards of total offense in the first half. Oregon City scored its lone touchdown on a 99-yard kickoff return.
Crusaders Have Come to Jesuit Moment
Beaverton led 3-0 after one in a battle for the Metro Conference title, but Jesuit scored three times in the second quarter and never looked back in a 42-24 win. Kade Wisher scored four touchdowns for Jesuit, which capitalized on four Beaver turnovers.
Clatskanie's Moses Parts Willamina's Defense (So Does Combs)
Cedrix Moses carried 10 times for 185 and three TDs in Clatskanie's 63-12 win over Willamina. Andre Combs added two receiving touchdowns, threw for another and had a 65-yard kickoff return.
A Starr Sighting In Clackamas
Silas Starr caught three first-quarter touchdowns from Cade Knighton in Central Catholic's 48-7 beat down of Clackamas for the Mount Hood Conference title.
Forever Young In Monroe's Win
Zach Young took the opening kickoff back 75 yards for a score, scored twice on the ground and one more on a TD toss from Brody Ballard in Monroe's 45-3 win over Regis.
Apollos' Creed: Win All Phases
Sunset dominated Westview start to finish in a 41-15 win. The Apollos scored on their opening possession and had three different sophomores find the end zone in the victory. Senior QB Callum Craig led the way with 245 yards passing and three scores. He also rushed for 92 yards and a touchdown. Hayden Hurley and Nick Molitor caught TD passes and Caleb Kim eclipsed the century mark on the ground.
Lightning Strikes Hurt Franklin
Damir Collins rushed for 323 yards and four touchdowns, including one from 82 yards out, in Jefferson's 46-0 win.
Kommer Goes for 137 in Thurston Win
Thurston capped a 9-0 regular season by defeating Ridgeview, 59-7. Wesley Kommer scored three first-half touchdowns for the Colts, who led 52-0 at the break.
Buck Stops Glencoe
Newberg pitched its fourth shutout of the season with help from Dwayne Buck, who had two interceptions; and Connor Croskrey, who added another and 12 tackles; in a 42-0 thrashing of Glencoe. Owen Hawley had 125 yards receiving and two scores to pace the offense.
Laker Back States His Case
Lakeridge running back Jalen John scored on a 65-yard run on the third play of the game. Lake Oswego back Casey Filkins scored moments later and added three more scores in the Lakers' 41-17 win in the Battle of the Lake. It was only a 10-point game, 20-10, at the half, but LO piled up 250 rushing yards in the second half to wear down the Pacers. John added a 77-yard touchdown run midway through the fourth quarter for Lakeridge.
Days Creek Has Hoss In Win Over Bonanza
Garrett Wentland dominated through the air in a 58-14 Days Creek win over Bonanza. Wentland threw for 290 yards and four touchdowns. Rhyse Jackson added 80 yards rushing.
Bend Breaks In Fourth Versus Mountain View
Keenan Harpole scored from 27, 30 and 88 in the fourth quarter to turn a 21-19 nail biter into a dominant 49-19 victory for Mountain View over Bend. Bend led 13-0 after one quarter and 19-14 at the half, but the Cougars outscored the Lava Bears 35-0 in the second half. Harpole finished with 287 yards and four touchdowns.
Spalding Has A Ball In North Bend Win
Ian Spalding ran for five touchdowns and three for three more in North Bend's 68-35 win over Willamette.
Mountainside Tops Summit, 21-10
Brian Mannion threw for 215 yards and three touchdowns in Mountainside's 21-10 win over Summit. Two of the TD tosses were to Carlos Montero, who had 135 yards receiving.
Parkrose Rises In Upset of Wilsonville
Tre Singleton threw two touchdown passes and ran for another in Parkrose's 28-19 road win over Wilsonville. The Broncos finished with almost 400 yards of total offense and clinched the game on a 40-yard halfback pass for a score from Jay Jay Hudson to Dale Scott. Jayce Knapp threw for 209 yards and two touchdowns in the loss for the Wildcats.
Canby Streaking!
After 2+ years without a win, the Canby Cougars have now gone back-to-back weeks in the victory circle. Michael Gibson threw a touchdown pass toopen the scoring and the Cougar defense was stout and even score in Canby's 42-15 win over Roseburg.
***
That's all we have time for tonight…Be sure to check out Jerry's report on Sunday!