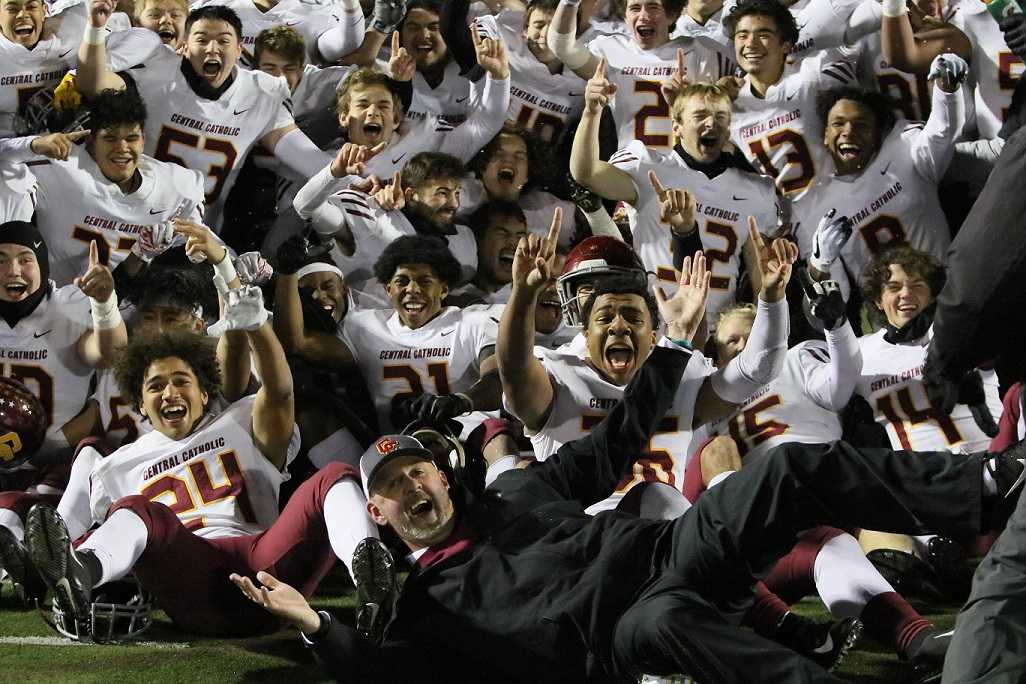 Central Catholic took a long look in the mirror after a humbling 42-26 loss to Jesuit in a 6A nonleague football game Oct. 4. And the Rams almost didn't recognize themselves.
"We did some things that were not hat-hangers for us," coach Steve Pyne said. "We tried to get a little bit too cute."
Since that defeat, the sixth-ranked Rams (7-2, 4-0) have won four in a row, capping off the regular season Friday night with a 48-7 win at Clackamas (4-4, 3-1) in the Mt. Hood Conference championship game. They earned the No. 4 seed in the 6A playoffs, ensuring home-field advantage through the quarterfinals.
"We've been playing the way I thought we were capable of playing," said Pyne, whose team plays host to Southridge in a first-round game Friday. "I think we can compete with anybody if we play like we've been playing the last couple weeks.
"We're a tough team to defend, as long as we don't get in our own way, and that's the way it's been the last four weeks -- we've gotten out of our own way."
The Rams had won eight consecutive Mt. Hood titles before finishing second to Clackamas the last two years. Many of the team's seniors played key roles the previous two seasons and were hungry to get back on top.
Central Catholic jumped all over the Cavaliers on Friday as senior quarterback Cade Knighton threw touchdown passes of 58, 28 and 33 yards to senior Silas Starr in the first quarter. Knighton finished 21 of 32 for 396 yards and six touchdowns. Starr had six catches for 173 yards.
Knighton and Starr were starters in 2016 when the Rams reached the 6A final, losing to West Linn 62-7. Central Catholic lost in the quarterfinals the last two years.
"This group, outside of Cade and Silas, had not been on a conference championship team," said Pyne, who coached the Rams to state titles in 2013 and 2014. "They were motivated. And I think that same motivations is in front of them now. They want to be one of those teams that can match the 2013, 2014 and 2016 teams."
The Stanford-bound Starr has 33 catches for 877 yards and 10 touchdowns, averaging 26.6 yards per reception. His improved strength and speed has made him more dangerous after the catch.
"He's run out of a couple tackles," Pyne said. "That's a huge weapon, when you can throw an eight-yard pass and it turns into 15 or 20 or 30 yards."
Knighton has completed 71.3 percent of his passes for 2,093 yards and 24 touchdowns with four interceptions. His play has improved late in the season as the Rams have protected him better.
"He took a lot of hits in the first five games," Pyne said. "We've done a better job of creating pockets and moving the pocket to he's not picking himself up off the ground all the time."
Broncs' tale
From the moment he first met with his players after being hired as Parkrose's football coach last year, Keanon Lowe sensed that good things were about to happen.
"I realized it was a special group, and a special place," said Lowe, a former Jesuit standout who played at Oregon. 'They just lacked the leadership and the direction. That's all I did. I came in and taught them the process of what it takes to win."
The Broncos (6-2) got their biggest win in years Friday night, going on the road to beat traditional 5A power Wilsonville 28-19 in a matchup of division winners in Special District 1. It was a stunner considering that the Wildcats (7-2) won the 10 previous meetings between the teams, dating to 2006, by an average margin of 41.1 points.
Senior Tre Singleton passed for two touchdowns and ran for one score and senior Jay Jay Hudson threw a 40-yard touchdown to senior Dale Scott on a halfback pass for Parkrose, which won its sixth in a row after opening the season with two losses.
Before Lowe took over, the Broncos had lost 23 consecutive games. They finished 5-5 last season, losing in the first round of the playoffs to Silverton, and came back with a new confidence this season.
"Being the second year, all my guys knew what to expect," Lowe said. "As coaches, from an Xs and Os standpoint, we were finally able to do what we originally wanted to do in that first year."
Parkrose is getting big seasons from Singleton (10 touchdowns passing, eight rushing) at quarterback and linebacker, senior Taydrian Jackson (734 rushing yards, eight touchdowns) at running back and safety, and Hudson (seven touchdown runs), a standout athlete who plays several positions.
"They're all potential college football players," Lowe said. "They're all getting looks, but not a lot of people know about the talent that we have at Parkrose. I feel like we have multiple Division I football players on our team. From people on the outside, we still lack that respect. People still don't think we're a school to be reckoned with."
The Broncos have never won a playoff game, losing in 1963, 1980, 1982, 2010 and 2014. History awaits Friday when Parkrose, seeded seventh, plays host to No. 10 Lebanon (6-3) in a 5A first-round game.
Lowe was left scratching his head at how the Broncos finished seeded behind No. 5 Pendleton despite going on the road to beat the Buckaroos (6-2). The teams shared the East division title.
"It's disappointing, the lack of respect that we get, but we'll use it as motivation," Lowe said.
In the OSAAtoday 5A coaches poll, Parkrose is No. 9, Pendleton is No. 7 and Wilsonville is No. 5.
Regardless of what happens in the postseason, the culture of the Parkrose program has dramatically changed under Lowe.
"We have a lot of guys on our team that have been through a lot, and who go through a lot on a daily basis, outside of football," Lowe said. "And we use that to our advantage.
"I've tried to help these guys relate football and life together. They work their butts off in football, and when they're on the football field, nothing else matters. What we're doing right now means the world to everybody in that locker room."
McNary repeats
Regardless of McNary's standing in 6A football, the Celtics continue to reign in the Mountain Valley Conference.
In a repeat of 2018, McNary rebounded from an 0-5 start to go 4-0 in the Mountain Valley and take the outright conference title.
The Celtics wrapped it up Friday night with a 35-15 win at South Salem. Oregon State-bound Junior Walling rushed for more than 200 yards and four touchdowns on 29 carries to lead the way.
"For our seniors, this was a huge game," Walling said.
Last year, McNary finished No. 22 in the OSAA 6A power rankings and lost at Lakeridge 56-33 in the first round of the state playoffs. This year, McNary is No. 21 and will play a first-round game at Sherwood (7-2).
"We've just got to keep our confidence up and just keep going into the playoffs," senior quarterback Erik Barker said. "Going back-to-back is great, but we need to take the next step, and we've got to prove that we can play like the other teams in the state."
-- Jeremy McDonald
4A play-in
Among the four teams playing their way into the 16-team 4A bracket Friday night was Estacada (6-3), which earned a spot for the fourth year in a row with a 52-6 rout of visiting Sweet Home.
Since losing to North Marion 35-7 and The Dalles 38-14, the Rangers have outscored Crook County and Sweet Home 90-19. No. 14 seed Estacada will try to build on that momentum in the first round Friday when it visits No. 3 seed La Grande (8-0), which is No. 2 in the OSAAtoday 4A coaches poll.
The Rangers rushed for 514 yards and seven touchdowns to pummel Sweet Home (3-6). Sophomore Jake Behrman rushed for 218 yards and three scores.
"The bad taste we had from The Dalles loss, being the last regular season home game, and the opportunity to play one more home game, got the kids fired up," Estacada coach Andy Mott said. "We were able to take that and execute our game plan, which was run the ball down Sweet Home's throat."
Quarterback Isaiah Schaffer ran for three touchdowns and recovered a fumble for a 38-yard score for Estacada, which led 32-0 after the first quarter.
In other play-in round games, Tillamook ousted Elmira 20-10, North Valley blanked Crook County 27-0 and The Dalles blasted Valley Catholic 58-13.
-- Lane Jensen
Devil of a time
No. 4 Coquille overcame the loss of senior running back and linebacker Caiden Yates to put the final touch on a repeat title in the 2A Sunset Conference with a 32-20 win at No. 5 Toledo on Friday.
Yates, the Sunset's offensive and defensive player of the year as a junior, went down with an unspecified injury in the second quarter and did not return. Other injuries forced the Red Devils to rely on freshman reserves.
"We overcame some adversity and we hung in there," Coquille coach David Thomason told the Coos Bay World. "We are mentally strong. The guys didn't quit. It was a lot of fun, not just to watch, but to coach."
Toledo took the first lead on Kyle Hayner's 31-yard run, but Coquille answered with three consecutive touchdowns and two-point conversions to take control. Ean Smith rushed for three touchdowns for the Red Devils.
Coquille (8-1, 4-0), which has lost only to 3A Amity this season, finished ahead of Bandon (5-4, 3-1) and Toledo (7-2, 2-2) in the conference standings. The Red Devils, seeded second, play host to No. 15 Santiam (3-4) in a first-round game.
Bracketeering
The brackets for the state playoffs were released following Friday's games, revealing three reigning champions as the No. 1 seeds.
Thurston (9-0), Banks (8-0) and Kennedy (7-1) – last year's champions in 5A, 4A and 2A, respectively – are the top seeds in their classifications. As for the other reigning champions, 6A Lake Oswego is seeded third, 3A Rainier is fifth and 1A Dufur is 11th.
The top seeds in 6A are Tigard, Jesuit, Lake Oswego and Central Catholic, in order. Potential second-round matchups include No. 5 seed West Linn vs. No. 12 Sherwood and No. 6 Aloha vs. No. 11 Beaverton.
In 5A, the top-four order is Thurston, Crater, West Albany and Silverton. In the first round, Scappoose and Pendleton will meet not only for the second week in a row, but for the third time this season and fifth time in two seasons. Pendleton is 4-0 in those matchups.
A glance at Week 9 highlights from across the state:
6A
Devin Bradd ran for three touchdowns as North Medford prevailed over South Medford 52-21 in the Black & Blue Game, ending a three-year losing streak in the series. … Sheldon beat Grants Pass 42-32, getting the go-ahead score in the third quarter on a nine-yard pass from Griffin Line to Carter Neuman. … Mountain View shook off a 13-0 deficit to defeat rival Bend 49-19 behind Keenan Harpole, who rushed for 286 yards and four touchdowns on 33 carries. … Canby won its second in a row after a 22-game losing streak, beating Roseburg 42-15. Mikey Gibson threw two touchdown passes for the Cougars. … Sherwood led 28-0 and half and downed Century 49-13. Brody Stephens rushed for 126 yards and Bryan Cuthbertson had 15 tackles for the Bowmen. … Damir Collins rushed for 323 yards and four touchdowns on 26 carries to propel Jefferson past Franklin 46-0. … Sunset shook off Westview 41-15 as Callum Craig passed for 245 yards and three touchdowns and rushed for 92 yards and one score. … Newberg recorded its fourth shutout of the season in defeating Glencoe 42-0. Dwayne Buck had two interceptions and Connor Croskrey returned an interception for a touchdown for the Tigers, who notched their seventh win for the first time since 2000. … Aloha outlasted Southridge 63-44 as Drew Fritz ran for four touchdowns and Timmy Dennis Jr. passed for two touchdowns and ran for two scores. … Tigard rushed for 268 yards to gut out a 23-21 win over district rival Tualatin and win the Three Rivers League title outright. … Jesuit won the Metro League title by beating Beaverton 42-24. Kade Wisher rushed for 154 yards and three touchdowns and caught a scoring pass for the Crusaders. .. Casey Filkins ran for four touchdowns in Lake Oswego's 41-17 win at district rival Lakeridge.
5A
Porter Phillips ran for 226 yards and two touchdowns on 30 carries to help West Albany ward off Silverton 28-21 for the Mid-Willamette Conference title. ... Crater got three touchdown runs from Gavin Acrey and held Churchill running back Deonte Jones to 39 yards on 14 carries in a 48-0 win. … Ashland cruised past South Eugene 42-21 behind Rieger Sayre, who completed 23 of 28 passes for 366 yards and three touchdowns and ran for a 59-yard score. … Walker Camp had 131 receiving yards and two touchdown catches as Pendleton turned back Scappoose 41-21, the Buckaroos' fourth win over the Indians in the last two seasons. … North Bend rushed for 522 yards, 245 from Divenson Willis, to overcome Willamette 68-35. … Caleb Toney scored on an eight-yard run on the game's final play to give Putnam a 30-24 overtime win over St. Helens. … Corvallis earned its first playoff berth in five years by beating South Albany 52-27. Izaak Worsch rushed for 237 yards and three touchdowns for the Spartans. … Thurston led 52-0 at half in a 59-7 win over Ridgeview. Wesley Kommer rushed for 137 yards and three touchdowns for the Colts.
3A
Cascade Christian set a school record with six interceptions – two each by Matt McPheeters and Kristian Fralich – to defeat St. Mary's 61-7. The Challengers had 572 total yards. … Andrew Earl ran for two touchdowns and threw a scoring pass to lead Umatilla past Irrigon 66-7. … Sutherlin ran over Siuslaw 56-18 as 6-2, 225-pound Josh Davis rushed for four touchdowns. … Santiam Christian breezed past La Pine 57-21 as Marcus Fullbright rushed for 145 yards and four touchdowns. … Pleasant Hill held off Harrisburg 42-28 despite 190 rushing yards from Gabe Knox. … Sam Vidlak threw five touchdown passes – two to Nathan Vidlak – in Hidden Valley's 49-12 win over Brookings-Harbor. … South Umpqua ended a seven-game losing streak by beating Douglas 48-12 as Caj Simmons rushed for 142 yards and two touchdowns. … Burns took advantage of three early fumbles to defeat Vale 27-8 and capture the Special District 3 title. ... Hunter Stephenson and Noah Birt combined for seven sacks as Yamhill-Carlton beat Blanchet Catholic 27-0 to finish the regular season unbeaten for the first time in school history.
2A
Caden Tognoni rushed for 145 yards on eight carries to spark Rogue River past Reedsport 26-20. … Heppner stayed unbeaten by dominating Stanfield 49-0 as Mason Lehman caught two touchdown passes and Blake Wolters ran for two scores. … Warrenton smothered Nestucca 35-0, allowing only three first downs and 34 total yards. In their last four games, the Warriors have held opponents to 115 total yards. … Zach Young returned the opening kickoff 75 yards for a touchdown to set the tone for Monroe's 45-3 win over Regis. Young added two touchdown runs. … Bandon extended its winning streak to four by defeating winless Gold Beach 59-6. … Corbin Picknell rushed for 201 yards to lead Oakland past Central Linn 30-8. … Caidyn Cunningham scored on a 14-yard run with just over one minute left to give Glide a 22-18 win over Lakeview and the No. 1 seed in Special District 5. … Sheridan got rushing touchdowns from DeEldon Paulk and Wyatt Schultz in a 12-8 win over Culver.
1A
Micah Young threw three touchdown passes and ran for a score in Triad's 44-20 win over Butte Falls. … Adrian/Jordan Valley broke away from a 24-18 lead to subdue Pilot Rock/Nixyaawii 78-24 in the Special District 3 championship game. Conley Martin completed 16 of 21 passes for 273 yards and six touchdowns and rushed for 106 yards and one score for the Antelopes. … Brandon Wigzell rushed for 196 yards and three touchdowns and Jordan Aguilar rushed for 174 yards and one touchdown, as well as returning two fumbles for scores, as Yoncalla blitzed Mohawk 60-6. … North Douglas blanked Siletz Valley 48-0 behind quarterback Austin Frieze, who rushed for 146 yards and three touchdowns and completed 9 of 11 passes for 139 yards and three scores. … Days Creek's Gerritt Wentland threw for 290 yards and four touchdowns and ran for a score in a 58-14 win over Bonanza. … Derrick Cano rushed for 305 yards and five touchdowns to lead Oakridge past Falls City 64-42. Cano has rushed for 2,460 yards and 36 scores this season. ... St. Paul rushed for 413 yards on 13 carries and did not throw a pass to beat Lowell 68-8. Gianni Grasso and Hunter Naumann each ran for two touchdowns.