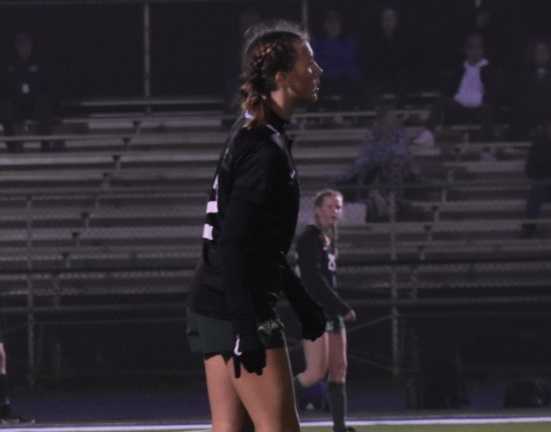 AURORA -- Junior midfielder Mya Hammack converted a penalty kick with 10 seconds left in the second overtime Tuesday to give North Marion a 3-2 win over visiting Stayton in the first round of the 4A girls soccer playoffs.
With the game seemingly headed to a penalty-kick shootout, Hammack stormed into the box and was fouled. She drove the penalty kick past sophomore goalkeeper Karlee Tyler to send the fifth-seeded Huskies (10-3-2) into a Saturday quarterfinal at No. 4 Hidden Valley (13-2).
"We all realized in those overtime periods, this was our game and we just needed to take it back," Hammack said. "With that PK I was like, 'I have to make this. I have to do this for my team.'We had to put it all together and finish strong."
North Marion appeared to have control of the match when it took a 2-0 lead over the 12th-seeded Eagles (11-4-1) in the first half. Junior Hailey Welch scored in the fifth minute and junior Carter Crawford added another goal in the 35th minute.
But Stayton rallied as sophomore Tori Nyquist, junior Kenzie Pugh and senior Julieta Arreola slowed down North Marion's aggressive offense in the second half. Junior Maddie Pask (44th minute) and senior KJ Nyquist (75 minute) scored goals for the Eagles to force overtime.
"Our mentality going into the game was to play until the very last whistle," KJ Nyquist said. "We didn't care what the score was, we wanted it more."
North Marion nearly scored in the first overtime when Hammack headed a corner kick off the crossbar. In the next period, she finished off the Eagles.
"We just really had to come together and play as a team because we know we can make it far," Hammack said. "We just have to come together, relax, hit our shots … connect our passes. It was all about coming together and finishing what we started."
Now the Huskies turn their attention toward Hidden Valley, which knocked them out of the quarterfinals in 2017. The Mustangs beat Banks 2-0 on Tuesday.
"We just need to keep working hard and realize that the next game will be as hard as this one," Hammack said. "We just need to work together and perfect the little mistakes and hopefully win the game."
Stayton, which lost in the quarterfinals last year, reflected on its season.
"We had some kids step up a lot this year and made some major contributions," KJ Nyquist said. "Every single player made a contribution on this team, so I couldn't be prouder. And I'm excited to come back and watch them next year."