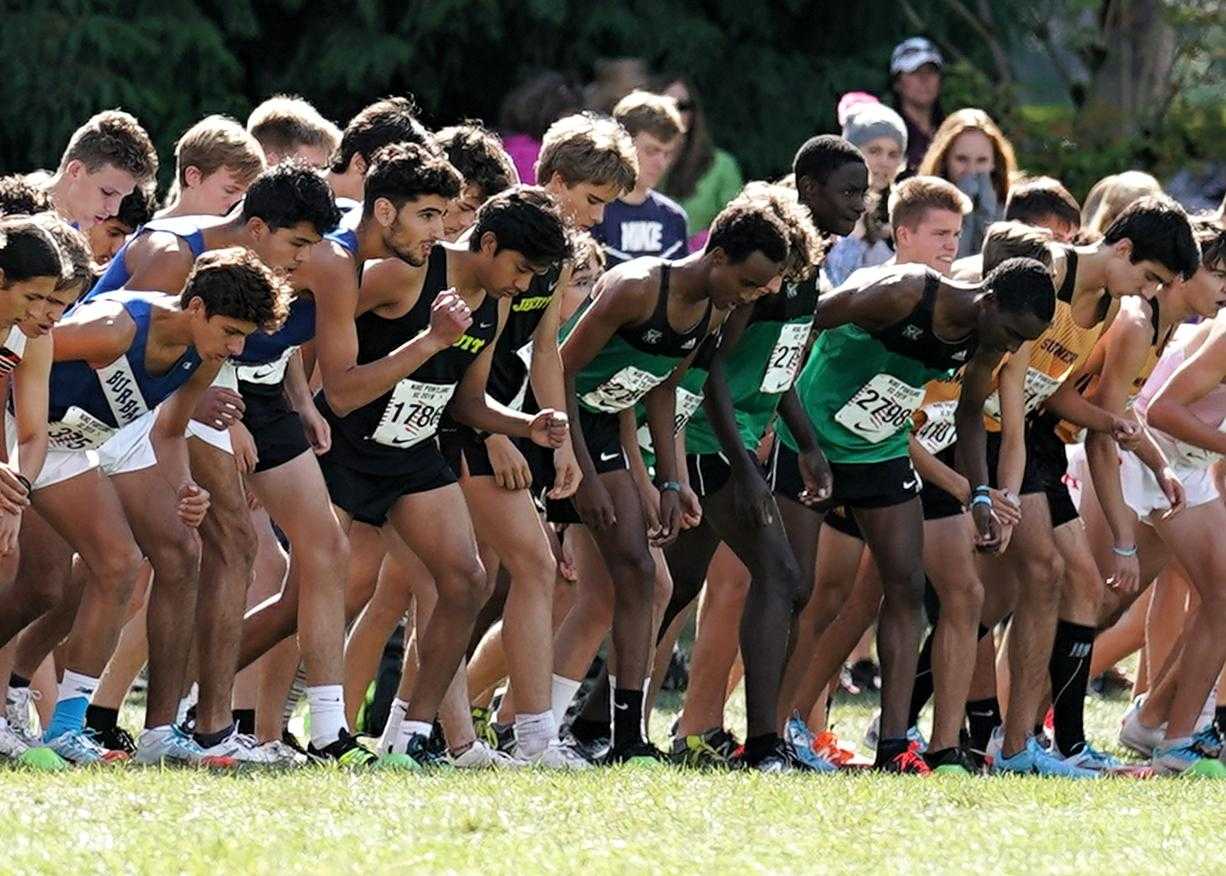 Franklin of Southeast Portland would love nothing more than to win its first state championship in 60 years on Saturday at the OSAA/OnPoint Community Credit Union 6A boys cross country final at Lane Community College.
And there's a chance, but it's slim.
Franklin standouts Aidan Palmer and Charlie Robertson are the top two returners from last year's 6A meet and could potentially give the Quakers a 1-2 finish.
But Jesuit, among the top 10 teams in the country, has a pack that should be right behind them.
"I'm not sure it's going to be enough," Franklin coach Jacob Michaels said. "That's the deal with cross country. Depth beats top runners. That's how Jesuit and Central Catholic have dominated for well more than a decade now."
Jesuit, which put seven runners across the finish line in the top 11 at the Metro League district meet, won the 2017 team title with 35 points. Last year, the Crusaders lost a tiebreaker to Central Catholic, which had a higher placing sixth runner.
"(Franklin) has the best 1-2 punch, plus there's (Quincy Norman) from Forest Grove," Jesuit coach Tom Rothenberger said. ""Our pack of guys with Ryan (Schumacher), Declan (O'Scannlain) and the others is pretty interchangeable in many ways. The race for us will shape up if we put our tight pack in the right place."
That could mean putting all five scorers into the top 10 or 15.
Franklin should be in the ballpark, though, and the best team finish at the 6A meet in school history is third. The Quakers were second in 2010 when the schools was in 5A.
With dry conditions forecast for the weekend, the state meet could be headed toward a high-water mark in terms of overall talent and cause to celebrate. There are some noticeable changes this year, with the removal of Poison Oak Alley from the course, and the end of BorderClash as a post-season destination.
But the Summit girls of Bend, defending Nike Cross Nationals champions, come into the meet looking for a 12th consecutive state title and are ranked No. 1 nationally.
Even so, the Storm could be pressed by talented teams from Jesuit and Lincoln that were no less dominant in their district meets.
At the front of the 6A girls race, Summit's Fiona Max, the reigning champion, faces a challenge from Lincoln's talented freshman Kate Peters and Jesuit's super sophomore Chloe Foerster.
And in the 5A boys race, there will be another show unfolding as Ashland senior E.J. Holland seeks to defend his title and lead his team to its first state title since 1993. Holland, who has trained all fall to be a national championship contender, has the potential to stake a claim as one of the state's all-time distance running greats.
"If the day is good and I'm really feeling up, we'll see (about a fast time)," Holland said. "It's the first meet I'm really getting ready to race-race."
The 5A girls competition between Hood River Valley, Corvallis and North Salem, the 4A boys competition between Siuslaw and Marist Catholic, and the 3A boys contest between Burns and Enterprise all figure to inject even more drama into the day's racing.
For the first time, spectators will be be able to follow the action live on AthleticTiming and will have access to real-time splits and team scores on their smart phones.
"I think it's way past due and will make the event for the spectator all that much more exciting," Rothenberger said.
A look at the state meets, set for Saturday at Lane:
BOYS
6A
Teams to watch: Jesuit, Franklin, Central Catholic
Individual top times: Aidan Palmer, Franklin, 15:03.4; Charlie Robertson, Franklin 15:04.6; Quincy Norman, Forest Grove, 15:06.3
2018 team scores: Central Catholic 93 (tiebreaker), Jesuit 93, Sunset 124
Top returning finishers: 2. Palmer; 7. Robertson
Note: Franklin could potentially go 1-2 up front with Aidan Palmer and Charlie Robertson, but Jesuit's pack should be somewhere close behind. The Crusaders are ranked 10th in the nation, while Franklin is No. 30.
5A
Teams to watch: Ashland, Crater, Crescent Valley
Individual top times: Evan Holland, Ashland, 14:51.7; Ahmed Ibrahim, Parkrose, 15:05.0; Reed Pryor, Ashland, 15:13.5
2018 team scores: Crater 58, Crook County 120, Ashland 136
Top returning finishers: 1. Holland; 2. Ibrahim
Note: Holland, a University of Oregon recruit, is hoping to lead Ashland to its first cross country championship since 1993.
4A
Teams to watch: Philomath, Baker, Sisters
Individual top times: John Peckham, Sisters, 16:01.2; Will Thorsett, Sisters, 16:04.2; Evan Vilano, Marist, 16:10.0
2018 team scores: Marist 54, Newport 81, Tillamook 84
Top returning finishers: 3. Kolby Spink, Newport; 6. Villano
Note: Philomath, led by freshman Brody Bushnell, beat Sisters at the Paul Mariman Invitational on Oct. 12 and the Creekside Invitational on Oct. 23. Then, Sisters beat Philomath in the Oregon West district meet 39-43. Baker won the Greater Oregon district meet with 21 points.
3A
Teams to watch: Burns, Enterprise, Catlin Gabel
Individual top times: Henry Coughlan, Enterprise, 15:52.5; JP Friedrichsen, Burns, 16:05.9; Zac Knapp, Enterprise 16:19.2
2018 team scores: Burns 52, Enterprise 54, Westside Christian 94
Top returning finishers: 2. Coughlan; 3. Knapp
Note: Separated by just two points last year, Burns and Enterprise are close again. Burns beat Enterprise head to head at the district meet on a sixth-runner tiebreaker after both teams scored 32 points.
2A/1A
Teams to watch: St. Stephen's Academy, East Linn Christian, Union/Cove
Individual top times: Seth Bergeron, St. Stephen's Academy, 16:01.8; Aiden Smith, St. Stephen's Academy, 16:06.7; Robert Pina-Morton, Knappa, 16:18.0
2018 team scores: Union/Cove 44, St. Stephen's Academy 101, Heppner 102
Top returning finishers: 4. Cam McChesney, Veritas; 6. Bergeron
Note: St. Stephen's has the personnel in place to win the first state championship of any kind in school history after placing second in its first team appearance at the state meet last year. The boys cross country team grew to 10 runners this fall out of a student body of 49 students.
GIRLS
6A
Teams to watch: Summit, Jesuit, Lincoln
Individual top times: Kate Peters, Lincoln, 16:58.7; Fiona Max, Summit, 17:14.3; Chloe Foerster, Jesuit, 17:17.9
2018 team scores: Summit 39, Jesuit 68, Lincoln 147
Top returning finishers: 1. Max; 4. Lucy Huelskamp, Sunset
Note: Summit is the top-ranked team in the nation and the reigning Nike Cross Nationals champion. The Storm returned all seven members of last year's varsity lineup and yet two newcomers – freshman Barrett Justema and sophomore Magdalene Williams have run fast enough to earn top-seven spots this fall. Summit is seeking its 12th consecutive state title.
5A
Teams to watch: Corvallis, North Salem, Hood River Valley
Individual top times: Abigail Swain, North Salem, 18:05.8; Samantha Prusse, Wilsonville, 18:07.3; Madeline Nason, Corvallis, 18:11.6
2018 team scores: Hood River Valley 43, Wilsonville 94, Crater 94
Top returning finishers: 1. Frances Dickinson, Hood River Valley; 3. Madeline Nason, Corvallis.
Note: Corvallis edged North Salem by a point at the Mid-Willamette district meet. Neither school has ever won the state championship, but Hood River Valley won't give it up easily and has an experienced group determined to prevail.
4A
Teams to watch: Siuslaw, Marist, Philomath
Individual top times: Anika Thompson, Junction City, 18:01.3; Ella Thorsett, Sisters, 18:19.1; Hannah Hernandez, Philomath, 18:28.8
2017 team scores: Marist 70, Siuslaw 73, Tillamook 77
Top returning finishers: 1. Solace Bergeron, Tillamook; 2. Thompson
Note: The mathematics change in a bigger field, but Siuslaw edged Marist by one point at the Sky-Em district meet last week. Marist beat Siuslaw by three points last year and it could be as close again.
3A/2A/1A
Teams to watch: Burns, Enterprise, Catlin Gabel
Individual top times: Lila Fenner, Catlin Gabel, 18:46.8; Brooke Smith, Burns, 19:05.4; Ellyse Tingelstad, Enterprise, 19:13.1
2018 team scores: Catlin Gabel 71, Enterprise 75, Burns 85
Top returning finishers: 3. Fenner; 5. Tingelstad
Note: Burns scored 26 points at its district meet, beating Enterprise by 50 points. The Hilanders are looking for their first girls cross country championship.
Doug Binder is the editor of DyeStat.com