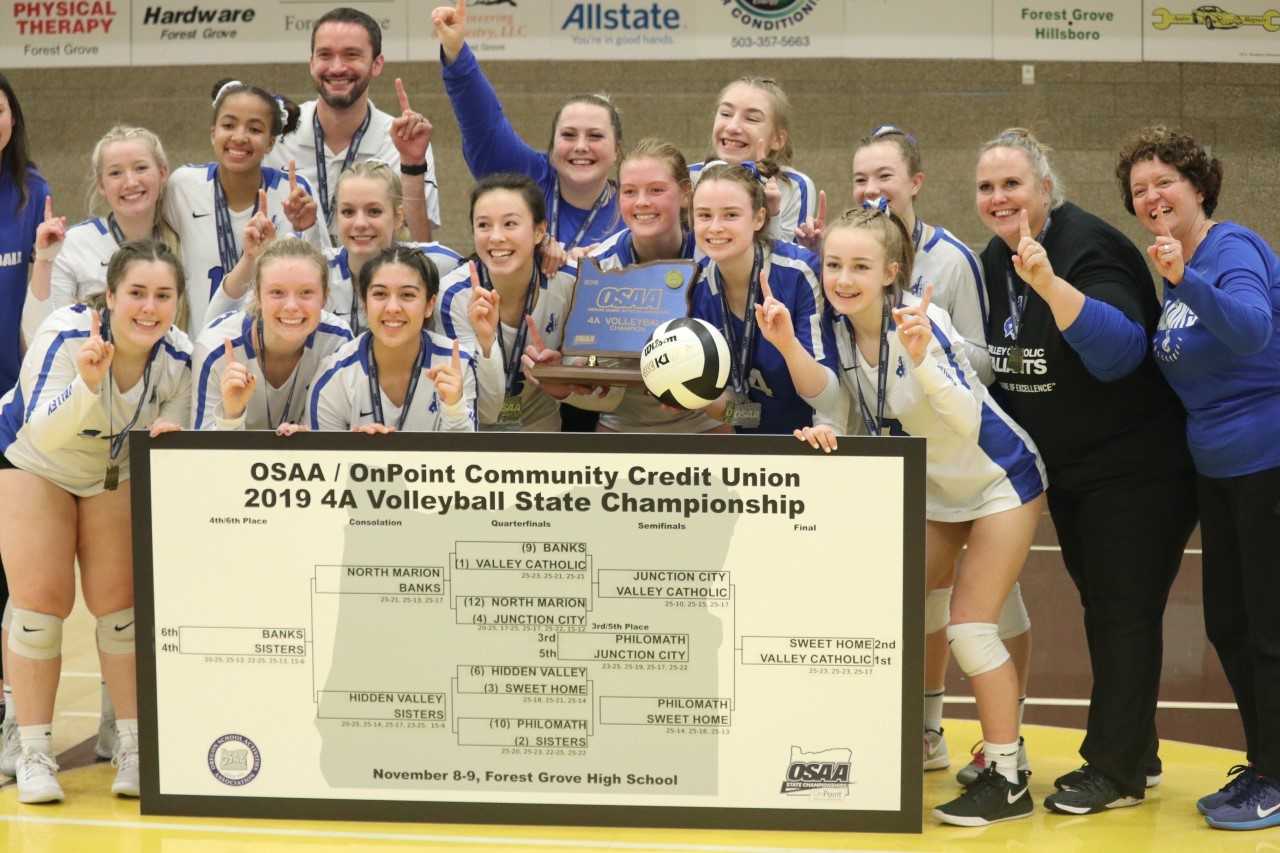 FOREST GROVE – Top-seeded Valley Catholic came through when it mattered Saturday night to repeat as the 4A volleyball champion.
The Valiants (26-3) turned back a stern challenge from third-seeded Sweet Home, winning 25-23, 25-23, 25-17 in the final of the OSAA/OnPoint Community Credit Union 4A tournament at Forest Grove High School.
They were led by senior setter Allie Merz, who had 32 assists and was a unanimous first-team all-tournament selection, and 6-1 junior middle blocker Maddie Klopcic, who had 11 kills.
"I wouldn't have done anything different," Klopcic said. "We all connected, worked really well together."
Merz was credited with 27 perfect sets as the Valley Catholic hitters consistently pounded away at the Sweet Home defense.
The Huskies (21-3), who lost 2-1 to Valley Catholic at a tournament on Sept. 21, were going for their first state championship after falling in the semifinals last year. And they started strong, taking a nine-point lead in the first set.
But the Valiants took advantage of Sweet Home errors to get back in it, and took the first set 25-23 when senior middle blocker Madeline Beaurpe slammed down an assist from Merz.
Valley Catholic held a slim edge throughout the second set, and after a tight battle for much of the third set, pulled away late and got match point on a kill by junior Gretchen Kibe.
"We knew we had to weather the storm, keep battling and never give up, and the girls never did," Valley Catholic coach Becky Kemper said.
Errors proved costly for Sweet Home.
"I think a couple people got lost in the moment and struggled with nerves," Sweet Home coach Mary Hutchins said. "They were battling."
Added Huskies junior libero Graci Zanona: "I don't think we gave up, or we completely gave it to them. I think we made them work for what they got."