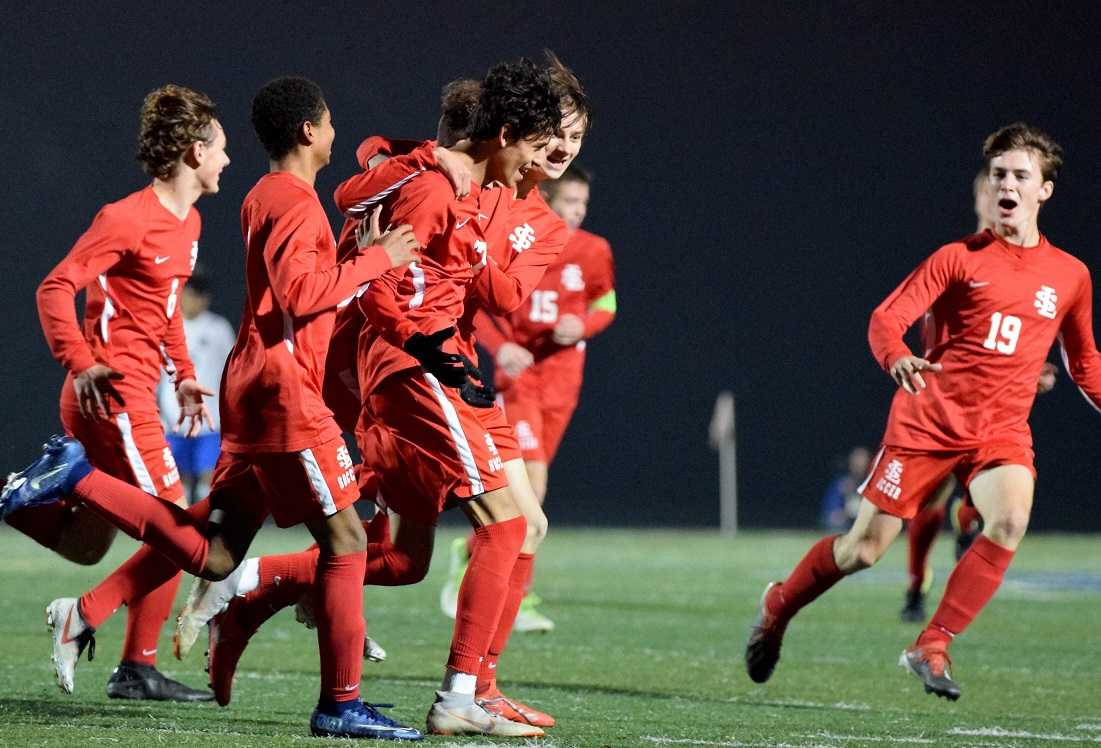 MILWAUKIE -- For too long, La Salle Prep's boys soccer team has been knocking on the door. Saturday, the Falcons hope to finally bust it open.
Semifinalists in 2016 and 2017 and runners-up last year, the Falcons earned a return trip to the 5A final with a 3-0 home win over Northwest Oregon Conference rival Hillsboro on Tuesday night.
Top-seeded La Salle Prep (16-0-1), with 10 seniors, will go for its first title in 10 years Saturday when it meets another NWOC team, No. 3 seed Wilsonville (12-3-3), in the 5A final at Hillsboro Stadium. The Falcons defeated Wilsonville 1-0 in a conference game Oct. 17.
"We've got a lot of seniors this year, so we don't know how it's going to be next year, so this is our chance," junior Noa Taylor said. "This is our chance to show who we really are, because we're a great team and we deserve to show that in the way of a trophy."
Senior forward Luke Strange said a championship "would be the icing on the cake. Everything would be perfect if we got the gold after this."
To get to Saturday, La Salle Prep had to fend off the determined Spartans (8-5-4), the No. 4 seed. Just like when the Falcons beat Hillsboro 3-1 on Oct. 9, the teams battled to a scoreless first half.
"I thought Hillsboro outplayed us in the first half," Falcons coach Seth Altshuler said. "Their game plan was smart, they were effective and they outworked us."
La Salle Prep showed some signs of frustration, but that got wiped away in the 48th minute by a goal from sophomore Mizael Harris. Hillsboro failed to clear a cross, and Harris shot from about 30 yards. It was blocked, but the ball came right back to Harris, who shot again and tucked it inside the right post.
"It was like slow motion," Harris said. "At first I thought it was going to go wide, but it kind of curled back in."
Altshuler raved about the skill of the diminutive Harris.
"He's a star, man," the coach said. "His technical ability and his soccer awareness are second to none. For a kid that young to be in that big of stage and just play lights-out again, I'm very proud of him."
The goal helped settle down the Falcons.
"I automatically felt better," Taylor said, "but also I knew it wasn't over because Hillsboro's been fighting this whole game, and they've had an awesome season, so they want to keep fighting, too."
La Salle Prep made it 2-0 in the 62nd minute when senior Manny Arredondo converted an assist from Taylor. Arredondo returned the favor in the 79th minute when he passed ahead to Taylor, who scored his team-leading 16th goal on a breakaway.
"We got our wits about us, calmed down and started moving the ball," Altshuler said of the second half.
The Falcons' experience in high-pressure games served them well.
"We've been through this so many times," Taylor said. "Even though we didn't play our best today, we grinded out the win. We did what we needed to do."
It was a deflating loss for Hillsboro, which was bidding to make its first final since winning the 2006 title.
"We as a family gave a very good picture of how Spartans fight," said Hillsboro defender Tyrese Bukeyna, a German exchange student. "We grew together as a family, and today we go out there and we can say we lost against the state champions. At the end, it wasn't enough. They were better. I know everybody here gave everything they had."
The Falcons got some measure of redemption in the quarterfinals when they defeated reigning champion Corvallis 3-1. But a title is what they have been chasing all along.
"We've been thinking about it all season long," Taylor said. "It's never been off our mind. Even though we take it one game at a time, it's always been on the back of our mind that we needed to get back here."
They plan on making it count.
"It would mean everything to feel like that work paid off," Altshuler said. "I feel like last year, so much effort went into it, and it almost felt like a disappointment. The energy and work ethic they've all put into this, going back to May, is unbelievable. So I want it really badly for them."