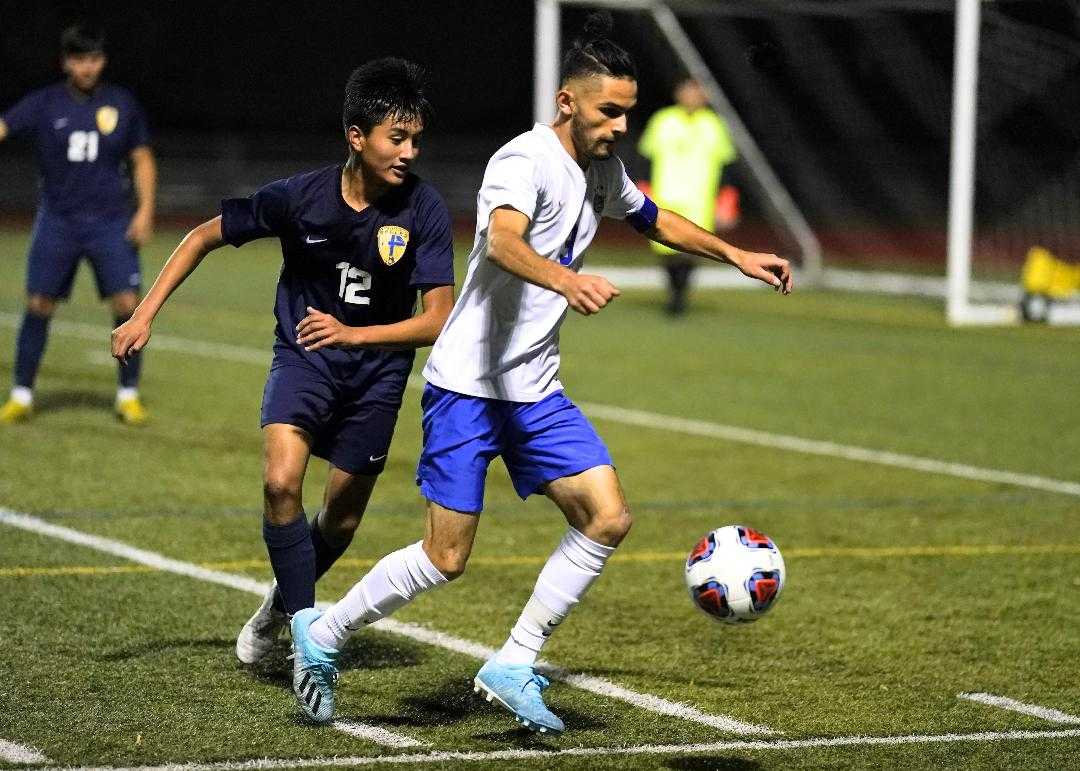 HILLSBORO – For a proud boys soccer program like Woodburn, it wasn't easy coming to terms with two losses to Oregon West Conference rival Stayton this season.
But looking back on those defeats Saturday night, after sixth-seeded Woodburn beat the fifth-seeded Eagles 1-0 in in the OSAA/OnPoint Community Credit Union 4A final at Liberty High School, it all seemed to make sense for the Bulldogs.
"Honestly, those losses were everything to us," Woodburn coach Leroy Sanchez said. "Without those losses, we wouldn't be beating them today. Those losses were exactly what we needed to show that we're not invincible and that we need to pick up our game.
"They might be the best in the league, but we came out to be the best in the state today."
Senior Rodolfo Campuzano scored off an assist from sophomore Ricardo Chacon in the 29th minute and Woodburn (15-2-1) held on to win its seventh state championship since 2010. The Bulldogs have won four consecutive titles, the last two in 4A after moving down from 5A.
In the Bulldogs' two seasons in 4A, all three of their losses have come at the hands of Stayton. This season, they lost 2-0 at Stayton on Sept. 19 and 1-0 at Woodburn on Oct. 17, ending their 40-match home unbeaten streak.
"At the moment, we were down," Bulldogs senior forward Kevin Flores said. "We were thinking, 'This season could go anywhere.' But our coaches, everybody, told us not to give up. We told each other not to give up, we had to keep going. This is just to learn. Every loss is a learning experience."
The second loss was especially painful for senior goalkeeper Isaac Pureco, who misjudged a ball in the wind, leading to the game's only goal. Pureco wouldn't have wanted to see any other team but Stayton (15-3) on Saturday.
"Losing is not a very good thing on our side," Pureco said. "Those two losses, they hurt us a lot, but there was a reason for us to lose twice during league. We knew that this game was going to come another time. We wanted revenge. We were ready to come to war."
Woodburn's offense began to click midway through the first half, but the Bulldogs couldn't put away several good chances. That changed in the 29th minute when the speedy Campuzano caught up to a perfect feed from Chacon inside the box and easily blasted the ball past Stayton senior all-conference goalkeeper Ivan Pelayo from close range.
"He gave me a good pass. I was like, 'I can't miss, because this is the finals,'" Campuzano said.
After being shut out by Stayton in the previous two matches, Woodburn finally was on the board.
"It's so hard to get a goal on these guys," Sanchez said. "They don't concede."
Stayton nearly got even in the final minute of the first half when junior senior Nolan Cramer centered a pass to streaking junior Erick Gomez, who went for a header but was met by Pureco just in time, sending the ball wide.
The Eagles' best chances for an equalizer in the second half came in the 48th minute, when Santos "Jr" Navarro's solid shot from about 15 yards was snuffed by the defense, and in the 55th minute, when sophomore Jayden Esparza shot barely high from about 20 yards out.
Stayton, which lost in the first round last year, finished as state runner-up for the fourth time in six seasons. Coach Chris Shields said that the Eagles, who started three seniors, played tentatively.
"Ultimately, we looked like a team that was frightened of the situation, especially in the first half," Shields said. "We looked a little overwhelmed. We looked like a team that was a little intimidated by the big lights, which is frustrating. We're young, and their seniors have played in four state championship games.
"It was a good season. We thought this would be a tough one regardless of how many times we played them. They wanted to prove to everybody that they are who they are."
The title completed a rare double for Woodburn. In the previous game, the school's girls team won its first state championship, beating Marist Catholic 1-0.
"It's what set the tempo," Sanchez said. "The boys were out here watching the first half, seeing how intense the girls came out, getting an early goal. I told the boys in the locker room, 'We've got to follow that. You see how hard the girls are working? We've got to continue that wave.'"
Pureco said he is proud of how the girls team has grown.
"It pumped me up," he said. "Seeing the girls win after not even being able to qualify for the playoffs like two years ago, and now they're winning the state title, that's amazing. That shows how much soccer means to Woodburn."
Flores called the girls' win "amazing."
"That's the best thing ever," Flores said. "Having the girls and boys, it's going to be crazy at school, the most hyped thing ever. This is just what makes soccer a beautiful thing."