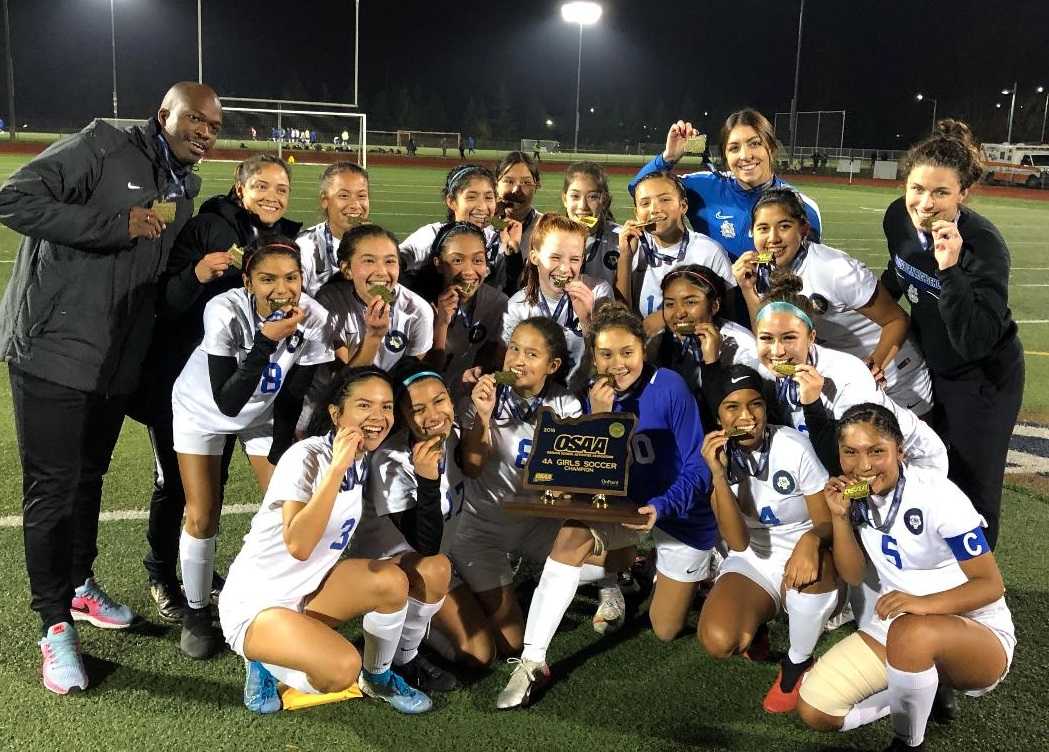 HILLSBORO— When Woodburn forward Yahaira Rodriguez beat the goalkeeper and passed the ball into the back of the net Saturday, what greeted her was something she never dreamed possible a year ago.
Confetti flew everywhere, the student section waved signs and shook the bleachers. It was a support group that spanned the entire west end of the Liberty High School stadium, anxiously propelling their girls to victory.
This is a scene few thought would become reality when the Bulldogs remained stuck at the bottom of the table a few seasons ago. At a school where the boys team, winners of the last four state titles, received support en masse, the girls could barely get a fraction of those fans to their games.
On Saturday night, it seemed as if the girls gained a little more of that respect as Rodriguez's goal and a third playoff shutout propelled Woodburn (14-2-2) to its first-ever state title in a 1-0 win over Marist Catholic (15-2-2) in the OSAA/OnPoint Community Credit Union 5A girls soccer final.
"When I came into this position three years ago, our goal didn't revolve around wins, it revolved around getting people to respect the women's soccer program as much as they respected the men's soccer program," Woodburn coach Andrea Whiteman said. "The talent was there, but what was missing was support, recognition, and also the girls believing in themselves."
On paper, the Bulldogs were not supposed to be playing in the championship game. They're smaller, playing nine new freshmen, and have been the lower-seeded team in every matchup. Against Marist Catholic, they were up against a semifinalist from a season ago with players that were bigger and more physical at nearly every position.
However, just because they were the smaller team didn't mean that they were going to be easily pushed around.
Throughout the week coaches jumped into drills at practice to help players prepare for a more physical game. At first, the Spartans were able to keep Woodburn pinned in its defensive half; then freshman Litzy Gonzalez had to exit the game with a concussion.
According to Whiteman, despite the slow start, her team came out as the more aggressive team and a switch flipped when Gonzalez exited the game.
From that point on, Woodburn began to play with more of a purpose, and with 33 minutes remaining in the first half, they were presented with their best, and ultimately only, opportunity of the game, which Rodriguez converted for the 1-0 lead.
"We've always been playing against bigger girls, so I was used to the pressure," Rodriguez said. "I knew that I had to take my time and take my shot because I had it, and it was a reflection of how the entire team played. It was not just my goal, but it was all of our goals."
Of course, any playoff run doesn't come without a little bit of adversity, which Woodburn found out for itself late in the second half.
With 26 minutes remaining, a collision at the top of the box forced goalkeeper Carla Zamora to be carried off the field with what Whiteman later said was a very bad charley-horse cramp. The issue for the Bulldogs was that Gonzalez, who left the game in the first half with a concussion, was the backup goalkeeper.
Senior midfielder Bailey Castro went in instead and held her own for 12 minutes-- making a couple of saves-- before Zamora made an unlikely return.
"I am a senior, I want this to be my last 10 minutes," Zamora said about her decision to return to the game. "I want to fight through this, I want to get back out there, I want to be there for my team because I knew they needed me in the final 15 minutes."
Her teammates also believed that despite how bad the injury looked to be, their final line of defense was tough as nails.
"We had a feeling that she was going to come back," Rodriguez said. "She's a really strong person and player. She would never let her team down, that is why she got player of the game. It's just a reflection of the type of player and person that she is."
With five minutes remaining in the game, Zamora needed to pull off one last stop to seal the title. Desperate for a game-tying goal, Marist Catholic had one final shot on goal, but an outstretched Zamora was able to push the ball far enough away to watch it harmlessly trickle past the outside of the near-post for her fifth save of the game.
After the game, multiple players echoed the sentiment that this victory isn't a fluke. After years of being overshadowed by the boys team, the Bulldogs made a major step towards stepping out of the shadows and into the spotlight. If anything else, the team, and players, gained a whole lot more respect.
"For us to make it, it's so exciting to know what is to come ... in the future," Zamora said. "This is just the start."