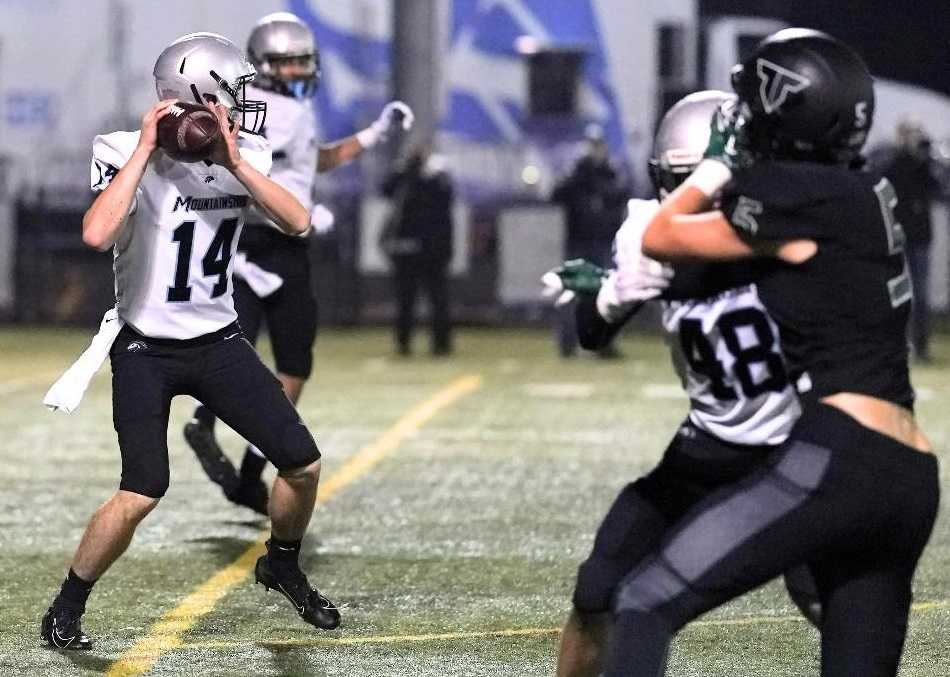 Mountainside coach John Mannion wasn't sure if his upstart Mavericks, in their second varsity season, were up for knocking off top-seeded Tigard in a 6A second-round football game Friday.
But Mannion has been around long enough to know that even the biggest of underdogs have a shot if they hang around long enough.
"I obviously knew what Tigard had done all year against real quality teams," Mannion said. "The thing we said throughout the week was, 'Take it one play at a time, stay competitive, but push this game further along. Get it into the third quarter, the fourth quarter, because anything can happen.'"
And it did. Mountainside's 34-31 overtime win at previously unbeaten Tigard was one of the more stunning playoff results in years. It marked the first time in the current playoff format that a 6A top seed was cut down short of the quarterfinals, and for it to happen against a second-year program left many in shock and awe.
A wave of disbelief washed over the state as word got out that the Mavericks (8-3) eliminated the Tigers (10-1) on a 25-yard pass from sophomore Brian Mannion to senior Carlos Montero.
"This whole thing is kind of new to us," Mannion said. "The finish in overtime, it was kind of like, 'Wow, did that really just happen?' I know the program is young, but they've already developed a lot of pride in trying to create their own identity."
Mountainside had the weekend to savor the victory. Mannion, who stepped down at 5A Silverton to start the program in 2017, was flooded with messages from coaches such as Lake Oswego's Steve Coury and Stayton's Randy Nyquist.
"I coached for 20 years in California and have a lot of great friends, but I've been here for 10 years now, and I've been fortunate to coach with and against a lot of guys that I consider good friends now," Mannion said. "And it was neat to have quite a few of those guys send me a little message Friday night and into Saturday."
Tigard had advantages in total yards (454-273) and first downs (20-13), but Mountainside was able to hang in the game by being opportunistic, converting three turnovers into touchdowns.
The Mavericks took a 7-0 lead when Justin Hughes returned a fumble 38 yards for a score. Down 21-7 in the third quarter, Marlon Sawhill-Barrios recovered a bobbled punt at the Tigard 8-yard line, setting up a touchdown pass from Mannion to senior Jonah Amaya.
Tied 21-21, Mountainside converted an interception by junior Landon Sherman into a seven-yard touchdown pass from Mannion to Hughes to lead 28-21 with 10:45 to go.
In overtime, Tigard got the ball first and settled for a 43-yard field goal by senior Jackson Cleaver to lead 31-28. Mountainside was facing third-and-10 at the 25, and almost resigned to attempting a tying field goal, before the winning play.
"We knew that a TD would win it, so we were trying to take a shot," John Mannion said.
Mannion's strike to Montero was his fourth touchdown pass of the game, all in the second half. In his fourth varsity start, he completed 18 of 35 passes for 228 yards.
"I felt like he continued to develop, along with our whole offense," John Mannion said. "Our offensive line did a tremendous job of pass protection. Our passing game in general is continuing to evolve."
The Mavericks move on to a Friday quarterfinal at No. 9 seed Barlow (9-2).
Riverhawks rolling
Mountainside might be the darling of the playoffs, but another underdog has quietly risen out of the Columbia River Gorge.
The Dalles, which finished third in the 4A Tri-Valley Conference and entered the playoffs seeded 10th, has reached the semifinals for the first time since 1993. The Riverhawks (7-4) outlasted No. 14 seed Tillamook 58-51 in a quarterfinal, becoming the only double-digit seed to earn a final-four berth over the weekend.
The team is hitting its stride under coach Andy Codding, who replaced Steve Sugg as coach this season. Codding coached The Dalles from 2008 to 2010, going 15-16, before leaving to start the program at Ridgeview, where he went 28-32 in six seasons, winning the 4A championship in 2013.
Codding returned to assist Sugg last season and became head coach after Sugg resigned in the spring. Codding scrapped the team's spread offense in favor of the fly-sweep offense, and the Riverhawks have taken to it. Last year, they averaged 18.0 points per game and finished 2-6. This year, they are averaging 36.2 points.
"I'm pleasantly surprised with how quickly they learned the system and bought into it, and are able to carry things out," Codding said. "They're living up to their potential right now.
"It's an unconventional, underdog-oriented offense that's typically a run-first offense, but we're able to throw out of it pretty well, also."
The Dalles racked up 496 total yards to beat Tillamook, getting a big game from senior Okean Green, who ran for four touchdowns and caught a scoring pass. For the season, Green has more than 1,000 yards rushing and about 600 yards receiving.
The team's offensive overhaul has been a good fit for senior quarterback Gabe Helseth, a third-year starter.
"He's not being counted on to throw the ball 40 times a game like he would in the spread," Codding said. "It's kind of taken the weight off his shoulders. He's using his feet as much as his arm right now."
The Dalles will need to be on top of its game in the semifinals against third-seeded and unbeaten La Grande (10-0). The Riverhawks lost at home to La Grande 48-14 in Week 2, but they were without several key players who have since returned from injuries.
"Our personnel and our execution has changed quite a bit," Codding said. "Those were the growing pains early in the season. I feel like we're in a much better position to take on the best teams in the state. We're excited to play La Grande and show how far we've come."
Regardless of what happens, the season has been a breakthrough for The Dalles, which played a 5A independent schedule in 2016 and 2017 and met OSAA criteria to drop down to 4A last year.
"I think it was necessary," Codding said. "The Dalles has had a decade of struggle. They really needed to build confidence by going down to 4A. But if you look at our demographic, it's where we should be."
Setback for Rainier
There was good news and bad news Saturday for reigning 3A champion Rainier.
First, the good news. The fifth-seeded Columbians (9-2) kept their chances at a repeat alive with an emphatic 50-22 win at fourth-seeded Amity, avenging a 24-20 regular-season loss to the Warriors (8-3).
Now, the bad news. Sophomore running back Stone Ware, who rushed for 113 yards on 13 carries, suffered a broken wrist with 8:45 remaining and left the field in an ambulance.
That means Rainier will be without one of its primary weapons Saturday when it meets top-seeded and unbeaten Hidden Valley in a semifinal at Cottage Grove High School.
"Our thing has been next man up," senior running back David Katon said. "We've got a lot of guys who can play ball. He's going to be missed, for sure, but we're going to have guys who are going to step up/. We're going to play good ball and keep doing what we do."
Katon was outstanding against Amity, catching a 13-yard touchdown pass in the second quarter and rushing for two scores in the second half as the Columbians built a 42-8 lead. Sophomore Kenney Tripp threw two touchdown passes and returned a fumble 60 yards for a score.
It was a stark contrast from the first meeting between the teams.
"We took a look at our last game against them and identified somee things we needed to improve," Katon said. "And we figured we could come out here and run our offense, and get back to Rainier football, and score a few touchdowns."
-- Jeremy McDonald
Shutout streak
Second-seeded Crater has developed a simple formula for advancing in the 5A playoffs.
"If you don't give up any points, it's pretty easy to win the games," coach Randy Waite said with a laugh.
The Crater defense is on a terrific run. The Comets (10-1) have not allowed a point in 17 quarters, recording their fourth consecutive shutout -- and sixth of the season -- by smothering visiting Parkrose 49-0 on Friday.
No. 7 seed Parkrose, which put up 59 points in a first-round win over Lebanon, never seriously threatened. On the last play of the game, the Broncos tried a trick play that went about 50 yards, but Crater made the tackle at the 8-yard line.
"They have some dynamic players, and we weren't going to put ourselves out of position," Waite said of the Broncos. "We weren't going to let them get the big hit.
"This defense, probably more than any defense I've had, rallies to the football better than you would expect from a high school team. Guys are running guys down."
Against Parkrose, the Comets got interceptions from senior linebacker Tyler Ennis – the Special District 2 South division defensive player of the year – and senior defensive back Gavin Acrey, who returned his for a touchdown. Also, sophomore defensive end Jimmy Jordahl (6-2, 215) wreaked havoc up front.
"It really isn't one or two guys, it's 11 nameless faces that play football extremely well together," Waite said. "They just do their job."
Crater meets No. 3 seed West Albany (11-0) in a Saturday semifinal at Autzen Stadium. The Bulldogs are averaging 46.0 points per game.