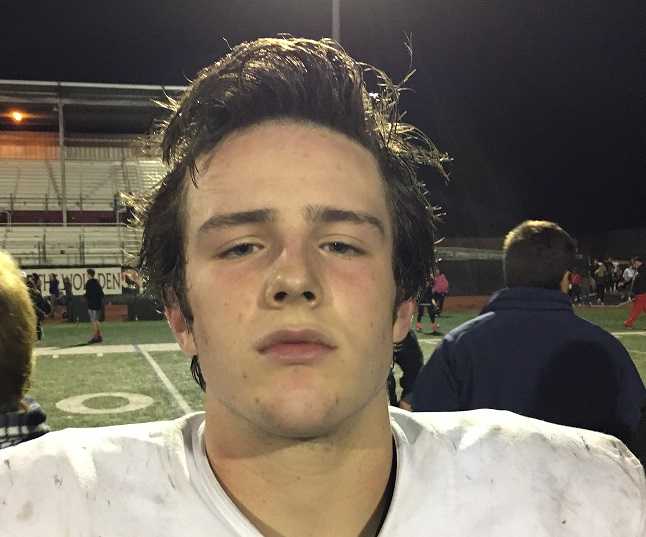 Reigning champion Lake Oswego kept its season alive Friday night with a 24-21 win over rival Lakeridge in the quarterfinals of the 6A football playoffs.
Senior Casey Filkins rushed for 225 yards and three touchdowns on 31 carries as the No. 3 seed Lakers (10-2) advanced to the semifinals to meet No. 2 seed Jesuit (10-2).
The Stanford-bound Filkins opened the scoring with a 51-yard touchdown run in the first quarter, but No. 22 seed Lakeridge (5-7) got scoring runs of 44 and 17 yards from Arizona-bound senior Jalen John to take a 14-7 lead into halftime.
Filkins tied it 14-14 with a one-yard touchdown run in the third quarter, set up by a fumble recovery by Thomas Dukart. Aaron Rudder put Lake Oswego ahead 17-14 with a 37-yard field goal in the fourth quarter, and Filkins made it 24-14 with a 24-yard touchdown run on a quarterback draw.
The Pacers pulled within 24-21 on a 21-yard touchdown pass on fourth down from Cooper Justice to Bryson Corbin with about one minute left.
Lakeridge, which lost to Lake Oswego 41-17 in the regular-season finale, finished with a 366-288 edge in total yards. John rushed for 175 yards and two touchdowns on 26 carries and Justice completed 10 of 17 passes for 108 yards and one score and rushed for 60 yards on seven carries. Carson Mike had seven catches for 72 yards.
The Lakers gained all of their yards on the ground, throwing only two passes, both incomplete.
Lake Oswego heads into a semifinal rematch with Jesuit. The Lakers beat the Crusaders 24-14 in the semifinals last year and defeated them 44-41 in Week 2 of this season.