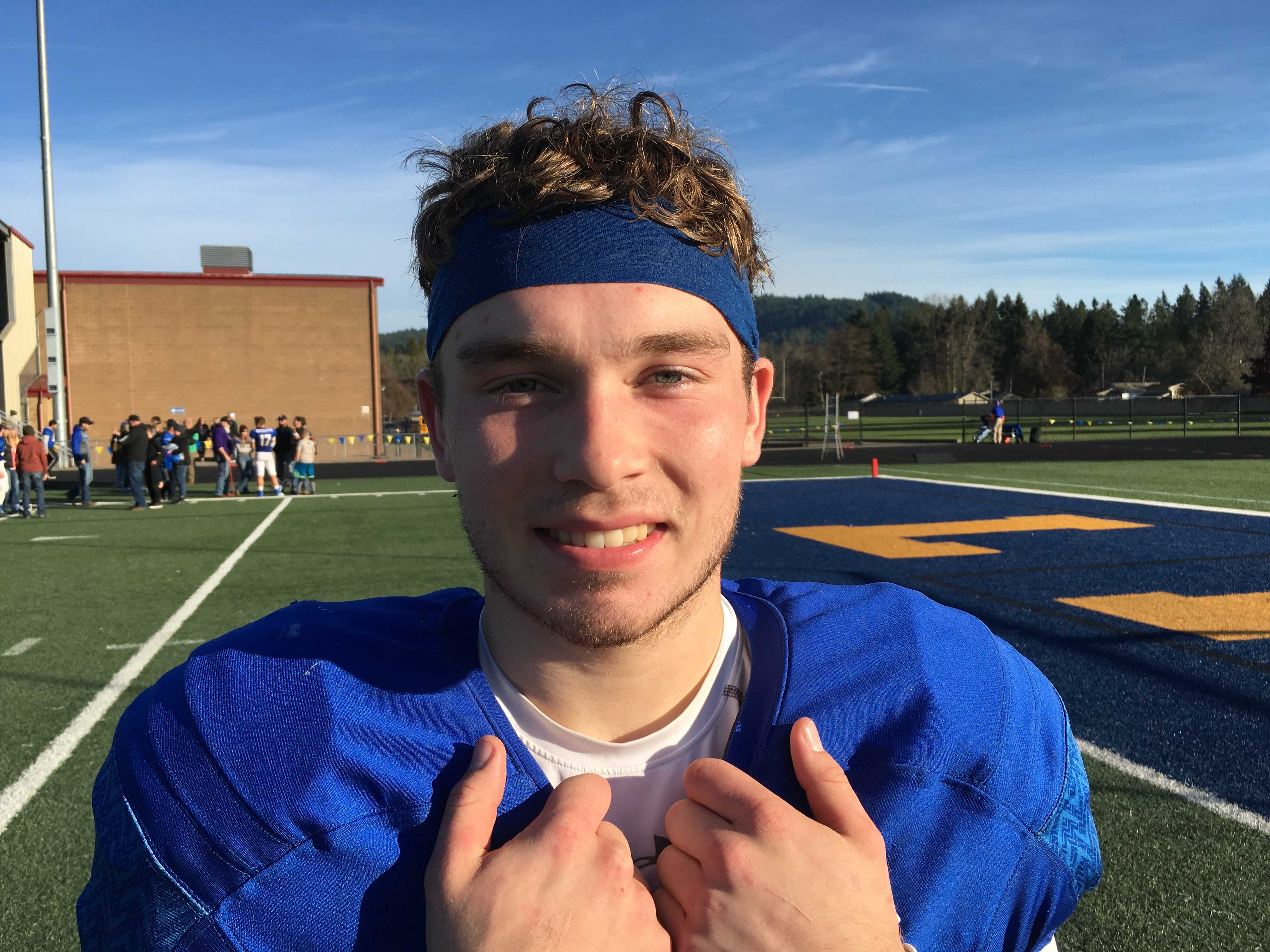 COTTAGE GROVE -- St. Paul wasn't lacking for motivation this football season after finishing as the 1A runner-up in 2018.
The Buckaroos just didn't know if they had the players to get back to the state championship game.
That question was answered Saturday at Cottage Grove High School, where top-seeded St. Paul earned a return trip to the final with a 46-26 semifinal win over No. 4 seed Camas Valley.
"We had to replace a bunch of really good kids," Buckaroos coach Tony Smith said. "When we started out the season, I didn't think we had a chance to get back here. I thought we'd be in trouble. But we've gotten a lot better."
St. Paul senior quarterback TJ Crawford said the team's run to the championship game "just shows how much we want it."
"Different group of guys, and we're still able to come back and become just as good of a team as last year, if not better," Crawford said. "To have the experience of last year, we know exactly what we've got to do."
Crawford continued his stellar season with another standout performance Saturday. He rushed for 206 yards and three touchdowns on 21 carries and completed 10 of 17 passes for 205 yards and two scores.
"He's really stepped it up from last year," said senior running back Mitch Curtis, who had a 47-yard touchdown run and two interceptions on defense.
The Buckaroos entered outscoring their opponents by an average of 64-10, but got all they could handle for about a half from the pesky Hornets (9-1), who were in their first semifinal since 2014.
Camas Valley sophomore River Wolfe caught touchdown passes of 17 yards from senior Jared Hunt and 26 yards from sophomore Jared Standley and scored on a 50-yard run as the Hornets led the Buckaroos 20-16 in the second quarter.
St. Paul answered all three of Wolfe's scores -- getting a 15-yard touchdown run by Crawford and scoring passes of 10 and 16 yards from Crawford to sophomore tight end Bryce Williams -- to pull in front 22-20.
After getting a stop on fourth-and-one at midfield, St. Paul made it 28-20 when Curtis broke free on a misdirection play for a 47-yard touchdown run.
The Buckaroos scored two touchdowns to open the third quarter -- a six-yard run by senior Gianni Grasso and a 76-yard run by Crawford -- to open a 40-20 lead, and they were never seriously threatened from there.
"It's whoever wants it more, and we showed that we wanted it more," Crawford said. "As we continue on this journey, to the dream of a state championship, it's an amazing feeling. As we get up to it, it's going to get harder, and people are going to want it more."
St. Paul needed to tighten up its defense to corral the hard-running Hunt. He finished with 181 yards on 20 carries after pounding for 140 yards in the first half.
"We just tried to contain, not let him get to the outside," Curtis said. "Keep everything inside, gang-tackle. He was definitely one of the better backs we've seen."
The Buckaroos also adjusted on offense.
"They were physical inside and limited our ability early on to run the football," Smith said. "We were effective throwing the ball, and once we were able to do that, we had a little more success running the ball."
Hunt was impressed with how St. Paul schemed against the Hornets.
"I thought we were going to hang with them the whole time," Hunt said. "They're just really good at drawing stuff in the sand. We just didn't adjust correctly.
"We really wanted to come out here and give them a good game. We knew it was going to be tough. They're just super solid. Thirty-three kids on an eight-man team is a lot. Every single one of us goes both ways."
The Buckaroos finished with a 538-347 edge in total yards. Curtis rushed for 66 yards and a touchdown on six carries, Williams had nine catches for 93 yards and the two scores and the defense had three interceptions, two by Curtis and one by Grasso.
St. Paul will go for its seventh state championship and first since going back-to-back in 2009 and 2010 next week when it meets either No. 2 Adrian/Jordan Valley or No. 3 Crane in the final.
"This means everything to me," Curtis said. "We wanted it from the start. We knew we would be good enough to get here.
"I think about last year a lot, and especially now, it's going to come back to me. We're not losing again."
No. 2 Adrian/Jordan Valley 74, No. 3 Crane 18: Led by quarterback Conley Martin and running back Michael Babcock, the Antelopes (12-0) piled up 628 total yards in the semifinal win at Hermiston High School.
Martin rushed for 185 yards and two touchdowns on 27 carries and completed 10 of 16 passes for 261 yards and three scores. Babcock rushed for 143 yards and three touchdowns on 12 carries and caught five passes for 224 yards and two scores.
The Antelopes led 38-6 at half. It was their second win of the season against Crane (10-2), which they defeated 42-36 at home in Week 2.
Adrian/Jordan Valley, which lost in the quarterfinals the last two years, is back in the final for the first time since winning the 2014 title.