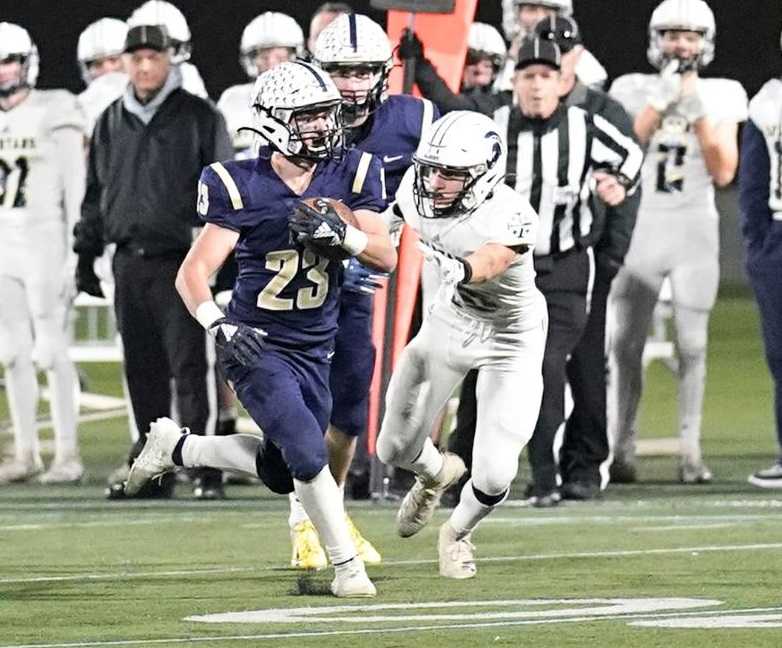 HILLSBORO --The Banks Braves do not quite remember the painful sting of defeat. Over a year and a half without one will do that to a team.
It was the opening game of last season in which Banks fell at Gladstone, the season that the Braves went on to win the 4A football championship.
But despite all of that success, all of that time without a loss, and a trophy to boot, it says something deeper about a team's structure when it has an attack that can seemingly be impossible to solve.
On a chilly Saturday night at Hillsboro Stadium, that was the case. Three Banks players went over 100 yards and quarterback Tanner Shook threw for 262 yards and four touchdowns as the Braves (11-0) defeated Marist Catholic 56-31 in a 4A semifinal.
"We're well-rounded, playmaker-wise," Banks coach Cole Linehan said. "(Jacob) Slifka and (Jarred) Evans have been doing it all year for us, and they stepped up big time. [Marist Catholic] put their studs on those guys so it was fun for us to see those guys make plays. And then Martial (Stegemeier) had a heck of a game."
Added Stegemeier: "We're just dynamic. Everyone on this team has worked hard to get where they're at. They open up stuff for me and I open up stuff for them. All together, we just feed off of one another."
Evans finished with 111 yards and two touchdowns (one coming on a pick-six), Stegemeier finished with 189 yards and three touchdowns and Slifka contributed 130 yards and two touchdowns.
So when Linehan yelled that there would be practice on Thanksgiving, there was a mix of excitement, joy, and relief among the gathered group of players who knew that they are right back where they feel they belong: a second-consecutive state championship game.
Back in September, Banks handed the Spartans (9-2) their sole defeat of the season in Eugene, but Saturday night's rematch was nothing like that 19-14 game in Week 3, when Marist Catholic stormed back from 19-0 down to make it a game.
If you're searching for parallels, however, look no further than Shook. The senior quarterback made his first varsity start in that game against the Spartans, and on Saturday night had perhaps one of the best games of his career, passing for four touchdowns in the first half with a majority going to Slifka.
"We've grown up together," Shook said. "Since third grade, we've played on the same football team. We practice routes all the time, and he's a great receiver."
While the game turned into a blowout near the end, it was one in which the scoreboard did not perfectly depict the flow.
The tide turned in Banks' favor in the second quarter after a competitive opening 15 minutes in which the two teams matched early touchdown drives.
It started with a 28-yard touchdown pass to Slifka, who hauled down the lofted ball in the left corner of the end zone for the 14-10 lead.
The next possession, Banks forced a turnover on downs near midfield, which Shook turned into a 50-yard touchdown to Slifka. And after allowing the Spartans to drive into the red zone, Evans blocked Ty DePaoli's field-goal attempt to preserve an 11-point lead.
While the game looked to be firmly turning in Banks favor midway through the second quarter, Marist Catholic provided a strong answer to drag itself back into the game.
After having a field goal blocked, the Spartans held the Braves to a three-and-out and blocked the ensuing punt out of the end zone for a safety. Thirty seconds later, Max Campbell found Lucas Patterson for a 52-yard touchdown to bring the score to 21-19.
But the three minutes that Marist Catholic left on the clock was easily too much time, as Banks answered right back with a seven-yard touchdown, set up by a 42-yard catch-and-run from Evans, to put the Braves up 28-19 heading into the break.
The Spartans found themselves unable to rebound in the second half as they were able to pull within 35-25, but Evans' one-handed pick-six all but sealed the result.
"We've worked so hard in the offseason," Shook said. "If we didn't get to this point we'd have been so disappointed, it would just crush us. We had a great week of practice, great film sessions, and my guys came out and executed and it was perfect."
Campbell finished with 298 yards and two touchdowns and Lucas Tuski added 131 yards and two touchdowns on the ground, but it wouldn't be enough for a Marist Catholic team that finished with only 20 fewer yards of total offense.
Now the Braves have to turn around and face No. 3 La Grande, which is coming off a 68-0 win over The Dalles. After weeks of "ignoring the outside hype" and "preparing for the next opponent," the final game is almost upon Banks.
"We gotta find a way to win another one," Linehan said. "That's been the talk from everyone else except for thee guys. We haven't talked about a state champion, we haven't talked about repeating, we've just talked about the team in front of us. Now it's time to try and go win one."
No. 3 La Grande 68, No. 10 The Dalles 0: The Tigers (11-0), making their first semifinal appearance since 1976, rushed for 365 yards in routing the Riverhawks (7-5) at Hermiston High School.
Nathan Reed rushed for 185 yards and three touchdowns on 13 carries and caught a 40-yard touchdown pass for La Grande. Parker Robinson completed 4 of 7 passes for 134 yards and touchdowns to Reed, Blaine Shaw and Payton Cooper. Robinson also rushed for 94 yards and one touchdown on nine carries.
Denver Neill rushed for 132 yards on 13 carries for The Dalles, which was appearing in its first semifinal since 1993.
The Tigers led 39-0 at half and 61-0 after three quarters.
La Grande's only title came in 1974.