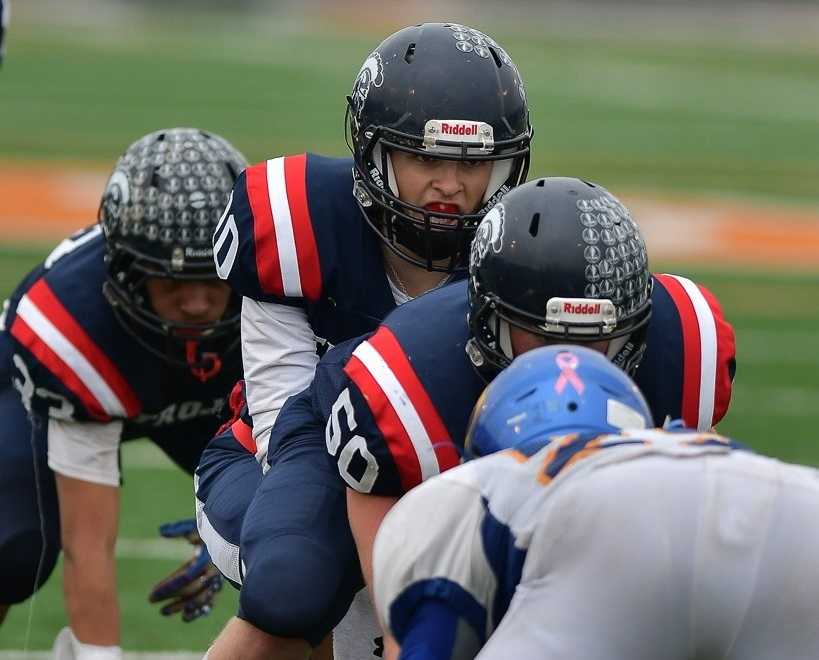 Reigning 2A football champion Kennedy had lots of question marks entering the season.
Standout running back Emorej Lynk, who tore his ACL and MCL in last year's state final, moved on to South Salem for his senior year. Of the talented players returning, several were growing into new roles.
But after opening the season with a 22-0 loss to reigning 3A champion Rainier, Kennedy has reeled off 10 consecutive wins. The top-seeded Trojans (10-1) showed their championship mettle Saturday by coming from behind late to beat No. 4 seed Monroe 15-12 in a semifinal at Hillsboro Stadium.
"We've got a really good junior class. They're heady, smart kids," coach Joe Panuke said. "The majority of these juniors started as freshmen, when we lost to Monroe in the quarterfinals. They've been doing it for a while. They know how to win football games."
Junior Dylan Kleinschmit, who started at quarterback as a freshman but was a backup to Angel De La Rosa last season, became the starter again this year and has thrown 19 touchdown passes, two off the school record. Against Monroe, he ran for a touchdown and hit Brady Traeger with a 27-yard pass for the go-ahead score with 41 seconds left.
"He's more of a pocket passer," Panuke said. "He reads the defense really well. He's got a really strong arm. He's a catcher on the baseball team, so he throws it well, gets rid of it really quick."
Junior Isaiah Basargin, who played mostly on defense last year, has emerged as a go-to target for Kleinschmit. Basargin has eight touchdown catches, also within two of the school mark.
Senior Bruce Beyer, a fullback last year, moved to tailback and has rushed for 1,317 yards and 19 touchdowns. His style is a departure from the explosive Lynk.
"He's not extra fast, but he uses the stiff-arm well," Panuke said. "He's kind of slithery, kind of slides off stuff and gets it done. He's not a 4.5, 4.6 kid, but he runs hard and he's tough as heck."
The Trojans present opposing defenses with a different kind of challenge this season.
"We're a little more balanced, as far as threats in the backfield and receiving-wise, than we were last year," Panuke said.
Kennedy will play No. 3 seed Heppner (12-0) for the title Saturday at Hermiston High School. The Trojans beat Heppner 34-0 in a first-round game last year and lost to the Mustangs 48-0 in the 2015 final.
Nod to the past
With its historic 3A semifinal win Saturday, top-seeded Hidden Valley (12-0) reconnected with its past.
After beating Rainier 42-22, coach James Powers presented the game ball to Mike Sparlin, the Mustangs' coach when the program started in 1977. Sparlin has been seriously ill of late but made the trip to Cottage Grove to see Hidden Valley earn its first berth in the finals since 1978.
"He made it all the way up to that game to watch us," Powers said. "With a guy in that kind of health, we really felt like he deserved the game ball. He's just an old coach that really loves the game. We wanted to honor that. He comes to about every home game he's able to come to."
After accepting the ball to the players' cheers, Sparlin had a simple message for the team: "One more," he told them.
"I think our kids care quite a bit about things like that," Powers said. "They care because they're true Mustangs. They kind of get it. It's not all about football, it's about the family atmosphere. It's about life, learning lessons."
Hidden Valley's coaching staff has a deep loyalty to the program. All of them, except for Powers, played for the Mustangs. Assistant Vince Randall was a member of the 1978 state runner-up team. Offensive coordinator Mark Vidlak – whose sons Sam and Nate are on the team -- was Hidden Valley's head coach from 2014 to 2016.
The Mustangs have thrived in 3A since meeting OSAA criteria to move down from 4A last season. They will move back to 4A next season.
"It was definitely an uncertainty of how good we were going to be," Powers said. "We had some young kids underneath that I knew were talented. The change in the culture brought out more kids. Dropping us down to 3A, kids felt like they could compete.
"I think it served its purpose as far as what the OSAA is trying to do. I really feel like it's a big success story on our side. No matter what the outcome is Saturday, it's been a huge success for us, and put our momentum going in the right direction."
Feeding Filkins
Humbling losses to Tigard and Tualatin made reigning 6A champion Lake Oswego rethink its offensive approach as it prepared for the playoffs.
The team's simple solution? Make sure senior tailback Casey Filkins gets the ball as often as possible. The Lakers went from occasionally using Filkins in the wildcat formation to modifying their offense so he takes the majority of the snaps.
The Stanford-bound Filkins rushed for 225 yards and three touchdowns Friday in Lake Oswego's 24-21 quarterfinal win over Lakeridge. The Lakers threw only two passes – one by Filkins and one by sophomore Jack Layne.
It's a dramatic departure from the team's first eight games with junior quarterback JJ Woodin, a traditional pocket passer.
"We got whipped by Tigard and Tualatin, and the question after Tualatin was, 'How do we compete with teams like that?'" Lake Oswego coach Steve Coury said. "It became apparent that this was the direction we needed to go. We're easing into it at the late stages. We're still evolving, believe it or not, and we're going into the semis."
In the first round against Grants Pass, the Lakers threw 18 passes, with 10 attempts by Woodin, seven by Filkins and one by Layne. Filkins and Layne combined to throw all 13 of the team's passes in the second round against West Salem, and the team was almost exclusively ground-bound against Lakeridge.
Filkins has rushed for 721 yards and 12 touchdowns in the playoffs, hiking his season totals to 2,162 yards and 35 scores. In the playoffs, his carries have increased from 20 to 24 to 31.
But opponents can't afford to sleep on Filkins as a passer. Filkins, who played quarterback in youth football, threw touchdown passes of 37 yards to Thomas Dukart against Grants Pass and 31 yards to Joe Hutson against West Salem.
"He has knowledge of the game from that position, he just hadn't played it. Now he's playing it," Coury said. "I would venture to say he throws the ball better than anybody on our team."
Coury praised Woodin, a transfer from Westview, for how he has accepted the change. Woodin has seen limited action at linebacker as the Lakers work to find other ways for him to contribute.
"One thing about that kid, he's a winner," Coury said. "He just wants to be a part of it. He wants to play."
Laker Thanksgiving
Lake Oswego's semifinal win means that the team will continue its longstanding Thanksgiving tradition this week.
When the Lakers practice on Thanksgiving – which for years meant they were in the quarterfinals but in recent seasons it is the semifinals – they invite their former players to attend.
"We've been fortunate to do it a lot," Coury said. "It's really great to see the kids come back. The kids that graduated look forward to it. It's just the coolest thing.
"The kids that have gone through the program, they all know about it. It's 10 o'clock. It's already set."
It is the third year in a row that the Lakers will practice on Thanksgiving. Last year, 85 alumni came to the practice, including players from Coury's first teams in the early 1990s.
Diverse attack
Teams trying to defend 1A powerhouse Adrian/Jordan Valley have had to pick their poison this season.
One week after senior Wade Bond tore up Hosanna Christian in the quarterfinals – catching six passes for 202 yards and five touchdowns – it was sophomore quarterback Conley Martin and senior Michael Babcock going off in a 74-18 semifinal win over Crane.
Martin rushed for 185 yards and two touchdowns and passed for 261 yards and three scores. Babcock had five catches for 224 yards and two touchdowns and rushed for 143 yards and three touchdowns.
"That's how it's worked out so far this year," Antelopes coach Billy Wortman said. "Conley is so capable of throwing and running, it makes him tough to defend. He's got so many tools that he uses, and he's got a great offensive line in front of him and weapons in the backfield."
Wortman said Crane paid special attention to Bond after his quarterfinal performance.
"That opened up Michael," Wortman said. "They were also clearing the box for Michael on the runs by putting one of their top defenders with Wade. It was just more about who was available to make plays."
Bond was the team's starting quarterback as a freshman, moved to running back and this season has found a home at slot receiver.
"He's been lighting it up," Wortman said.
The 5-9, 155-pound Martin, who started all 10 games at quarterback as a freshman, has taken his game to another level this season.
"Last year we lined up in the I-formation a lot, and a pistol look, to try to protect him," Wortman said. "This year we kind of just cut him loose."
The second-seeded Antelopes (12-0) meet No. 1 seed St. Paul (12-0) in the state final Saturday at Hermiston High School.
Timberwolves reflect
Tualatin's 42-28 loss at Jesuit in a 6A quarterfinal Friday marked the end of the line for an impactful senior class that included linebacker John Miller, running back Kainoa Sayre, defensive back Luke Marion and quarterback Blake Jackson.
The Timberwolves started nine seniors on offense, including several who played key roles as sophomores when Dan Lever took over as coach and they bounced back from a 2-8 season to finish 7-4. They went 7-4 in 2018 and finished 9-3 this year, making the quarterfinals for the first time since their state runner-up season of 2010.
In the aftermath of Friday's game, Miller reflected on what the group had accomplished.
"I'm going to look at it as a gateway for the next couple years for us to open up big," said Miller, who has committed to play at Oregon State. "Getting past the second round is huge. Doing this is a big thing for us."
Miller also offered high praise for Lever.
"The best guy I've ever had as coach," Miller said. "He's an amazing guy. He turned our program around. He really showed us how to work hard, fight for things and never give up."
Tualatin showed that spirit Friday, rallying from a 35-7deficit to within 35-28 by scoring three touchdowns in less than four minutes. Ultimately, though, the Timberwolves didn't have an answer for Jesuit running back Kade Wisher, who rushed for 330 yards and four touchdowns.
"I just don't think that we were prepared for the run," Sayre said. "They're probably the most talented offensive line in the state, and a couple of talented backs to go with it. It's going to be interesting watching them finish the season."