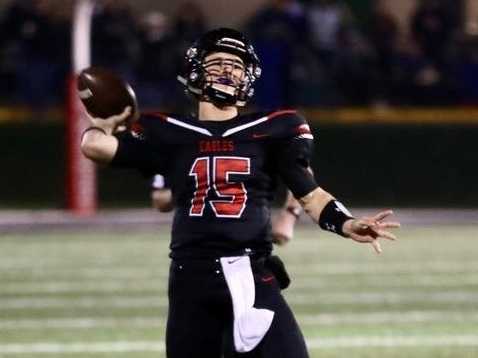 Santiam Christian's football resume can stack up with just about anybody.
The 3A Eagles of Corvallis have recorded 22 consecutive winning seasons, never losing more than three games in a year since 2003. This year, they made the semifinals for the eighth time in 14 seasons, advancing to their fifth final in that span.
Where Santiam Christian is a bit lacking, though, is in state championships. To date, the Eagles have only one title, in 2011.
"A lot of things can happen from Point A to Point B," Santiam Christian coach Matt Bain said. "Always stuff gets in the way."
Now, the only thing standing in the way of No. 2 seed Santiam Christian (12-0) and a second state title is top-seeded Hidden Valley (12-0). The teams meet in the 3A final at noon Saturday at Roseburg High School.
The Eagles know that slowing down the Mustangs, who are averaging a 3A-high 48.7 points per game, will be a monumental chore.
"They've got athletes coming out of their ears," Bain said. "I don't know that anybody has a matchup where they feel comfortable with Hidden Valley. They going to be taller, faster and jump higher than we do. We have to be prepared to deal with that."
Santiam Christian, the 2017 runner-up, had won at least one playoff game for nine years in a row before falling in the first round in 2018. The Eagles lost their standout senior running back, Luke Janssen, to injury during last season and were starting freshmen and sophomores at 15 of the 22 positions.
"We were basically a glorified JV team," Bain said. "Talk about a physical mismatch, a kid that doesn't even know what a shaving razor is, lined up against some senior."
The Eagles took their lumps, but came back this season bigger, stronger and loaded with experience. Sophomore Ely Kennel, who started at quarterback as a freshman, has taken a big step forward. Junior running back Marcus Fullbright blossomed into the district offensive player of the year. And the offensive line – with only one senior starter – is more than holding its own.
"We're a lot more mature club than we were last year," Bain said.
Santiam Christian's offense increased its scoring average from 26.4 last year to 47.2 this season, second in 3A behind Hidden Valley. With a better grasp of the offense, Kennel has thrown for 1,813 yards and 27 touchdowns with eight interceptions. And Fullbright (6-0, 175) has rushed for 1,542 yards and 28 scores.
"His name is Marcus and he wears No. 32. When you watch him, he is a lot like Marcus Allen," Bain said. "He'll glide. He's got the breakaway speed, but he glides, and it's tough for people to get a good, full shot on him. He's a tough runner, so he can run inside, but he'll make people miss in ways that are unusual."
Junior Joseph MaQatish, a 6-9, 240-pound basketball player who turned out for football for the first time this season, has a team-high seven touchdown catches at tight end. Levi Villers, a 6-4 junior, has six touchdown catches.
"They're an explosive team," Hidden Valley coach James Powers said of the Eagles. "They're very similar to us in their style. It's going to be a tough go for us."
Santiam Christian's defense, which opened the season with three consecutive shutouts, is holding opponents to 10.8 points per game. Sophomore linebacker Heston Bain leads the team in tackles and senior linebacker Luke Mehlschau was named the district defensive player of the year.
Powers said he is impressed by how Santiam Christian's defense alternates between 3-4 and 4-3 alignments.
"They're pretty good about doing that scheme," Powers said. "They're able to bounce back and forth and run them seamlessly. Cascade Christian runs the same type of 3-4 defense, so it's something we've seen before."
Santiam Christian hasn't faced an offense like Hidden Valley's, though.
Mustangs junior quarterback Sam Vidlak has completed 75.6 percent of his passes for 2,891 yards and 41 touchdowns with three interceptions. He has big targets in 6-3 junior Jeremiah Noga (58 catches, 1,061 yards, 14 touchdowns) and 6-4 junior Lawrence Matusik (49 catches, 902 yards, 11 touchdowns), as well as a stellar tailback in junior Tobias Powers (1,595 rushing yards, 17 touchdowns).
"We can match up size-wise, but they'll be faster than we are," Matt Bain said. "Their quarterback puts the ball right on the money in tight windows. You don't have to be open by much, and their quarterback will put it right on them."
Hidden Valley, which dropped down from 4A last year and will go back to 4A next season, is playing in its first final since finishing as runner-up in 1978, the second year of the program.
A look at Saturday's other finals:
5A, Roseburg, HS, 5 p.m.
No. 2 Crater (11-1) vs. No. 1 Thurston (12-0): Thurston goes for a repeat title against Midwestern League rival Crater. The teams played in Week 3, with Thurston prevailing 31-20 as Cade Crist passed for 385 yards and three touchdowns. Gavin Acrey rushed for 245 yards and two touchdowns in the loss for the Comets, who fell behind 13-0 and fought an uphill battle. It was the closest game this season for the Colts, who are outscoring opponents by an average of 38.0 points. Crist has thrown for 2,305 yards and 27 touchdowns with one interception, and Wesley Kommer has rushed for 1,838 yards and 33 touchdowns, including 13 scores in the playoffs. Caleb Scott leads Thurston with six touchdown catches. The Colts' line features senior tackle Grant Starck, who has committed to Nevada. Crater's Trever Davis has passed for 2,117 yards and 28 touchdowns with five interceptions, spreading the ball to Trevor Jaasko, Chase Sherer and Dawson Douglas, all of whom have nine touchdown catches and at least 500 receiving yards. Acrey has rushed for 1,571 yards and 21 touchdowns. It is the first ever final for Crater, which prior to this year had reached the semifinals once (2015). Thurston's only title came last year.
4A, Hermiston HS, 6 p.m.
No. 3 La Grande (11-0) vs. No. 1 Banks (11-0): Reigning champion Banks carries a 22-game winning streak into the final against the Tigers, who are playing in their first championship game since winning their only title in 1974. The Braves will try to continue their momentum from 2018-19, when they won state titles in football, basketball and baseball, the first to win all three in the same school year since North Valley (1984-85). Banks has made it back to the final behind an offensive line that has a fourth-year starter (Walker Copley) and three third-year starters. They lost key skill players to graduation, but first-year starting quarterback Tanner Shook (2,158 passing yards, 27 touchdowns, seven interceptions) and receivers Jacob Slifka (51 catches, 1,029 yards, 15 touchdowns) and Jarred Evans (55 catches, 896 yards, 11 touchdowns) have excelled, along with running back Martial Stegemeir (953 rushing yards, 14 touchdowns). La Grande returned starters at all but two positions after losing in the quarterfinals for the second year in a row. Tigers quarterback Parker Robinson, who has passed for 1,349 yards and 24 touchdowns and rushed for 733 yards and six scores, is a dual threat. Nathan Reed has rushed for 1,643 yards and 23 touchdowns, and Blaine Shaw has 23 catches for 833 yards, with 18 going for scores.
2A, Hermiston HS, 2:30 p.m.
No. 3 Heppner (12-0) vs. No. 1 Kennedy (10-1), 2:30 p.m.: The teams are meeting in the postseason for the third time in five seasons. Heppner won 48-0 in the 2015 final and Kennedy won 34-0 in the first round last year. Coming off its first title, Kennedy lost standout running back Emorej Lynk -- who suffered a serious knee injury in last year's final and moved to South Salem for his senior year -- but has succeeded with a more balanced attack. Junior quarterback Dylan Kleinschmit, who started as a freshman but was a backup last season, has thrown for 1,466 yards and 20 touchdowns, including the game-winning, 27-yard score to Brady Traeger in a 15-12 semifinal win over Monroe. Bruce Beyer (1,317 rushing yards, 19 touchdowns) and Isaiah Basargin (24 catches, 588 yards, eight touchdowns) have emerged as weapons. Kennedy has won 10 in a row since losing to 3A semifinalist Rainier 22-0. Heppner, which won titles in 1992 and 2015 under coach Greg Grant, has reached its third final since 2014. In his 30th season at Heppner, Grant this year became the sixth coach in Oregon history to reach the 300-win mark. Mustangs quarterback Jayden Wilson has passed for 1,203 yards and 23 touchdowns and rushed for 713 yards and 12 scores. Blake Wolters has rushed for 917 yards and 16 touchdowns and Mason Lehman has 28 catches for 537 yards and 11 scores. Heppner has six shutouts and is holding foes to a 2A-low 7.6 points per game.
1A, Hermiston HS, 11 a.m.
No. 2 Adrian/Jordan Valley (12-0) vs. No. 1 St. Paul (12-0): For the first time since 2014 – when Adrian won its only title -- a team other than Dufur will be the eight-man champion. St. Paul has worked its way back to the final after losing to Dufur 38-32 in last year's championship game, but must face the state's most dynamic offense in the Antelopes, who are averaging 71.0 points per game. Adrian, which returned six starters on offense and seven on defense from last year's quarterfinal team, opened the season with a 66-8 rout of Dufur and has kept rolling. The Antelopes' closest game was a 42-36 win over Crane in Week 2, and when the teams met again in the semifinals, Adrian throttled the Mustangs 74-18. In the semifinals, Michael Babcock had five catches for 224 yards and two touchdowns and rushed for 143 yards and three scores. Quarterback Conley Martin and running back Wade Bond also are putting up big numbers for Adrian. St. Paul – which won eight-man titles in 1984, 1991, 1992, 2002, 2009 and 2010 – spent four seasons in 2A, where it made the semifinals in 2017, before returning to 1A last season. The Buckaroos are averaging 62.7 points per game. Senior TJ Crawford is leading the way, throwing for 1,655 yards and 24 touchdowns with one interception, rushing for 637 yards and 18 scores and collecting eight interceptions on defense. Gianni Grasso has rushed for 18 touchdowns and Bryce Williams and Hayden Scott each have six touchdown catches.