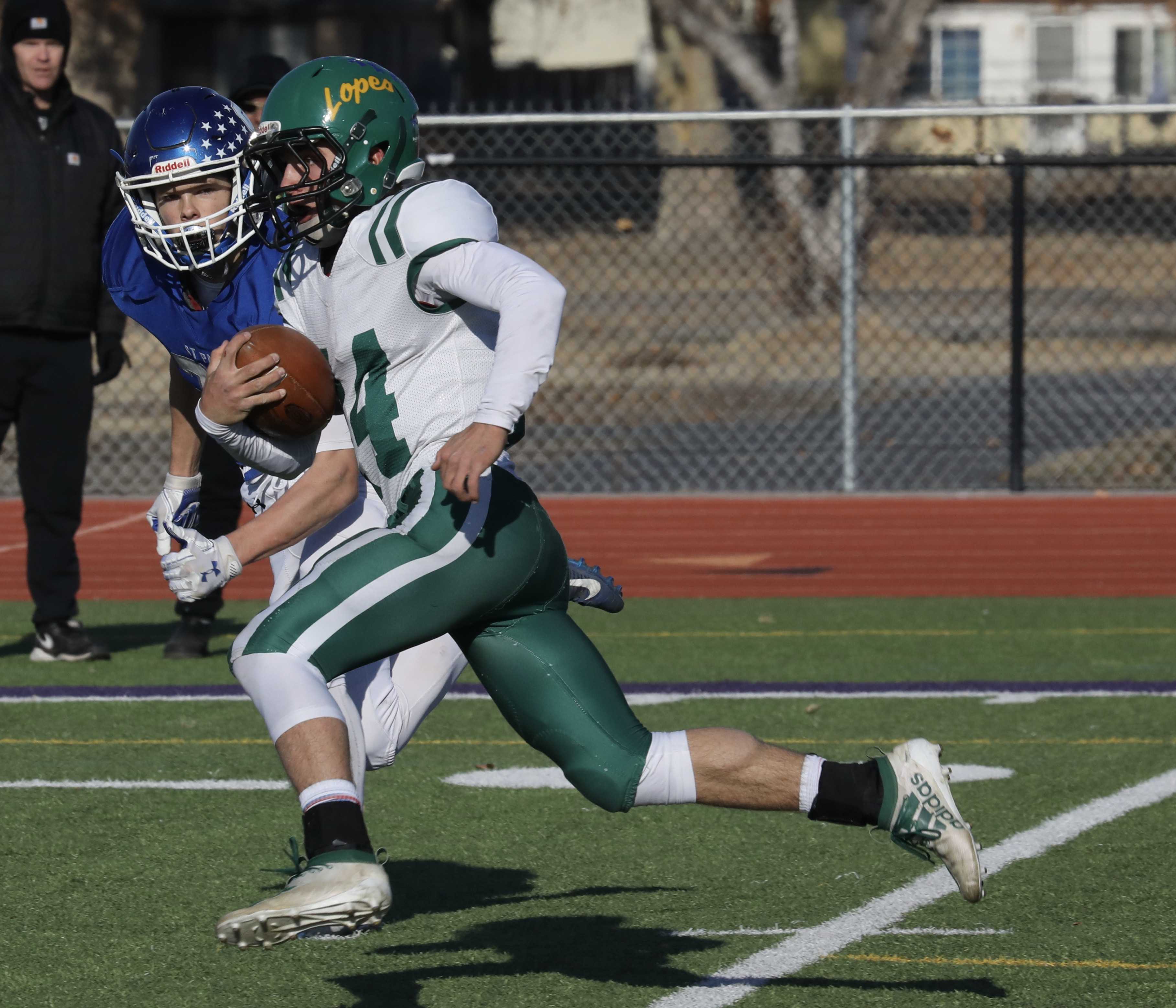 HERMISTON — The last thing Adrian/Jordan Valley football coach Bill Wortman said to his quarterback, Conley Martin, before he sent him out on the field with the whole season on the line Saturday afternoon was simple.
"Make a play," he said.
Well, of course. There was only 1:53 left in the game, the Antelopes were down two points to No. 1 St. Paul and they had the ball at their own 20. They had never led in the game.
But Wortman was talking to the right guy. Nobody Adrian has can find a way to make something happen as well as its sophomore star.
Martin didn't hesitate. On the first play, he dropped back out of the shotgun and threw the ball "pretty close" to as hard as he could throw it downfield.
The ball came down between two St. Paul defenders into the arms of receiver Michael Babcock, who, conveniently, is the fastest guy on the Adrian roster.
Babcock took off down the middle of the field and was actually pulling away from the defenders when he crossed the goal line with the touchdown that gave the Antelopes a 38-32 victory and the OSAA/On Point Community Credit Union 1A state championship.
"I never ran so fast in my life," said Babcock. "I saw that ball come up, and it was a perfect pass. Then I just took off."
As for Martin, who is just a sophomore, it was the last dagger he would throw at the Buckaroos in a splendid day of achievement at a moment that demanded it.
Conley, whose family has a cattle ranch outside Adrian, outgunned St. Paul all by himself. He ran for 201 yards and four touchdown, and threw for 237 for a mind-numbing total of 438 yards. That was all but 85 yards of his team's entire production.
The top-ranked Buckaroos, an offensive machine in their own right, managed just 347 as an entire team.
But it was the last 80 that gave the Antelopes the title with all the Oscar-worthy drama a fan could want.
The Antelopes came back from a 32-22 deficit, which the Bucks established on Saul Martinez's blast with 7:51 to go. It looked as if even Conley might not be able to wave a magic wand over the situation. St. Paul has as much speed in the skill positions and on defense as anybody.
But Conley climbed the mountain anyway on the ensuing drive. On a third-and-15 from his own 28, he heaved a ball deep down the sidelines, where Babcock hauled it in at the Adrian 49.
Five plays later, on third and 7 from the St. Paul 33, he isolated another one of his favorites, Wade Bond, down the middle. The ball was over the wrong shoulder, but Bond hauled it in sight unseen and crashed to the one.
Martin scored two plays later, then ran the two-point conversion home with 4:20 remaining.
St. Paul managed to get a couple of first downs before T.J. Crawford smacked a punt into the end zone.
Then it was Martin's show. Babcock said that there was no real panic in the huddle — not with Martin running the show.
"He carries this team," he said. "He's so cool for a sophomore. We were sure he'd get it done for us."
Fourteen seconds later, he was a prophet.
"I don't know what happened on that one," Conley confessed. "I just saw Michael Babcock down the field. I checked down on Wade (Bond) and threw it.
"Once he caught it, Michael Babcock is one of the fastest players in the state."
Martin wasn't at all worried when the Antelopes were down by 10. Adrian, 13-1, hasn't been in that kind of situation all year, but Martin doesn't scare easily — ever.
"We stayed pretty calm," he said. "We knew we could score fast. We never really got down."
It is, Wortman said, one of the characteristics that separates Martin from a lot of players.
"It's just the composure," he said. "You can put a lot of pressure on him. He's just so tremendously smart — 4.0 student — and so wise for his age."
Now he has a championship to show for all of that wisdom.
Bond was Martin's favorite target with seven catches for 106 yards. Babcock also rushed for 86 yards to go with his three catches for 103 yards.
As for the Buckaroos, who finished at 12-1, quarterback T. J. Crawford ran the show with 169 rushing yards and 130 passing.