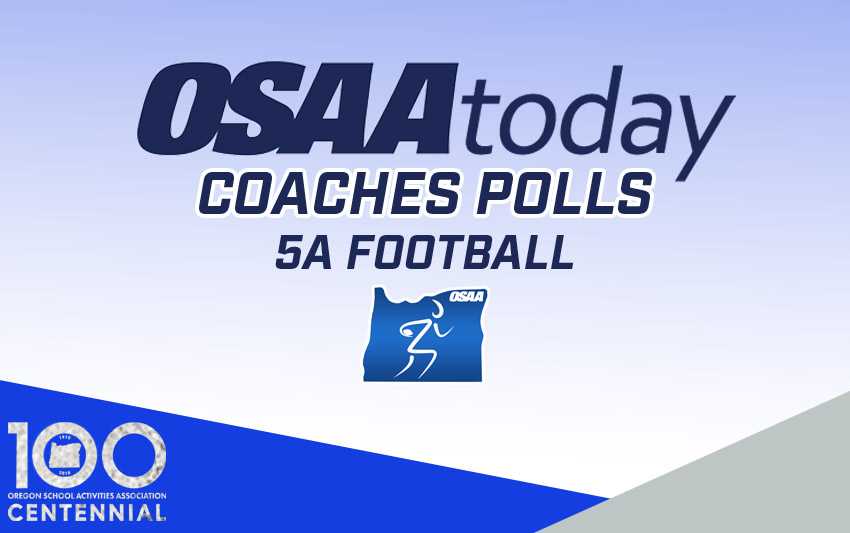 Week 3 Statewide Football Coaches Poll 5A
OSAAtoday presents its weekly 5A Football Coaches Poll. Thanks to all the coaches who took the time and had the expertise to contribute their opinions to this endeavor.
Please note: these polls are for generating interest and discussion only and have no impact on the OSAA's RPI and Colley ratings that form the basis of the OSAA's rankings for playoff purposes.
5A Football
1. Wilsonville (13) [1] 3-0 131
2. Silverton [3] 3-0 106
3. Churchill [2] 2-1 105
4. West Albany [4] 3-0 73
5. Pendleton (1) [6] 3-0 68
6. Scappoose [7] 3-0 61
7. Lebanon [5] 2-1 56
8. Eagle Point (1) [10] 3-0 54
9. North Bend [nr] 3-0 49
10. Crescent Valley [8] 2-1 27
First-place votes in parentheses
Last ranking in brackets
Record listed is what's posted on www.osaa.org
Others receiving significant votes: Thurston (21)
Notes: Demontre Thomas II passed for two touchdowns and ran for a score as Churchill beat Willamette 56-14. … Connor McNabb rushed for 219 yards and two touchdowns and caught five passes for 86 yards and one score in Scappoose's 39-14 win over Hillsboro. The Indians rushed for more than 400 yards and had more than 600 total yards.… Eagle Point beat Springfield 48-7 as Cameron Morgan passed for 396 yards and four touchdowns and had a 71-yard run. ... Carson Van Dyke threw three touchdown passes to lead West Albany past Central 41-17. … North Bend's Garrison Mateski caught touchdown passes of 46 and 74 yards as the Bulldogs beat South Eugene 34-19. Coleman Compton had four touchdown passes for the Bulldogs.