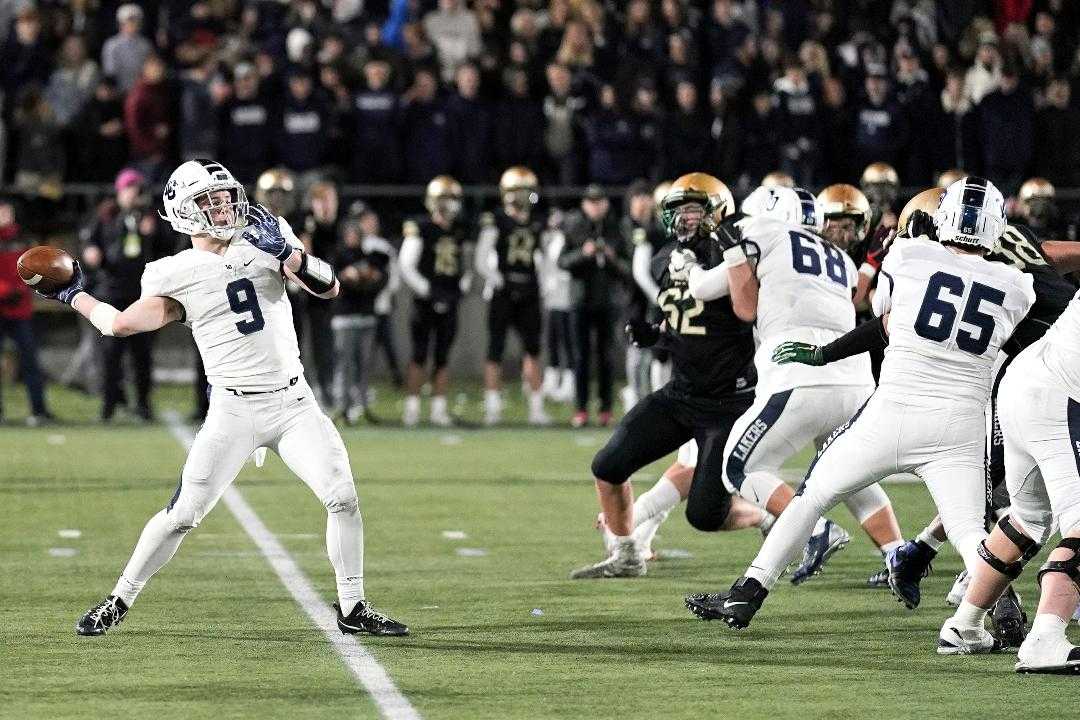 Anyone thinking that Lake Oswego tailback Casey Filkins was little more than a decoy as a thrower when he started taking the majority of the team's snaps a month ago was in for a surprise Friday night.
The Stanford-bound Filkins, one week after rushing 31 times and throwing one pass in the quarterfinals, aired it out to lead his team past Jesuit 28-21 in a 6A football semifinal at Hillsboro Stadium.
He threw deep for a 69-yard touchdown to senior Thomas Dukart in the second quarter and went on to complete 13 of 27 passes for 225 yards, with one interception. He also had completions of 30, 19 and 16 yards to Dukart and 43 yards to junior Malcolm Williams.
"It was a lot of fun, just making plays," Filkins said. "It probably looked like PE football out there sometimes, but my guys made plays, and that's what matters."
In the first three playoff games, Filkins completed 6 of 14 passes for 104 yards and two touchdowns -- strikes of 37 yards to Dukart against Grants Pass and 31 yards to senior Joe Hutson against West Salem.
The switch to quarterback is a throwback to his youth football days.
"I've been playing with that kid all my life, so I know that from him," Hutson said of Filkins. "It may look different for you guys, but he's an athlete. He makes every play he needs to make."
Filkins has welcomed the change.
"The year shifted," Filkins said. "We battled through some offensive changes, and it's stuff that we had to do, but I've felt so much support from our team. They just trust me to go and make plays. I'm able to do that because that's what matters."
Of course, Filkins is a supreme talent at tailback, and when the chips were down Friday, he used his legs, running for an eight-yard touchdown with 2:21 left to put the Lakers ahead. He followed that with a two-point pass to sophomore Gabe Olvera.
"Casey, he's going to find a way in the end zone," Coury said of Filkins, who rushed for 110 yards and three touchdowns on 30 carries, raising his season totals to 2,272 yards and 38 scores.
Clutch Colts
One year after twice blocking potential game-tying field goals as time expired in the 5A final against Wilsonville, Thurston once again came through in the clutch with the title on the line.
The Colts got fourth-quarter interceptions in the end zone from Santino Stranieri and Kyle Casley to secure a 14-10 win over Midwestern League rival Crater. Did the experience of last year help Thurston?
"It did," senior quarterback Cade Crist said. "You just get that feeling of, 'Hey, everything's all right.' You've just got to keep mentally sound and everything will work out."
The familiarity of the teams, and the high stakes, made for a heated contest that included several personal fouls.
"I think everybody was fired up," Crist said. "All the emotions were super high. They really came out ready to play. We've been playing each other and we've been rivals for so long, that each team knows what the other one's going to do. That's what makes it so tough, playing these guys."
Thurston, which had not won a title before the last two seasons, will say goodbye to 22 seniors.
"It's a big senior group, and just playing our last game together, just means the most," Stranieri said. "It's just a great way to go out."
'Chess match'
Santiam Christian coach Matt Bain was forced to weigh the potential pitfalls of scoring a touchdown in the final minutes of his team's 41-34 win over Hidden Valley in the 3A final Saturday.
With the score 34-34, Santiam Christian had first-and-goal at the Hidden Valley 1-yard line with 1:19 left. Hidden Valley had just used its first timeout, so had two remaining.
On first down, the Mustangs stopped running back Marcus Fullbright for no gain, then called their second timeout with 1:09 on the clock.
What should the Eagles do? Set up for a potential go-ahead field goal and drain the clock as much as possible, not allowing Hidden Valley's quick-strike offense much time to retaliate? Or go for the touchdown and lean on their defense?
"It was kind of a chess match," Bain said. "At the end of the day, just punch that thing in, because if you don't have the score, you don't have it."
Santiam Christian went for the touchdown, and Hidden Valley made it easy for the Eagles by standing down and allowing Fullbright to score on a 1-yard run with 1:06 on the clock. The extra point made it 41-34.
Hidden Valley, starting at its own 21-yard line with 56 seconds left, got to the Santiam Christian 25 with 12 seconds remaining. Quarterback Sam Vidlak threw to Nate Vidlak to the 8-yard line with seven seconds to go, but the play was nullified by a holding penalty, and the threat evaporated.
Fullbright rushed for 198 yards and five touchdowns. Vidlak passes for 479 yards and three scores.
Co-op title
Not to be overlooked in Adrian/Jordan Valley's 1A state championship is the significant contribution from Jordan Valley.
Adrian, the eight-man champion in 2014, agreed in 2017 to co-op with Jordan Valley, a school 70 miles to the south which had never won a state title.
"They had to keep their program alive somehow," said Bill Wortman, who took over as the team's coach in 2017. "They wouldn't even be able to field a six-man team. It makes sense for both programs. Our kids get along great."
Bryce Kershner, Jordan Valley's coach from 2014 to 2016, stayed aboard as defensive coordinator under Wortman. For practices, Kershner and Jordan Valley players began making the trek north to Adrian on US 95, which crosses into Idaho and back.
"They're dedicated," Wortman said. "They drive two hours a day to come to an hour-and-a-half football practice."
Four Jordan Valley players (the school has 11 boys) were on the roster this season for the Antelopes, who beat St. Paul 38-32 in the state final Saturday in Hermiston.
Senior Kort Skinner was a third-year starter at receiver and a key player at defensive end. Junior Blaise Warn started at linebacker. Senior lineman Don Youren and sophomore Birch Eiguren also contributed.
"They're all highly capable kids," Wortman said.
Touchdown Tiger
La Grande senior receiver Blaine Shaw didn't have a gaudy number of catches this season, but he certainly made them count.
Shaw finished the season with 30 catches for 988 yards and 23 touchdowns, averaging a whopping 32.9 yards per catch. He had four catches for 89 yards and two scores in a 21-0 win over Banks in the 4A final.
"He's just a special kid," La Grande coach Rich McIlmoil said. "He's real smart and really athletic. He's got a great sense of the field. He knows how to find space. I think he's the best receiver at the 4A level, hands-down."
The 6-0, 180-pound Shaw finished his career with 37 touchdown catches, tying him for seventh on the all-time state list with Scappoose's Paul Revis (2011-12).
Against Banks, Shaw caught a four-yard touchdown pass for a 7-0 lead in the second quarter and turned a quick slant into a 65-yard score for a 14-0 lead in the third quarter.
In the playoffs, he had six touchdown catches – covering 4, 65, 58, 50, 31 and 46 yards – and returned a punt for a score.
Top seeds falter
Of the six No. 1 seeds entering the playoffs, only Thurston can boast a state title.
The top seed in 6A, Tigard, was bounced in the round of 16. The other top seeds played in state finals Saturday, with Thurston (5A) winning and Banks (4A), Hidden Valley (3A), Kennedy (2A) and St. Paul (1A) losing.
It's in stark contrast to last year, when four No. 1 seeds won state titles in Lake Oswego (6A), Banks (4A), Rainier (3A) and Dufur (1A).
Four reigning champions entered the weekend. Thurston became the first repeat champion in 5A since West Albany in 2008. Banks and Kennedy fell short, and Lake Oswego advanced to the 6A final by beating Jesuit.