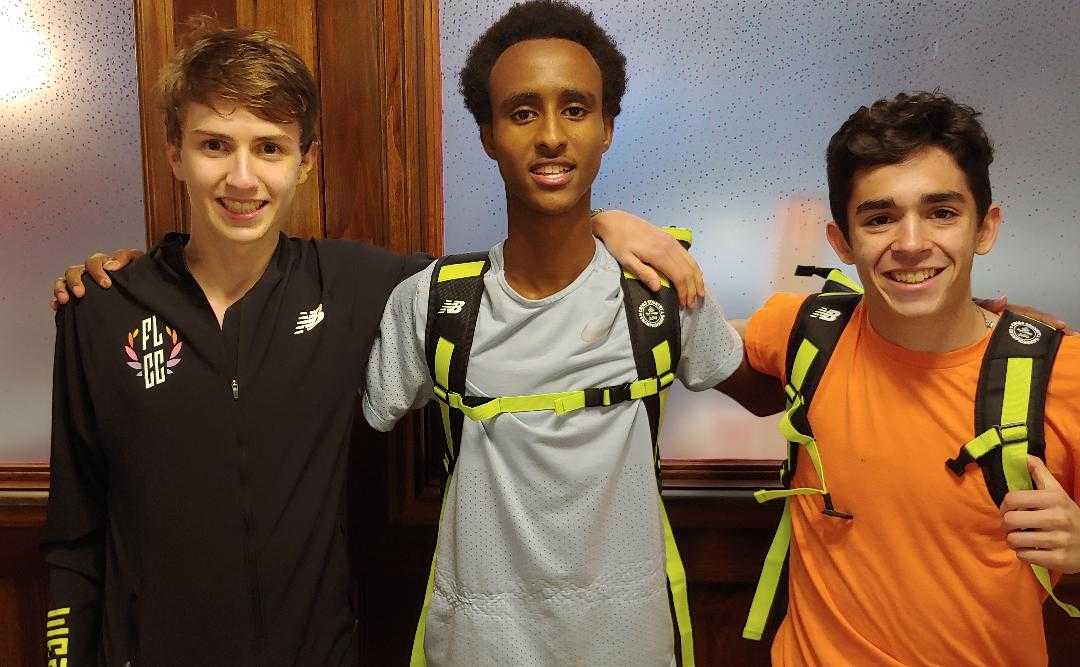 Ahmed Ibrahim of Parkose, Mateo Althouse of Lincoln and Charlie Robertson from Franklin made history together Saturday at the Foot Locker Cross Country National Finals at Balboa Park in San Diego.
For the first time in Foot Locker's 41-year history, Portland was represented by three finalists.
Ibrahim held up over the second half of the prestigious 5,000-meter race and ran to a surprising 11th-place finish, earning All-American accolades (top 15) in a field of 40 boys.
Ibrahim reached the national final with the help of his older brother, Hassan, who paid for his trip to the qualifying Foot Locker West regional meet in Walnut, Calif.
It was a sound investment. Ibrahim not only made the final, but with an 11th-place finish he likely increased his financial aid package for college as he committed to Boise State over the weekend.
"It was amazing how hard he trained this season," Hassan Ibrahim said of his brother. "I (thought) you've got a high chance of making it to Foot Locker, so we got to go for it."
Ibrahim had missed a chance to go to Nike Cross Nationals by one spot, taking seventh at the Northwest regional.
"In my mind I was thinking this is my senior year, It's my first time here. I've got to leave it all on the course," said Ibrahim, who emigrated to the U.S. from Kenya when he was 12.
Meanwhile, Althouse and Robertson both made the decision to proceed to Foot Locker West after missing out on NXN as well.
Running on the "rain course," at Mt. SAC, which was a 5K layout entirely on pavement, Althouse and Robertson went 1-2 in a race where the top 10 qualify for an all-expenses paid trip to San Diego's famed Hotel Del Coronado and a chance to race in front of a national audience via live webcast.
Althouse and Robertson, both juniors, became the second and third boys to ever qualify for Foot Locker from the Portland Interscholastic League, joining Grant's Alec Wall, who made it in 2002. That was also the last time Oregon qualified three runners to the meet.
Althouse finished 27th on Saturday and Robertson was 35th. Both got an eye-opening look at elite national level competition and invaluable racing experience.
"If you would have told me I was going to be here a year ago, I would have never believed you," Althouse said.
Robertson extended his season one week past Franklin training partner Aidan Palmer, who finished 52nd in the field of 200 at NXN.
"Even though it wasn't the race that I wanted, not even close to it, I did give everything I had today," Robertson said. "It just wasn't my day. I mean I crossed the line and I full-on passed out."
A week earlier, a bigger sample of Oregon's elite runners competed at NXN at Glendoveer Golf Course.
The Summit girls, competing as Central Oregon, ranked No. 1 nationally all season long, finished on the podium in second place. Saratoga Springs (N.Y.), a team without any juniors or seniors in the lineup, came of age in a tremendous performance to win the national title for the first time in 15 years. The New York team, competing as "Kinetic," put four runners across the finish line before Central Oregon's second.
Elsewhere in the girls race, Lincoln freshman Kate Peters finished ninth overall and Summit senior Fiona Max, the state 6A champion, was 10th.
Jesuit (Portland) finished 11th as a team and Lincoln (Forest Park) was 18th out of 22 qualifying teams from around the country. It was the first time Oregon had ever qualified three teams for the Nike-sponsored championships in one gender. The Jesuit (Portland) boys also competed and finished 17th. (Teams adopt club names and wear custom uniforms for Nike's regional and national meets to steer clear of state association rules).
At the front of the boys race on a muddy, slippery day at Glendoveer, Evan Holland of Ashland gave chase to leaders Nico Young of Newbury Park (Calif.) and Josh Methner from Hersey (Illinois). Holland finished in 15:09.6 in a blockbuster boys field, ultimately settling for sixth. Young broke the course record and led Newbury Park to the national team title. Methner went on to win the Foot Locker title a week later.
Doug Binder is the editor of DyeStat.com