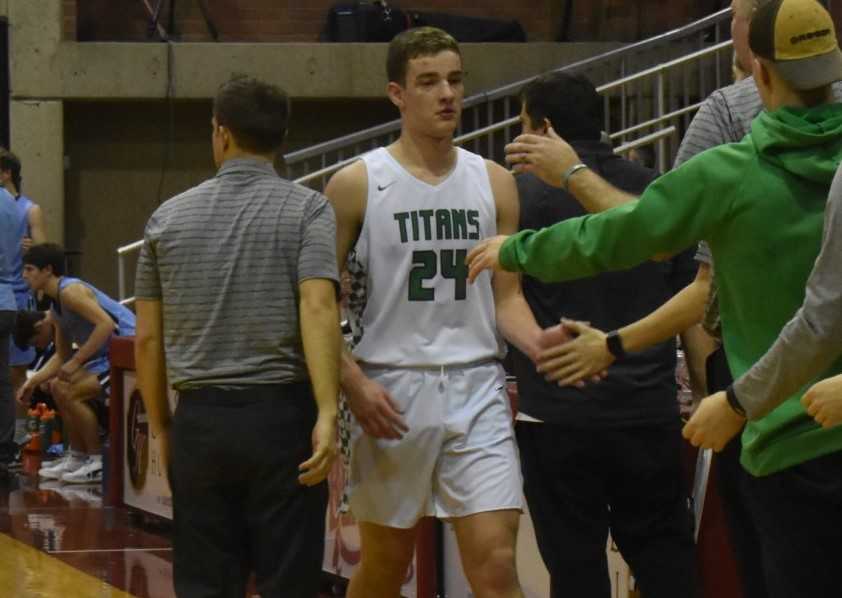 SALEM – West Salem knew it couldn't match up with 7-foot-3 Corvallis senior Jasper Reinalda in the opening round of the Capitol City Classic boys basketball tournament Wednesday night at Willamette University.
So the Titans did the next-best thing – they got physical and used their athleticism to throw Reinalda off his game – and they were able to overcome the mismatch to win 75-51.
"We don't have anyone to guard 7-3, so we just made sure he didn't get the ball too deep," said West Salem coach Travis Meyers, who doesn't have a player taller than 6-4. "Try to keep him at eight feet, so he at least is shooting over somebody instead of dropping in dunks."
The Titans used the physicality of 6-4 junior Holden Whipple with the athleticism of 6-4 junior Jackson Lowery and 6-3 senior Justin Scoggin to keep Reinalda in-check.
"He's a good player being 7-foot-3, so we just tried to play our game and do everything we can to help get an advantage," Lowery said. "It's tough man. Seven-foot-3, you can't teach that. So you've got to give him different looks and see what you can do with it."
Lowery scored 26 points and Scoggin added 15 points for the 6A Titans (3-1), who opened a 41-29 halftime lead coasted to the win. Reinalda finished with 16 points, with 14 coming in the first half, for the Spartans (2-1), who are No. 10 in the OSAAtoday 5A coaches poll.
"I feel like it's a difference compared to last year's team. We're not a one-man show," Lowery said. "We've got different guys who can shoot. It can be one night one guy steps up, the next someone else is going to be there. We've got numerous guys who can shoot the ball."
West Salem will play Friday against the winner of Thursday's game between 5A Scappoose (1-5) and Lanier (Ga.).
"The biggest thing for us is that we're not going to scheme to try to beat anybody. We're going to look into taking what our strengths are and just working them," Meyers said. "If we play to our strengths, we'll be just fine."