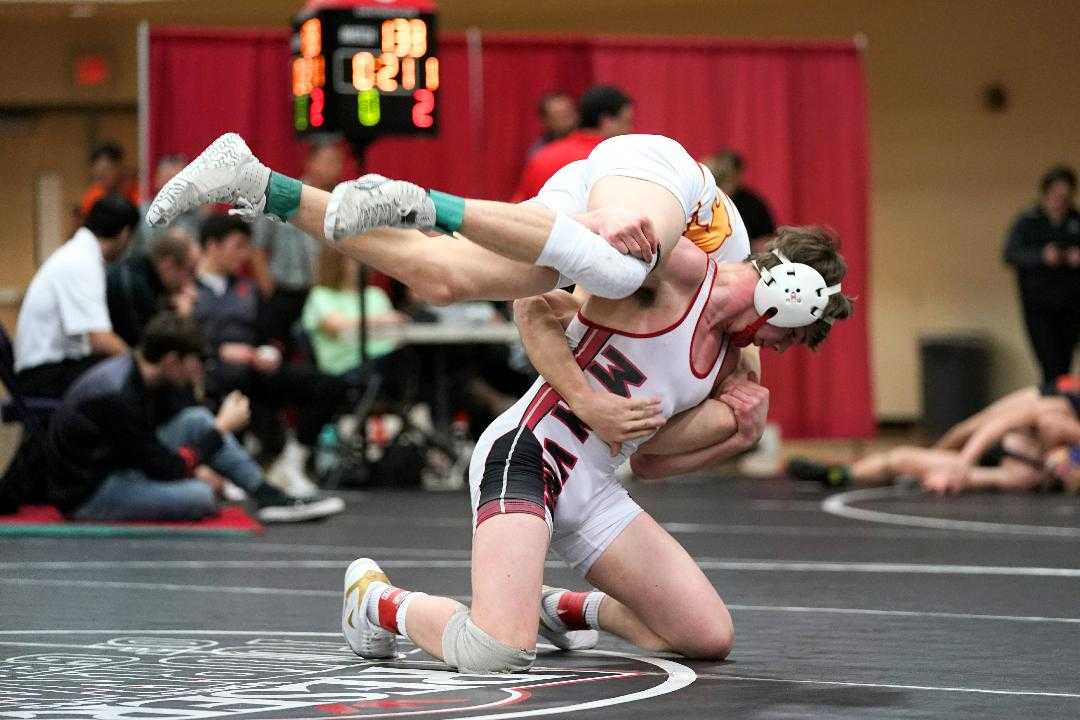 Mountain View's wrestling team has had to deal with injuries, illness – even an open-heart surgery – but the Cougars' lineup seems to be taking shape early in the season.
Mountain View ran away from the competition to win its own 13-team Adrian Irwin Memorial Tournament last weekend, getting titles from seniors Beau Ohlson (152), Carson Fassett (160) and Titus Schulz (220) and juniors Tyson Oliver (126) and Cannon Potts (170) to outscore runner-up Burns 453.5 to 220.5.
It was a solid outing from top to bottom for the Cougars, who are looking to take the next step after finishing fourth in the 5A tournament in 2018 and fourth in the 6A tournament in 2019,
"The last couple years we finally kind of got over the hump a little bit," coach Les Combs said. "We lost some key people to our lineup, but we kept some. There's kind of high expectations."
Mountain View is No. 4 in the OSAAtoday 6A coaches poll behind No. 1 Roseburg, No. 2 Newberg and No. 3 Sprague. The Cougars returned four of their five state placers from last season in Beau Ohlson (first at 138), Fassett (second at 152), Oliver (fourth at 113) and senior Blake Ohlson (fifth at 182).
Beau Ohlson, a three-time state champion, did not wrestle in the Rose City Championships Dec. 13-14 due to illness but came back strong last weekend. In the final of the Adrian Irwin tournament, he bounced back from an early takedown to post a 5-4 decision over Nyssa senior Elijah Cleaver, a two-time 3A champion.
"It's one of the few times I've seen Beau taken down," Combs said. "Cleaver is good. It was a great match."
Ohlson and Cleaver could be headed for a rematch soon. Both teams will wrestle in the Sierra Nevada Classic in Reno on Friday and Saturday and in the Rollie Lane Tournament in Nampa, Idaho, Jan. 3-4.
The Cougars were missing four starters for the 34-team Rose City Championships when they "got blasted by the flu," according to Combs. They still managed to finish seventh behind four teams from Oregon and two from Washington.
The lineup has been full of surprises, none bigger than sophomore Ryder Fassett. A state qualifier at 126 as a freshman, it appeared that he would miss the season after undergoing open-heart surgery in September to correct a birth defect. He has made a stunning recovery, though, to provide depth at 132 and 138.
"He's healthy as a horse," Combs said. "His chest is fully recovered and strong. It's not an issue for strength. The big issue now is getting his lungs back. He's had his struggles, but he's getting in shape and he's doing fine. We didn't think we'd have him, but he's crept back onto the radar."
The Cougars have been bolstered by the return of Schulz, who qualified for state as a freshman but missed the last two seasons due to football injuries. The team also has added depth with freshmen Ethan Potts (106) and Andrew Worthington (120-126), members of Mountain View's state champion middle school team last season.
"The bulk of those kids will be coming in next year," Combs said.
Mountain View absorbed a setback in the first week of practice, however, when promising senior 106-pounder Nick Valenti, who missed last season with a torn ACL, broke his thumb and is out for the year.
"That was kind of a blow to us, lineup-wise," Combs said. "The sad part is he never really got on the mat for us that much. He had an amazing camp with us this summer. He wrestled right with some of the best kids in the state."
Mountain View's girls team features one of the Ohlson triplets, Taylor, who won a state title in 2017 and was runner-up last season. She is undefeated so far, finishing first at Rose City, the Central Oregon Officials Tournament and Adrian Irwin.
The Ohlsons have all signed to wrestle at Corban University.
Comets prevail
Four Crater wrestlers won titles to lead the Comets to first place in the 34-team Grants Pass Winter Kickoff. Crater scored 273.5 points to surpass Grants Pass (201) and Dayton (180).
The Comets' champions were sophomores Colby Meek (152) and Joseph Jordahl (220), junior Kellen Kerrigan (138) and freshman Ayden Tazioli (106).
Kerrigan and Meek built on their momentum after winning titles in the North Bend Coast Classic the previous week. It is the third tournament win this season for the unbeaten Kerrigan, who also finished first at Doc Peterson.
Tazioli won 8-1 in the final against Cascade Christian's Tyler Havniear to avenge a first-round pin in the championship match of the North Bend Coast Classic.
Jordahl, the 5A runner-up at 195 last season, pinned Grants Pass junior David Ruiz for first place.
Also ...
David Douglas emerged on top of the 20-team Liberty Invitational at Liberty. Junior Sudeep Guring (106) and senior Hayden Narruhn won titles for the Scots, who scored 196.5 points to beat McNary (176), Aloha (172.5) and Tualatin (170.5). … Canby won its own 11-team Larry Owings Invitational, outscoring runner-up Woodburn 308-200. Junior Kaden Boyd (170) and senior Logan Doman (182) won titles for the Cougars. … Taft (134) edges Willamina/Falls City (129.5) to win the 17-team Hagerty Invitational at Nestucca.