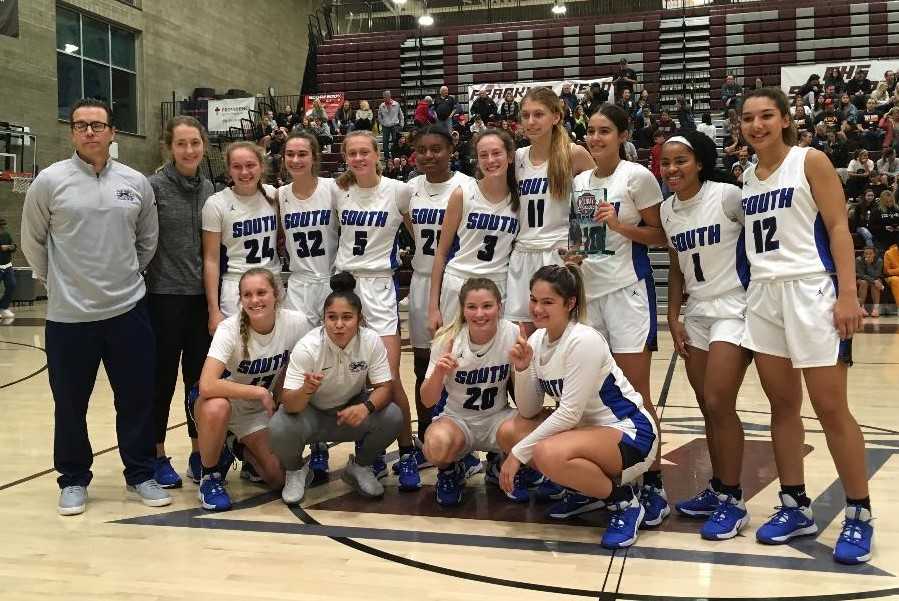 PORTLAND – The steady hand of Bella Pedrojetti and the tenacious defense of Toni Coleman showed the way for South Medford on Sunday night in the Diamond bracket final of the POA Holiday Classic girls basketball tournament at Franklin High School.
Pedrojetti made four three-pointers and scored a game-high 23 points, and Coleman spearheaded a defense that forced 28 turnovers as the Panthers cruised past Wilsonville 59-50 to claim the title of the eight-team bracket.
The Panthers, No. 2 in the OSAAtoday 6A coaches poll, believe they are building toward something special this season. One day after beating 6A No. 3 West Linn 55-39, they dominated 5A No. 2 Wilsonville.
"It's a big deal," Coleman said. "I came here as a freshman, two years ago, and we kind of got it handed to us. It was a disappointment, but now we're two years older, two years more experienced. It's exciting to come back and win it and show everybody what we've been working on and how we've grown."
South Medford (9-2) took the lead late in the first quarter and extended it to 13 points in the second quarter behind its smothering defense. The 5-foot-4 Coleman, who finished with 15 points and four steals, was the catalyst, harassing Wilsonville's guards.
"Toni came in and played some tremendous defense," Panthers coach Tom Cole said. "She just really changed the confidence in their offense. She picked up a couple of big steals where she finished, and that helped us really get into a comfortable lead at halftime."
Coleman converted a three-point play, then stole the ball from Wilsonville junior point guard Sydney Burns for a layup to make it 24-16. When she added two free throws with 15 seconds left in the half, it was 37-24.
"When we're together and staying strong, we can be unstoppable, almost," Coleman said. "Our defense is a really big asset. We want to play on offense a lot, but we have to know that 50 percent of our game is defense. To play on offense, we need our defense."
Pedrojetti, a 5-9 senior who has signed with Eastern Washington, led the way on offense. She made 9 of 16 shots, including 4 of 9 from three-point range.
"When things started to get a little bit difficult, she was steady-handed," Cole said of Pedrojetti, the team's only senior. "She was really poised and helped settle them. A lot of the kids, this is their first time going through this kind of journey."
Coleman said the team looks to Pedrojetti for guidance.
"Great captain," Coleman said. "Been there from my freshman year, always been someone that I've looked up to. When she's on, I know we're going to play good. Just knowing she's mentally and emotionally there, that really puts me in a confident mood."
In the three tournament games, Pedrojetti scored 59 points and shot 52.6 percent, including 12 of 23 from three-point range. Cole said that she will go down as one of the great three-point shooters in the program's history.
"She doesn't take bad shots," Cole said. "She's shooting 60 percent from three-point range this year. She doesn't take a lot of shots, but she's very methodical with the shots she does take."
Pedrojetti scored two baskets during a 12-0 run in the third quarter that pushed the lead to 49-29. The Panthers led 56-39 before Wilsonville made a late surge.
The bracket title was satisfying for the Panthers, but "we want more," according to Coleman.
"Right now we're just learning how to be a team, putting all the puzzle pieces together and learning how we're going to get to that next level," Coleman said. "We want to win that state championship more than anything."
The Wildcats (5-2) got a team-high 15 points from junior post Emilia Bishop. Burns, coming off a 27-point game in a semifinal win over University (Wash.), finished with 11 points, 11 rebounds and five assists, but committed nine turnovers.
"We were fatigued," Wilsonville coach Justin Duke said. "We didn't play enough kids yesterday. I think we played six kids in the second half, and that probably hurt us today.
"Sydney looked pretty fatigued out there. She got the ball stolen from her a few times. Some things that don't typically happen to us that I think were the result of us playing three games in three days."
Duke liked how his reserves performed Sunday, especially in the fourth quarter.
"Some of those kids proved me wrong today," Duke said. "I probably should've given them an opportunity yesterday and it probably could've helped us a lot more today.
"I'm really excited for the future. We've got a good shot."
Cashmere (Wash.) 50, La Salle Prep 38: Senior guard Hailey Van Lith had 25 points, 17 rebounds and five assists as the Bulldogs (8-0) held off a second-half rally to beat the Falcons (7-2) for the Platinum bracket title in the late game Sunday at Franklin.
Cashmere led by 13 points in the third quarter before the Falcons rallied behind junior guard Addi Wedin, getting to within 34-32 early in the fourth quarter. But the Louisville-bound Van Lith scored 12 points in the last 4:22 to seal the win.
"It's the third game in three days, so we were gassed a little bit," Van Lith said. "But I just knew that I had to take over, and me and my teammates knew what to do. Luckily we were just able to get some easy buckets at the end."
Cashmere, with an enrollment of about 400, showed why it is one of the top programs in Washington. On consecutive days, the Bulldogs beat Beaverton and La Salle Prep, teams ranked first in the 6A and 5A coaches polls, respectively.
"It just shows that even though we're 1A from Washington that we can compete with anybody," said Van Lith, who scored 102 points in the three games and is averaging 32 points this season. "I think we're one of the best teams on the West Coast, and on any given day, we can beat any given team. This just boosts our confidence going back to Washington to win the state championship."
Cashmere raced to a 16-5 lead, getting two three-pointers from senior Grace Hammond and another triple from senior Grace Erdmann, and was in command until the Falcons came to life in the third quarter.
While La Salle Prep kept Van Lith in check with a double-team and a box-and-one, Wedin – who had one point in the first half – began to strike. Wedin scored seven consecutive points to cut the lead to 29-23 and converted on two drives later in the quarter, which ended with Cashmere up 34-29.
Falcons senior Emily Niebergall made a three-pointer to make it 34-32 with 6:01 left, and the game hung in the balance for a few minutes.
But La Salle Prep went cold from deep and Van Lith became more aggressive on offense, scoring on two putbacks and a jumper to open a 42-32 lead. She made six consecutive free throws down the stretch.
La Salle Prep struggled to find its shooting stroke, finishing 4 of 23 from three-point range. Wedin had a team-high 14 points and Niebergall added eight points.
"I think we battled well, but in the first half, our shots weren't falling, and they just kind of went on a run," Wedin said. "We definitely can beat them if our first half was better. Second half, we made a run. If we started that energy in the first half, we would've battled better.
"They're a great team, all respect to them, but I wish we could have another shot at them."
Van Lith said of Wedin: "She's a really good guard. She can finish, and she's long. It's always hard to guard guards that are long and can shoot the three-ball. I think we stuck with our defensive game plan and we were just able to hold them back enough to get the win."
Behind Van Lith, Cashmere owned a 42-18 edge in rebounds.
"That's the biggest stat that stands out to me," Bulldogs coach Brent Darnell said. "If you look at us, we're not the most intimidating, physical team, but our girls play with a tremendous amount of effort and fight. Hailey was an animal on the boards."
Cashmere lost in the 1A final by one point in 2017 and by two points in 2018 before falling in the semifinals last season. The Bulldogs are "really hungry" this season, according to Darnell, and the tournament helped sharpen them.
"It's been scary ever since we got here," Darnell said. "Three good basketball teams. Tonight was a grinder. Hats off to La Salle. That's a great team. Very disciplined, and they've got a lot of weapons.
"We had a blast here. The great thing about coming here is we don't have to see those teams in our state tournament. We're a 1A school, so to play against this level of competition for three days, I'm really proud of them."
The tournament also is a building block for La Salle Prep, which looks like the favorite to repeat as 5A champion.
"I think it's coming together better than I anticipated," Falcons coach Kelli Wedin said. "For me, I think the chemistry of the team is where I see major growth, just in these last three days, even."