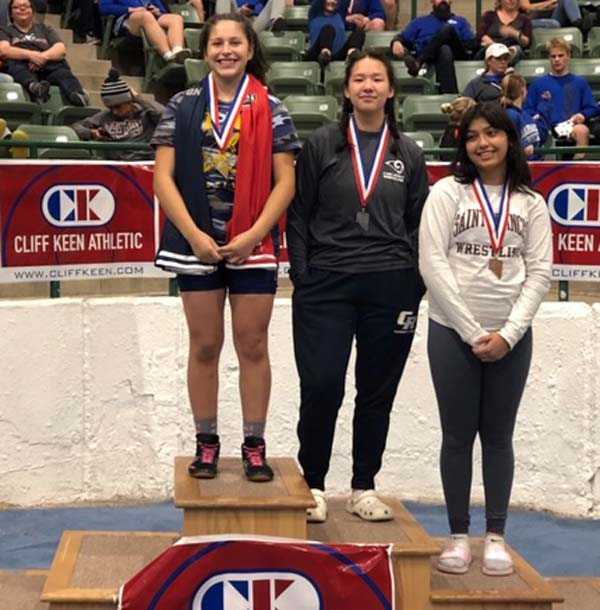 The Bend High School girls wrestling team placed third last year in the inaugural OSAA girls state tournament and appear on track to contend for the title again in 2020. The Lava Bears already have won team championships at The Adrian Irwin Memorial Tournament and the Coast Classic.
Bend competed at the Sierra Nevada Classic in Reno on Dec. 27-28 and crowned two champions. Junior Charli Stewart, who won State last year at 120 pounds, captured the 137-pound weight class. Junior Fatima Albarran, who placed fourth in 155 at the 2019 state championships, prevailed in the 160-pound division. Stewart and Albarran have won virtually all of their matches this season by pin.
The Sierra Nevada Classic was an "Open" event for the women's division, meaning there was not an official team score kept, but the Lava Bears stood out as a top tier team. Other wrestlers who shined included Melia Cuevas, who took third at 235; Juliette Lean and Kyleigh Cuevas, who placed fourth at 111 and 131, respectively; and Abigail Dorsey, who came in sixth at 170.
One interesting note: Albarran, who has won three individual championships already this season, carries with her a good luck stuffed animal that is half unicorn and half panda bear. It is affectionately referred to as "Pandacorn" by Albarran and her teammates…
***
La Pine ran away with the 15-team Bob Bishop Invitational hosted by Willamina on Dec. 28. The Hawks scored nearly 100 more points than Willamina, which edged Madras for second place.
"Our kids wrestled well at the Bob Bishop," said La Pine head coach Aaron Flack. "We placed 11 wrestlers in the top 4 and had seven kids in the finals, five of whom were freshmen and sophomores."
La Pine had two individual winners, freshman Tyson Flack at 106 and undefeated sophomore Dylan Mann at 120. Both won by pin. Flack, who weighs 88 pounds; defeated his sister, senior Olivia Flack, in the final.
"This is the first time they have wrestled [each other] in a tournament," said coach Flack, their father. "They are both very competitive and neither wants to lose to each other. Therefore, it's kinda fun to sit back and watch them compete against each other."
Michael Fox, who won at 138 pounds; and Moses Mercier and Dylan Hendrickson, second at 126 and 170, respectively, were the top finishers for Willamina. The Bulldogs had 10 wrestlers place among the top six in their respective divisions.
Madras finished a strong third despite missing half the team. The White Buffaloes had one champion, sophomore Reece White at 170 pounds, and six others finish among the top four. Sophomore Collin Switzler (145) and senior David Sumner (heavyweight) were runners up.
Yamhill-Carlton / Gaston finished fifth overall as a team, just seven points from second place. The Tigers were without three varsity wrestlers due to illness or injury, including state finalist Reily Liesegang.
"Those things happen every year to every team," said coach Sean Nonamaker. "I'm just glad we are getting it out of the way now."
The highlight of the tournament for Y-C was Jakob Jarvis' win at 126. The senior won a 4-1 decision over Moses Mercier of Willamina, the 2019 state champion at 113 pounds.
"It was one of those matches that could have gone either way," Nonamaker commented. "You're happy for your guy but also hurt for the one who came up short. Jarvis wrestled a very smart match for three periods. He is pretty driven this year after last year's heartbreaking state semifinals loss."
Nonamaker added that Jaime Garcia, who finished second at 138; has really stepped up this year and has a penchant for winning close matches. He also lauded Mason Dailey, who upset the top seed at 195 in the first match of the stacked bracket and ultimately finished third by avenging an earlier quarterfinal loss.
***
North of the state line, four teams from Oregon finished among the top 10 at the 50-team Pacific Coast Championships hosted Dec. 27-28 by Mountain View HS of Vancouver. West Linn led after Day 1 but ultimately finished 1.5 points out of first, edged by Selah of Washington. Dallas placed fifth overall, with Redmond and Scappoose also claiming top 10 finishes.
Ricky Bell (120 pounds) and Cael Brunson (152) were individual champions for West Linn. Bell, a junior who was second in the State Championships at 106 last year, won his first Pac Coast title by pinning the wrestler who defeated him for the Pac Coast title a year ago. Brunson, the state 6A champion at 145 pounds in 2019, won a 2-0 decision over previously-unbeaten CJ Hamblin from Seton Catholic. The junior now has three Pac Coast titles in as many years!
The Lions also got five others on the podium -- Ethan Goff (126), Justin Rademacher (160), Cole Peters (170), Jacob Quast (170) and Cobie Daly (220) – but coach Doug Samarron told his team that "You can't score 206.5 points with just placers. Shout out to the whole team! Everyone contributed. Wins are key! Bonus points are key! Getting into the second day is key! Every match, every minute, every second counts!"
Five Oregonians besides the West Linn duo came home with titles at Pac Coast. Scappoose matched the Lions with two champions, AJ DeGrande at 126 and Cutter Sandstrom at 285. Undefeated Angel Sanchez of Westview won by pin at 138. Jared Coxen of Dallas (185) and Antonio Garcia of North Salem (220) won by decision.
***
Quick notes:
Santiam returns two state placers from a year ago in seniors Tyson Patton and Brody Davidson. They are part of a Wolverine team with many seniors, creating high expectations in Mill City. Patton and fellow seniors Riley Rothrock, Zack Mitchell and Weston Watts are all off to strong starts this season. Davidson, who has top-three finishes at State the past two seasons, has yet to wrestle this season while recovering from football injuries.
Santiam coach Kerry Crowston also noted that Aislinn Stroud and Kassandra Miller have competed well in the girls brackets…
Joseph HS graduated three-time state champion Steven Beckman in 2019. Coach Tim Kiesecker asked Beckman, now wrestling at Treasure Valley Community College, to come home to help with the Jo-Hi Tournament. What Beckman doesn't know is that Kiesecker will be presenting a banner to him for his accomplishments!