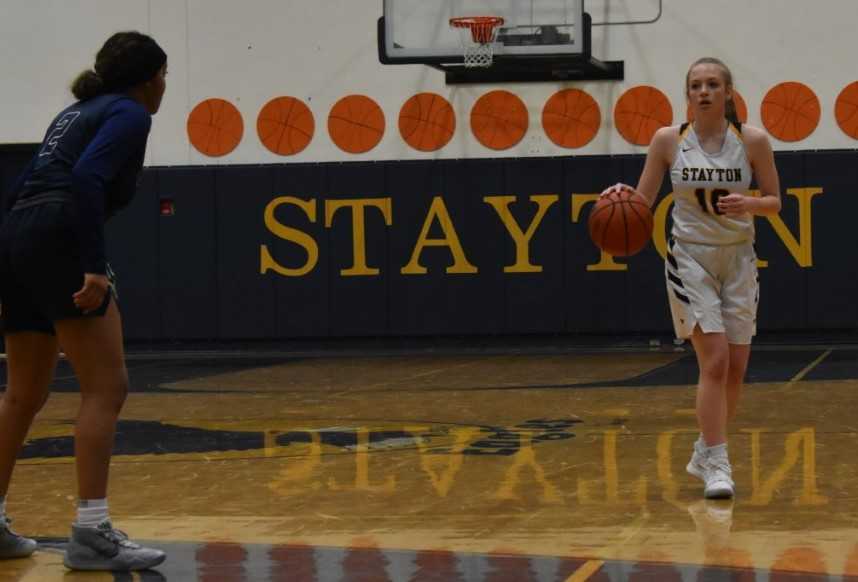 STAYTON – Sophomore forward Karlee Tyler scored 14 points as host Stayton pulled away for a 48-26 win over previously unbeaten Mannahouse Christian in the opening round of the SCTC Holiday Classic girls basketball tournament Thursday.
With Mannahouse employing a box-and-one defense on senior guard KJ Nyquist, the Eagles adjusted and rolled past the Lions. Sophomore guard Miley Mitchell made four three-pointers and added 12 points for Stayton, which advances to face Ridgeview at 6 p.m. Friday.
"With our kids, every time we step on the court, we see something new," Stayton coach Wendi Nyquist said. "The most important thing is that we learn from it, we adjust and we continue to move forward and we put that in our pocket, so if we see it again, we'll be ready. And that's how we're taking every game is, 'How can we get better today?'"
Stayton, ranked 10th in the OSAAtoday 4A coaches poll, improved to 7-2. The Eagles, quarterfinalists the last two seasons, have lost only to No. 6 Molalla and No. 7 Valley Catholic.
Stayton fell behind 11-2 against Mannahouse Christian (7-1), ranked sixth in 2A. The Eagles pulled within 15-11 by the end of the first quarter, than outscored the Lions 17-0 in the second quarter, getting eight points from Tyler, to lead 28-15.
The run reached 25-0 as the lead grew to 36-15 in the third quarter before Mannahouse Christian senior Emilee Owen broke through with a basket.
Tyler credited her teammates for their passes.
"They really saw me, and they knew where those open spots were for me," Tyler said.
Mitchell said that the Eagles keeping their composure against Mannahouse Christian's defense was critical.
"We practice like that all the time. We've just got to keep our composure when against it," Mitchell said "It was hard. They were a good team. They have a good defense and offense, but we got it."
Owen scored 13 points and sophomore Awek De Piok added eight points for the Lions, who meet Warrenton at 12 p.m. Friday.