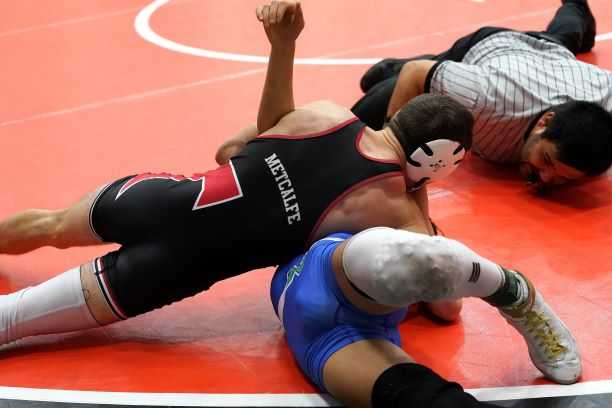 Coming off a magicial season, Tillamook's wrestling team needs to shift gears.
The Cheesemakers not only graduated 12 of their 21 state qualifiers from the 4A championship team – their first title since 2008 – but they lost their coach, Lonnie Eggert, who has taken over as the school's athletic director.
Early results are encouraging, though, such as Saturday's first-place finish in a 15-team tournament at McMinnville. The Cheesemakers had nine finalists and five division champions.
The task of keeping the team on course falls on coach Rex Metcalfe, the school's athletic director for the previous three years who has swapped spots with Eggert. Metcalfe, whose senior son Quintin was the 120-pound state champion last year, wrestled on Tillamook's 1984 state title team and has been a volunteer coach in the program for more than two decades.
"Same Tillamook tradition, just a different face," Metcalfe said. "Super smooth transition. After Lonnie stepped down, we didn't really have anyone, so I decided to do it. We have a few returners, we're just trying to develop the young guys and keep what he's built going."
He said he is guarding against a "state championship hangover."
"I think sometimes your returners just have a problem with what it took to get there," he said. "Sometimes I think it's hard to get back in that mindset."
In the MHS-Your Space Storage Invite on Saturday at McMinnville, the Cheesemakers' five champions were sophomore Bradley Rieger (120), Quintin Metcalfe (126), junior Keegan Hagerty (138) and seniors Sam Connelly (160) and Alex Werner (170).
Three of them would have faced teammates in the finals, but Rieger took the title over sophomore Austin Simmons on rock-paper-scissors, Werner was granted first place over junior Miguel Niemi on his senior status, and Connelly won when senior Zeke Coon deferred to him.
Tillamook scored 739 points to beat runner-up Mountainside (728) and South Salem (615.5) in the tournament, which scored up to 12 places.
"It took a full team effort," Rex Metcalfe said. "It was really neat to see some of our young kids and our seconds kind of step up."
Hagerty, who placed third at 113 at state last year, pinned all five of his opponents, three in the first round. He is adjusting to moving up three weight divisions.
"He's gotten a lot bigger this year," Rex Metcalfe said. "It was kind of cool to see him handle those bigger kids just like he did when he was a lightweight."
After a first-round forfeit win, Quintin Metcalfe posted four pins, beating South Salem sophomore Rene Cruz in 25 seconds in the final.
To repeat as state champion this season, Metcalfe might have to go through Woodburn's Wesley Vazquez and Molalla's Maximus Tate, reigning 4A champions at 113 and 126, respectively.
"I think 126 is going to be one of the tougher weight classes in the state," Rex Metcalfe said. "We could have three state champions at that weight just in our region."
On his way to the 120 final, Simmons recorded a second-round pin of Amity junior Blake Runion, the top-ranked 113-pounder in 3A, according to the Oregon Wrestling Forum. Connelly, a state qualifier at 138 last year who initially opted not to wrestle this season, turned out during Christmas break and is working his way into shape.
The tournament was a positive step for the Cheesemakers, who are ranked third in the OSAAtoday 4A coaches poll behind Sweet Home and La Grande.
"I think La Grande and Sweet Home, we probably need some help to beat them, but we're going to try," Rex Metcalfe said. "I've really preached to these kids, it was really special what we did last year, but let's stick together and see what we can do this year."