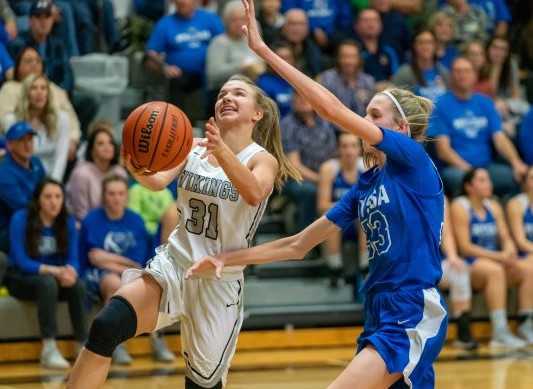 VALE – The history of the Vale girls basketball team is filled with stories of defensive pressure, a brutal full court press and inside play. But the Vikings have never been known for hot perimeter shooting.
That may have to change.
Connecting on 11 three-point shots, the Vikings (5-6, 2-0) cruised to a 53-26 win over visiting Nyssa (7-7, 0-1) in a 3A Eastern Oregon League game Saturday.
"The ball just kept going in the basket tonight," said Vale coach Jason Johnson, whose team was coming off a win over No. 3 Burns. "Everything just worked. What happened tonight is not going to happen all the time, but was fun to see."
Fittingly, the Vikings started the game with three-point buckets from Matyson Siddoway, Sierra Cleaver and Kalley McGourty. With Ashley Jacobs adding an additional basket from beyond the arc in the first quarter, Vale led 16-6.
Nyssa, not finding the same success with the long shooting, started pushing the ball inside in the second quarter with freshman Gracie Johnson handling the bulk of the load. Only able to score four points, the Bulldogs entered the locker room at the half down 33-10.
Vale led 42-19 after three quarters and ended the game with three three-point baskets, with Siddoway, Jacobs and Riley Johnson scoring the final nine points for the Vikings.
"We just played loose tonight and found ourselves," Cleaver said.
For Nyssa coach Jeremy Chamberlain, his plan for the night did not include Vale's shooting barrage.
"It is tough to beat a team that shoots that well from the perimeter," Chamberlain said. "I was pleased with the spark Gracie gave us tonight coming off the bench."
Siddoway made three three-pointers and scored a team-high 14 points. Jacobs added 12 points.
Johnson came off the bench for 12 points for Nyssa.