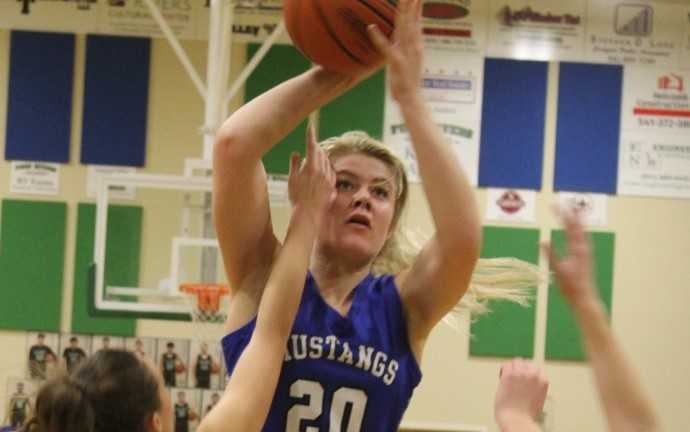 Sophomore Kelsie Siegner scored 17 points as No. 2 Crane knocked off No. 1 St. Paul 64-49 in a 1A girls basketball showdown between unbeaten teams at Bend High School on Saturday night.
The Mustangs (15-0) opened a double-digit lead in the third quarter and cruised to the nonleague win over the reigning state champion Buckaroos (18-1), who lost for the first time in 49 games, the sixth-longest winning streak in state history.
Crane tried to keep the win in perspective.
"As fun and great as it is, it's just another game," Mustangs junior point guard Shelie Doman said. "We need to keep practicing hard and getting better each game, prepare for the state championship. It feels great, honestly. It just feels good to see our hard work pay off."
Doman and 6-foot-2 junior post Riley Davis each scored 13 points and sophomore guard Dani Clark added 11 points for Crane, which returned four starters from last year's quarterfinal team.
"We're working a lot on mental toughness," Mustangs coach Stub Travis said. "I just wanted this game to be an important game, but nothing special. That's how we're trying to take each game this year. But it was a great win for us. I'm just reminding them we still have a long ways to go."
Senior post Isabelle Wyss and senior guard Erin Counts scored 21 and 17 points, respectively, for St. Paul. It was the Buckaroos' first defeat since falling to Monroe in consolation play at the 2018 2A tournament. They went 30-0 to win the 1A title last year.
"I told my girls, 'There's no shame in this,'" St. Paul coach Dave Matlock said. "We battled hard. Going forward, we're going to get this team again, probably."
St. Paul entered allowing 29.4 points per game. During their winning streak, the Buckaroos had not allowed more than 49 points in a game.
Matlock said he was impressed by Crane's ability to shoot and convert in transition. If the Buckaroos had a lapse on their perimeter defense, the Mustangs made them pay by making shots.
"They're just incredibly offensively gifted," Matlock said. "You don't see that many teams with that many scorers, especially at this level. So they're going to be a handful for anybody. We've just got to go back to the drawing board and figure out how to defend them better."
Crane warmed up after trailing 12-11 at the end of the first quarter. The Mustangs outscored the Buckaroos 21-13 in the second quarter to lead 32-25 and extended the edge to 50-37 after three quarters.
"The first half, we were a little tense, a little nervous," Doman said. "But in the second half, we were able to slow down, set up our offenses, and just play our game."
Crane has three sophomores that are second-year starters in Siegner, Clark and guard Taelor Hammack. The Mustangs graduated their starting point guard in Elizabeth Jenkins, but Doman has filled the spot and has made strides since the beginning of the season.
"Early in the year, we kind of struggled getting into our offense," Travis said. "Our transition game is so good – I mean, it's really great – when we have to get into our offense, we struggle at times. But we finally found we're starting to develop leadership. We just want to get better with each game, and I think we're doing that."
St. Paul now must bounce back from its first loss since dropping to 1A last season.
"There's a complacency that comes with winning a lot, and that affects your ability sometimes to continue to play sharp," Matlock said. "It's kind of a snowball effect to where you're not at your absolute sharpest, and they really took advantage of that tonight. I give them all the credit in the world, but we can be sharper."