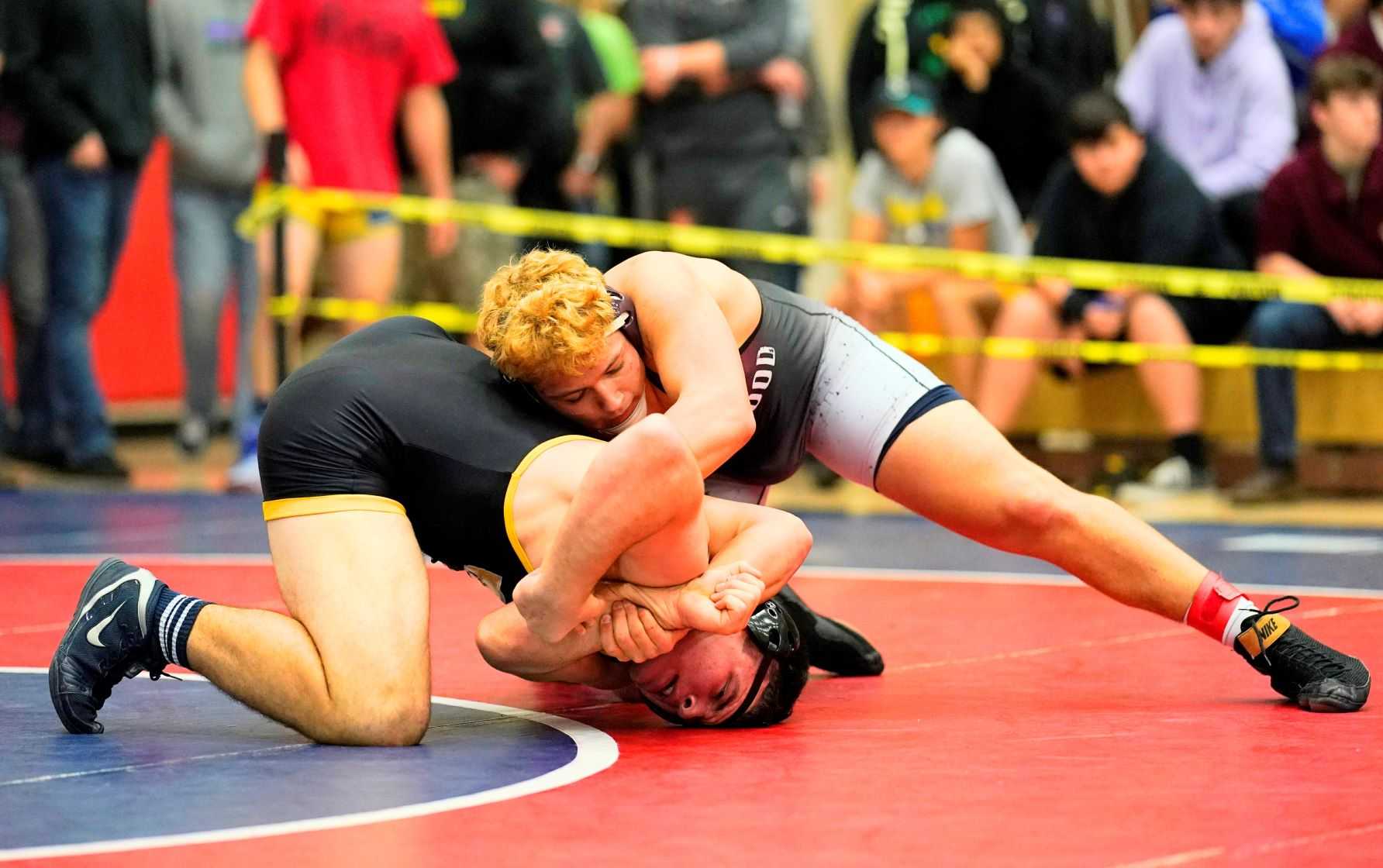 Sherwood junior Bryan Cuthbertson wasn't much for wrestling in his younger days. Even though his older brother Jayden wrestled, he just wasn't drawn to the mat.
But as an eighth-grader, as he prepared to spend his winter playing for a basketball team, the simplest of enticements changed all that. Sherwood wrestling coach Jeff Wilson offered him a long-sleeve Sherwood wrestling t-shirt.
"He said, 'If you take this, you've got to wrestle,'" Cuthbertson said. "I was like, 'All right, I'll do it.' So I went out and started going to the mats with the high-schoolers. The team environment was really good, but technically, I had nothing."
Three years later, Cuthbertson has evolved into a force. After making a surprise run to the 220-pound final in the 6A tournament as a sophomore, he is 20-1 this season and is the top-ranked 6A wrestler at 220, according to the Oregon Wrestling Forum.
"The biggest difference from last year to this year is my confidence," Cuthbertson said. "Going into the state tournament last year, I wasn't expecting much. I was unseeded, and no one was expecting much out of me. I know how good I am now, and who I can compete with."
Cuthbertson is a versatile athlete. As a 6-foot-1, 240-pound linebacker on the football team, he recorded a school-record 155 tackles last season. He was the state runner-up in the shot and discus in the 6A track meet last year. And he is the first Sherwood athlete ever to clean lift 315 pounds.
"He's always been this great athlete, a big, strong, bad kid," Wilson said. "He's always been really coachable, and now he's getting really confident in the wrestling part of it and what he needs to do strategically."
Cuthbertson had lots of catching up to do on the mat. He wrestled in one tournament as an eighth-grader and his freshman season was cut short by a concussion. He began to find his way as a sophomore, but didn't reach the finals of any tournament until his breakout performance at state.
"We always knew he was capable of doing that, and that that's where he was going to get, but I think he caught everybody by surprise with how quickly he was able to get there," Wilson said. "This year, it's a lot less of a surprise for him, and more of he expects that of himself."
Cuthbertson finished third at district last year and entered the 6A tournament unseeded. On the big stage, though, he avenged two defeats from earlier in the season, recording a 4-3 decision in the quarterfinals over the No. 2 seed, North Medford's Julian Stone, and pinning the No. 3 seed, Tualatin's Gavin Moore, in the semifinals.
He remembers going over the state bracket with his father, James, before the tournament.
"I think he knew I had a chance to make it pretty far," Cuthbertson said. "I don't know if either one of us had any idea I'd make it as far as I did. Personally, I didn't feel like I'd be able to reach that, but I just took it match by match, and I ended up there."
Cuthbertson's run ended in the finals when he was pinned by Beaverton's Sandrey Mitberg in 40 seconds.
"I've watched that match many times. He caught me in my own mistake," Cuthbertson said.
The momentum from last year's state tournament has carried over into this season, which has included his first two tournament titles, the Tyrone Woods Memorial at Oregon City and the prestigious Rose City Championships at Westview.
He also took third in the Rollie Lane Invitational in Idaho, one of the premier events in the Northwest. In that tournament, he won 5-3 over La Grande senior Spencer Gerst, a 4A runner-up last year, and recorded a pin of Nyssa junior Bryan Flores, the top-ranked 195-pounder in 3A, in the third-place match.
"That's where he was really tested," Wilson said. "I think that's where he really saw that he's an elite-level wrestler now, not just an elite-level athlete. I think that was a huge moment for him, getting a couple of really close wins."
Cuthbertson said he is getting better every week.
"I feel solid about the way I'm wrestling," he said. "My technique is coming together more. I'm learning more new moves, more little tricks."
As good as Cuthbertson is in wrestling, he is more interested in pursuing a future in football. He said he has been talking to colleges such as Brigham Young, Oregon, Oregon State and Eastern Washington.
"Football is my passion," he said.
Whatever he does, "the sky's the limit for that kid," according to Wilson, who has coached Cuthbertson in football.
"The thing about him in football – and you see it in wrestling, too – is he just has a natural feel for things," Wilson said. "You can tell him or show hiim something once or twice, and he can just go out and do it. That's pretty unique."