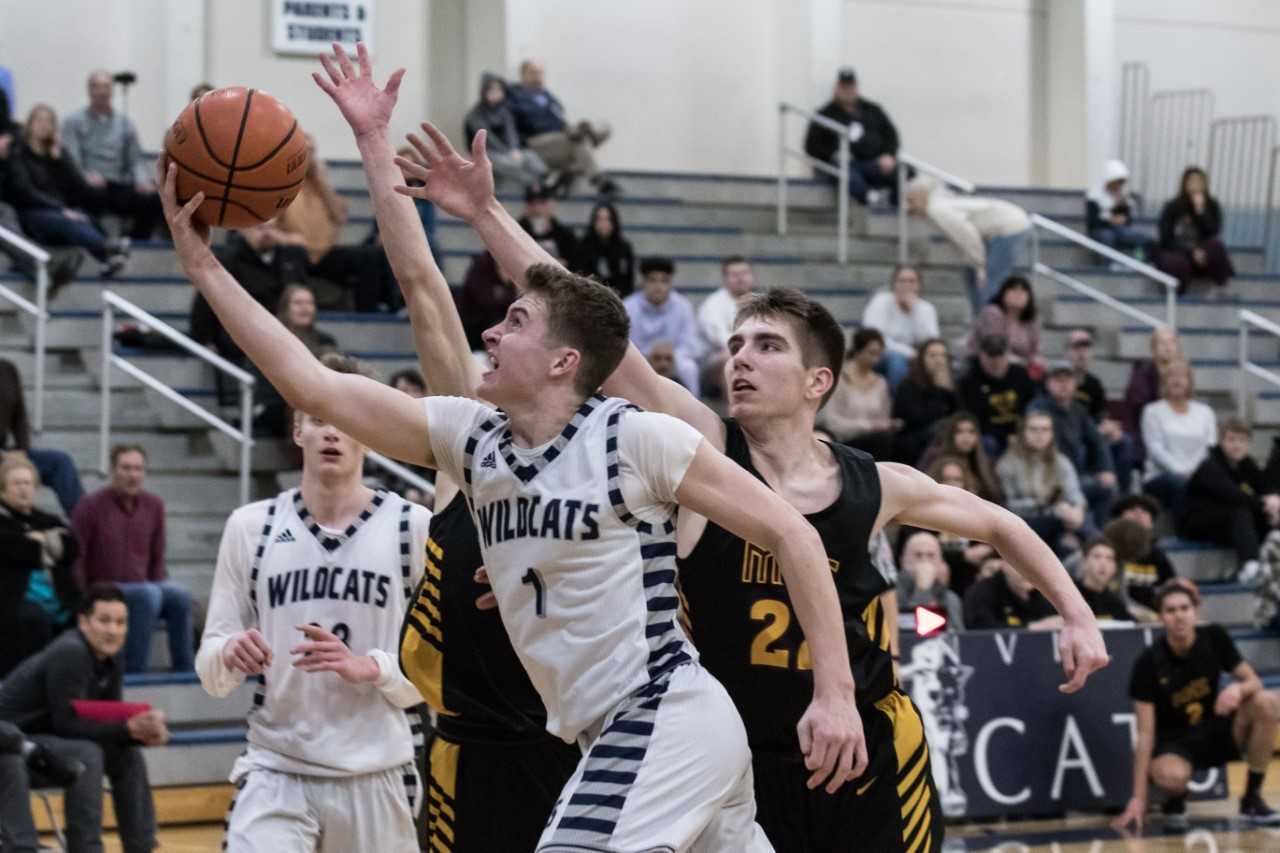 WILSONVILLE – The Northwest Oregon Conference boys basketball schedule is becoming a grind for shorthanded Wilsonville.
The reigning 5A champion Wildcats are so banged up, they were missing seven players at a recent practice. Among the wounded is senior wing Keegan Shivers, one of three returning starters from last season.
With Shivers sidelined for the fourth game in a row with a leg injury, the No. 4 Wildcats needed to dig deep to gut out a 66-55 home win over No. 7 Milwaukie on Tuesday night, strengthening their hold on first place.
Wilsonville's conference winning streak now stands at 58, but the Wildcats (11-5, 5-0) find themselves navigating a mine field, as evidenced by a three-point win at La Salle Prep last week and Tuesday's much-closer-than-it-sounds escape against the Mustangs.
"It's definitely been hard," senior guard Gabe Reichle said. "We've been having to bring guys up from all three of our teams to practice. So it's been hard to raise the competitive level in practice."
It puts a heavier burden on Reichle and senior wing Dakota Reber, the other two returning starters, who scored 23 and 15 points, respectively, Tuesday night.
"We've just got to play with toughness, and know that since they're not here, we have to play even harder, until they get back," Reber said.
Much-improved Milwaukie (10-5, 3-2), which already has matched its win total from last season, threw a scare into the Wildcats. The Mustangs rallied from a 10-point, first-half deficit to take a 37-36 lead midway through the third quarter and were within two points with two minutes left before Wilsonville closed it out.
"We didn't play very well tonight," Wildcats coach Chris Roche said. "I thought Milwaukie was very good, and ready to play. They kind of seized the moment and went for it. They had a great chance to win the game. They were well prepared. I was really impressed with everything they did."
The Mustangs got 19 points from senior guard Alileyon Ford and 14 points from senior guard Keshawn Myles.
"I thought we played very well," Milwaukie coach Don Law said. "We played very aggressive. We weren't intimidated. We could've come in here and just laid an egg. We came out and competed out butts off. It wasn't until a couple plays towards the end that changed the outcome of the game."
Wilsonville seemed to be in control when Reber hit a three-pointer for a 49-41 lead early in the fourth quarter. But the Mustangs got a big spark off the bench from junior forward Hector Penaloza, who battled inside for nine points in the fourth quarter, six on offensive rebounds. His last basket drew Milwaukie within 56-54 with 2:05 left.
That's when Reichle came through with the game's biggest basket, scoring on a drive to make it 58-54 with 1:28 to go. Milwaukie went cold, and Wilsonville added seven free throws to extend the lead to 65-54.
"I was just thinking, 'We've got to get a great shot. We've got to separate,'" Reichle said. "I went to the rim and ended up getting a layup. We kind of struggled getting into an offense, so I just thought we had a have a good possession, and then get a stop on defense."
Reichle scored 16 points in the second half, including a steal and dunk to cap a 10-2 surge late in the third quarter. He scored 12 points in the final 4:32.
"He's done it for a while now. He's a third-year starter," Roche said. "He has a really good feel for that. I thought he finished the game great. He made a bunch of plays."
Milwaukie absorbed a blow in the middle of the second quarter when senior Deegan McCord, a starting guard, left the game after running into a door while chasing down a Wilsonville fast break. He suffered a concussion, according to Law.
The play of Ford helped make up for McCord's absence.
"He did a great job of being aggressive on the offensive end," Law said of Ford.
The Wildcats' starters accounted for all of the team's points. They also got 12 points from senior wing Andrew Classen and 11 points from junior wing Riley Scanlan.
Wilsonville is hopeful that Shivers can return soon. A second-team all-state pick last season, he provides critical scoring, rebounding and defense.
"It's definitely affecting us," Reber said. "He's a huge part of our team. We definitely miss him."
Reichle said of Shivers: "He's a huge leader. He sort of helps us stay poised."
The Wildcats have made it to the last five state finals, winning three. To have a shot at making another run, they will need to overcome some adversity.
"We've just got to keep pushing and make it through this stretch," Reichle said. "We can still get better. We can definitely play at a high level."