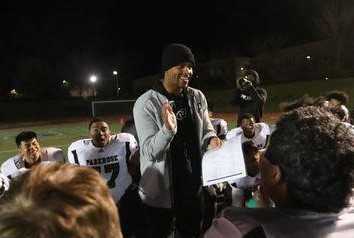 Keanon Lowe spent the last two seasons breathing life into the struggling football program at 5A Parkrose.
Now, the former Jesuit and University of Oregon player will take over one of the state's perennial 6A powerhouses.
Lowe, who ended the Broncos' 23-game losing streak in his first season as coach and guided them to their first playoff win in school history in his second season, has been named as the new coach at West Linn. He will succeed Chris Miller, who left to coach in the XFL.
"I had a good run in the last two years as a head coach, and now I was kind of ready to take on a bigger challenge," Lowe said.
Lowe said he is ready to go head-to-head in 6A with "legendary coaches" such as Jesuit's Ken Potter, Lake Oswego's Steve Coury and Central Catholic's Steve Pyne.
"The thought of being able to compete with those guys, I definitely couldn't turn it down," Lowe said. "I'm excited to start and build my program and match up with those guys and try to do something special."
West Linn went 60-16 in six seasons under Miller, winning the 6A title in 2016. The Lions made it at least as far as the quarterfinals every year during Miller's tenure.
"It's exciting to be able to take over a program of that caliber," Lowe said. "As a head coach, it's exciting to take on something that big and something with that many kids and that many moving parts. I'm excited to accept the challenge."
West Linn finished 8-4 and lost in the state quarterfinals last season. Stocked with talent – including a deep junior class – West Linn's program attracted high-level applicants.
"It was probably the best pool of candidates I've ever seen from any sport," West Linn athletic director Mark Horak said. "Of all those, Keanon came out on top at the end. … His relationships with kids, his relationships within the building, his relationships with his team was a strong point for us to hire him."
Parkrose had lost 23 consecutive games before Lowe took over as coach in 2018. The Broncos went 5-5 in his first season and 7-3 last year, beating Lebanon 59-20 in the first round of the 5A playoffs before falling to Crater 49-0 in the quarterfinals.
Last season, Parkrose posted a stunning 28-19 win over traditional 5A power Wilsonville in a game between division winners in Special District 1. In the 10 previous meetings between the teams, Wilsonville had won by an average of 41.1 points.
"What he did at Parkrose was unbelievable," Horak said, adding that it "showed volumes of what he's capable of doing."
Lowe said that he will "forever be a Bronco."
"I dedicated the last two years of my life to them," Lowe said. "Those kids trusted me in the vision I had from pretty much the day I walked in the door. I love those guys, and they know that I'll forever be their coach.
"We had a great senior class that I was able to work with for two years, and they were able to change the whole trajectory of that program and kind of change the narrative of that whole community and school. I will forever be proud of the time I had there and how much growth I had in those two years."
Horak said that Lowe's "dynamic personality" and coaching philosophy were selling points.
"His offense will be similar to what we've done in the past, which will be huge for our kids," Horak said, "and I think his demeanor will fit right in with what our kids can excel with."
Horak said he plans to meet with Lowe next week to discuss filling out the coaching staff.