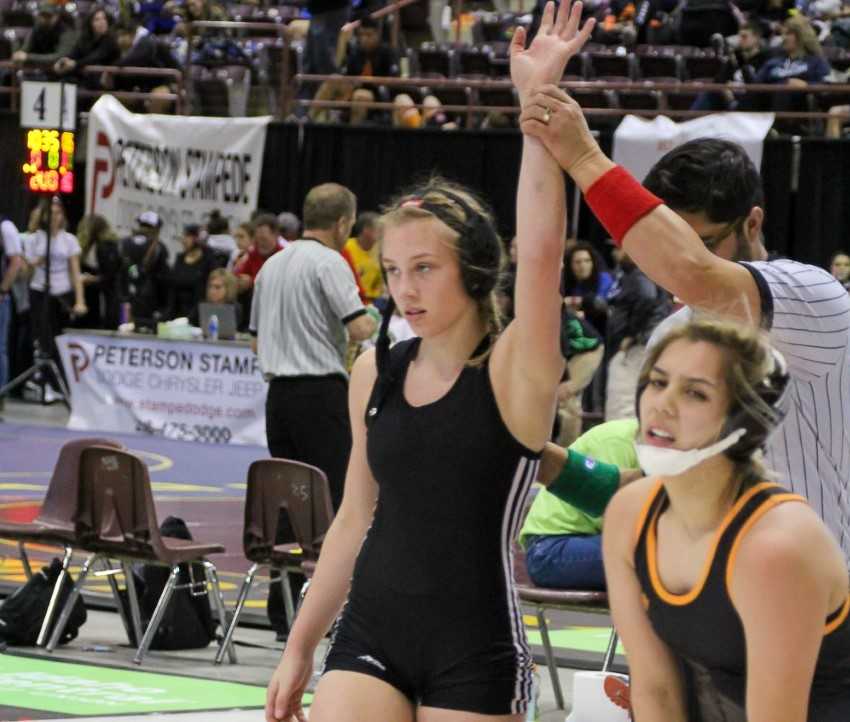 Seven of last year's state champions were among those qualifying for the OSAA girls wrestling championships in two regional tournaments last weekend.
Madras senior Bailey Dennis (170), Phoenix senior Emma Truex (125), Cottage Grove junior Raina Herzog (235) and Bend junior Charli Stewart (135) won their divisions in the South Regional tournament at Thurston.
Vale sophomore Tyler Richardson (140) and Newberg sophomore Sophia Redwine (110) won their weight classes and Hillsboro sophomore Ayana Medina (120) was runner-up in the North Regional at Century.
All seven will seek to repeat their titles in the OSAA championships Feb. 28-29 at Veterans Memorial Coliseum. Dennis and Truex – champions at 190 and 125, respectively, last year – will be vying to become four-time state champions.
The top four in each weight class at regionals qualified for state.
Dennis won all four of her matches by pin, two in the first round and two in the second round. In the final, she pinned Douglas sophomore Zoey Smalley in 48 seconds.
A national champion, Dennis continues to push herself, according to Madras coach Brad Padgett.
"To have a person remain this hungry still, it's quite impressive," Padgett said. "It shows her true character and personality of just being a dominant competitor. She's just a person who likes to win."
Dennis, 7-0 against girls this season, has spent part of the year in Madras' boys lineup at 182. She is 3-9 against boys.
"She holds her own," Padgett said of Dennis, who won two matches against boys in a tournament at Cottage Grove, one by pin. "She's shocked a couple of good kids."
Truex blitzed through the 125 bracket at the South Regional, pinning her opponents in 43, 30, 28 and 48 seconds. She stopped Sweet Home junior Jessy Hart in 48 seconds in the final.
Thurston senior Lindsay Burrell (135) posted one of the bigger upsets of the South Regional, winning by ultimate tiebreaker in the semifinals over the No. 2 seed, Mountain View senior Taylor Ohlson, a 2017 state champion. Ohlson pinned Burrell in a tournament at Hood River Valley on Jan. 25.
In the regional final, Bend's Stewart pinned Burrell in the first round.
Richardson, Redwine and Medina – the only freshmen to win state titles last year – earned state berths at the North Regional.
Richardson won all five of her matches by pin. Two of her matches went to the third round, including the final against Glencoe junior Elbereth Ragsdale, which she won with 32 seconds left.
"She controlled the match the whole time, but that girl was a lot tougher," Vale coach Dirk Cleaver said of Richardson's win over Ragsdale, whose only previous loss this season came against Ohlson.
Cleaver said that Richardson gained valuable experience wrestling with Team Oregon in the offseason. Richardson has three losses this season, one to Ohlson and two at a tournament in Washington in mid-January, after which she changed her mentality.
"That's when she figured out she needed to be more offensive," Cleaver said. "She was kind of hesitant on her shots up there. After seeing those matches, we just drilled into her head that she needs to take control of the matches, she can't wait for them to do it."
Redwine cruised through her bracket with four first-round pins. She defeated Dallas junior Kimberly Holgate in 1:46 in the final.
In the 120 final, top-seeded Century senior Tyler Rabang defeated the second-seeded Medina 4-2. In their two previous matches, Rabang won 11-9 on Dec. 21 and Medina won by injury default on Jan. 11.
Centennial and Scappoose tied for the team title in the North Regional with 166 points, outscoring Hillsboro (150) and Century (140). Centennial got a title from senior Tupou Fononga (235); Scappoose's lone champion was sophomore Bella Amaro (125).
The co-title marked a dramatic rise for Centennial. The Eagles started their girls program with two wrestlers about five years ago and it has blossomed to more than 20.
"We just focused on recruiting," Centennial coach Ehren Schneider said. "We took a big step forward this year. We're pretty pleased about the outcome. We wish we wouldn't have tied – wish a couple matches would've gone differently – but as a program, we're pleased with the growth and the success the girls are having."
It is the first high school season for Fononga, who last competed in middle school.
"She's a tremendous athlete," Schneider said. "We just tried to help her develop, give her some tools to work with, and let her athleticism distinguish itself. That inexperience hurt her in some early matches. State's going to be a nice competition. We're going to see where we're really at with Tupou. She's got a mean blast-double, I'll tell you that."
Thurston dominated the South Regional with 265 points, running away from Bend (131), North Medford (123) and Elmira (109). Junior Cailee Hallett won Thurston's only individual title, recording a first-round pin of Bonanza senior Breanna Mestas in the 120 final.
A look at the finals results:
South Regional
100 – Olivia Flack (La Pine) 24-1, Sr. over Chelo Garcia (Newport) 13-1, Fr. (Dec 6-1)
105 – Estella Gutches (North Medford) 13-5, Fr. over Samantha Dara (Grants Pass) 21-2, Sr. (Dec 12-10)
110 – Lexi Schilling (Sweet Home) 21-1, Sr. over Tess Barnett (McKay) 24-4, Jr. (Fall 3:12)
115 – Emily Alvis (West Albany) 28-2, Jr. over Paige Chafin (Sweet Home) 17-7, So. (Fall 0:42)
120 – Cailee Hallett (Thurston) 23-1, Jr. over Breanna Mestas (Bonanza) 9-1, Sr. (Fall 0:56)
125 – Emma Truex (Phoenix) 4-0, Sr. over Jessy Hart (Sweet Home) 21-4, Jr. (Fall 0:48)
130 – Shayla McNulty (Eagle Point) 19-1, Jr. over Morgan Ellis (Pleasant Hill) 21-2, Sr. (MD 10-0)
135 – Charli Stewart (Bend) 25-1, Jr. over Lindsay Burrell (Thurston) 17-7, Sr. (Fall 1:02)
140 – Dakota Alewine (North Medford) 14-1, Jr. over Quilaztli Miguel-Lapham (North Salem) 3-1, Jr. (Fall 4:59)
145 – Jasmine Pedersen (Summit) 16-3, Sr. over Gabi Gilbert (Thurston) 17-4, Fr. (Fall 3:38)
155 – Anna McDougal (Elmira) 32-1, So. over Gabrielle Tata Rodrigues (North Salem) 9-2, Jr. (Fall 1:16)
170 – Bailey Dennis (Madras) 7-0, Sr. over Zoey Smalley (Douglas) 17-1, So. (Fall 0:48)
190 – Maranda Hanson (Elmira) 24-2, Sr. over Jasmine O`Neill (La Pine) 5-3, Jr. (Fall 1:23)
235 – Raina Herzog (Cottage Grove) 20-2, Jr. over Tayla Swearingen (North Douglas / Elkton) 10-3, Jr. (Fall 1:57)
North Regional
100 – Emma Baertlein (Oregon City) 19-1, Jr. over Delia Gulzow (La Grande) 4-1, Fr. (Fall 1:44)
105 – Nimo Sheikh (Century) 20-2, Sr. over Samantha Shipley (Century) 25-7, So. (Fall 3:43)
110 – Sophia Redwine (Newberg) 8-0, So. over Kimberly Holgate (Dallas) 3-1, Jr. (Fall 1:46)
115 – Sydney Keller (Baker / Powder Valley) 9-1, Jr. over Ortiz Nadeen (Aloha) 7-2, So. (Fall 1:36)
120 – Tyler Rabang (Century) 15-2, Sr. over Ayana Medina (Hillsboro) 17-4, So. (Dec 4-2)
125 – Bella Amaro (Scappoose) 32-1, So. over Sophie Keefer (Lincoln) 18-4, Jr. (Fall 0:46)
130 – Dana Glasser (Estacada) 5-0, So. over Makaila Takahashi (Forest Grove) 19-6, So. (Fall 3:20)
135 – Haylee Davis (Banks) 9-1, Sr. over Jasmine Hopkins (Forest Grove) 17-5, Fr. (Dec 11-6)
140 – Tyler Richardson (Vale) 20-3, So. over Elbereth Ragsdale (Glencoe) 13-2, Jr. (Fall 5:28)
145 – Destiny Rodriguez (West Linn) 17-0, Fr. over Chloe Omey (Sandy) 17-2, Fr. (Fall 1:17)
155 – Noelle Acosta (Nyssa) 26-4, Sr. over Simone Willingham (Centennial) 13-7, Sr. (Fall 3:28)
170 – Olivia Robinson (Glencoe) 16-0, Sr. over Sydney Carter (Oregon City) 14-7, Jr. (Fall 3:26)
190 – Fiona McConnell (Milwaukie / Acad. Of The Arts) 18-0, Jr. over Abigail Osei (Ontario) 8-1, So. (Dec 10-3)
235 – Tupou Fononga (Centennial) 12-3, Sr. over Dore Young (Franklin) 7-1, Sr. (Fall 2:39)