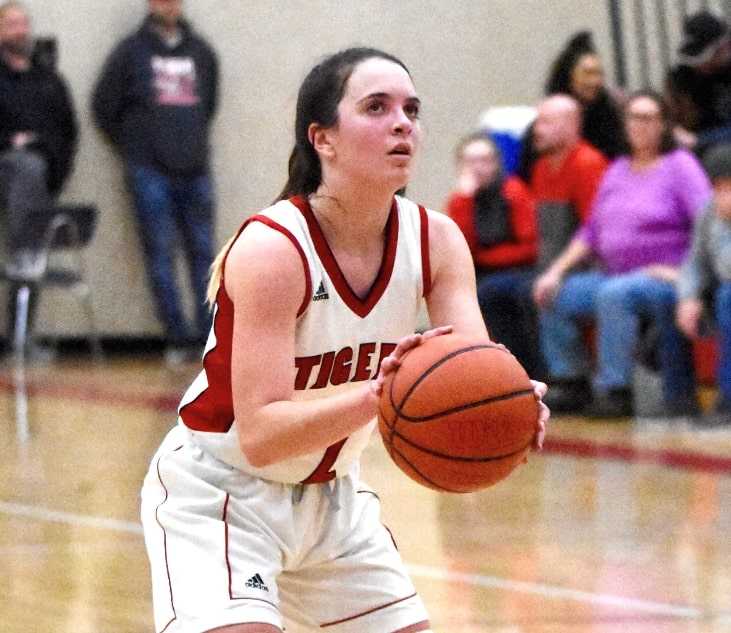 Reigning 3A girls basketball champion Clatskanie went back to basics in its most important game of the season Friday.
The No. 1 Tigers (16-2, 5-1) held No. 4 Willamina to 16.7-percent shooting in a 43-21 home win to keep alive their hopes of a Coastal Range League title. They avenged a 40-39 road loss to the Bulldogs (18-5, 6-1) on Jan. 21.
"A good overall win as we are starting to lock down defensively, which is our team identity," Clatskanie coach John Blodgett said. "We talk about it every day … we will go as far as our defensive execution takes us."
Junior forward Shelby Blodgett had 13 points, 11 rebounds, three assists and four steals and junior guard Olivia Sprague added six points, eight rebounds, five assists and seven steals for the Tigers. Clatskanie had a 40-23 edge in rebounds and racked up 14 assists on 17 field goals.
The Tigers led 17-10 at half and 30-15 after three quarters. They were able to pull away despite shooting 3 of 23 from three-point range.
"They did a really good job on Shelby and Sprague, limiting their scoring opportunities, but we got a lot of open looks for others, especially outside the arc," John Blodgett said. "Our role players just need to make a few more shots, and I'm certain we'll be in great shape when the shots start falling."
Junior forward Kaya McLean made three three-pointers and scored 12 points for Willamina. The Bulldogs made only 6 of 36 shots from the field.
"We did a good job of contesting shots and making it tough for them to score," John Blodgett said. "We were able to bring full-court pressure at times with some good success."
Willamina can clinch at least a share of the league title Friday with a win in the regular-season finale at Warrenton (6-15, 2-4). Clatskanie has two league games remaining, Tuesday at Warrenton and Friday at home against Taft (9-10, 2-4).
Panthers prevail
No. 2 South Medford took over first place in the 6A Southwest Conference with a 72-58 home win over No. 4 Sheldon on Friday.
The Panthers (17-3, 5-0) ended a four-game losing streak to the Irish (16-4, 4-1), the conference champions the last two seasons.
"The game had a real competitive flow to it," South Medford coach Tom Cole told the Medford Mail-Tribune. "Sheldon is an excellent team. … The kids knew how big the moment was. We were tight in the first quarter."
Junior forward Kaili Chamberlin had 18 points, five rebounds and two blocked shots for the Panthers, who also got 18 points from sophomore forward Tanesha Coley and 15 points from senior guard Bella Pedrojetti.
Coley's play off the bench was a key factor, according to Cole.
"She got a lot of drives to the bucket and made some great decisions in the paint," Cole said. "I don't think a lot of people have seen her. She's a left-handed player and has been under the radar just because of some of the kids in front of her."
Senior guard Aly Mirabile scored 22 points to lead Sheldon. Irish senior Reilly Kelty, a 6-foot-3 forward who is headed to Portland State, was held to three points.
The teams meet again in the regular-season finale Feb. 28 at Sheldon.
PIL race
Grant is in position to share the Portland Interscholastic League title with reigning 6A champion Benson.
Junior post Schuyler Berry had 23 points, 10 rebounds and two blocked shots as Grant beat No. 10 Benson 63-62 on Feb. 4 to end the Techsters' 32-game league winning streak.
The visiting Generals (14-7, 11-1) built a 10-point lead after one quarter and held on late to pull even with Benson (15-5, 11-1) in first place and avenge a 57-50 home defeat on Jan. 11. Both teams have four league games remaining.
The 6-3 Berry made 9 of 15 shots from the field and Grant was 8 of 14 from three-point range, getting three triples from senior guard Nia Bradley (11 points) and two each from sophomore guard Zaryah Hill (13 points) and senior wing Olivia Chambers (eight points).
Senior Aujae Yoakum had 22 points and six steals and freshman Onna Brown added 16 points and nine rebounds for Benson, which shot 4 of 18 from three-point range. Senior Bria Dixson added 12 points for the Techsters.
St. Paul pulls away
No. 2 St. Paul controlled the second half to beat No. 7 Mohawk 45-36 in a 1A nonleague game Monday.
With the home win, the reigning state Buckaroos (22-1) ended an 18-game winning streak for the Mustangs (19-3), who have clinched the Mountain West League title.
"That's a really good team," St. Paul senior post Isabelle Wyss said of the Mustangs. "That was a lot of fun. That's good competition. We could easily see them again in the state tournament."
Mohawk senior wing JJ Nation hit a three-pointer at the first-half buzzer to give the Mustangs a 22-21 lead. St. Paul, which hadn't played in 10 days, appeared rusty against Mohawk's full-court press.
"The first half went pretty well for us, better than we were planning, because we were afraid that the first few minutes were going to be a little rough," said Mustangs junior center Kendyle Gormley, who scored a game-high 15 points.
The Buckaroos scored the first nine points of the third quarter to pull ahead 30-22. Wyss, who had five of her team-high 12 points during the run, said the team needed to shake off negative energy.
"That wasn't us," she said, adding that coach Dave Matlock told the Buckaroos that they "need to bring it back to our game, play the second half and the rest of the way we normally do, and get those jitters out ..."
Mohawk drew within 38-34 in the fourth quarter before St. Paul pulled away late.
Senior guard Peyton Robinson added 10 points for the Mustangs. Freshman guard Annabelle Davidson chipped in with 10 points for St. Paul.
Valley 10 showdown
First place in the 1A Valley 10 League is on the line Tuesday night when No. 5 Damascus Christian (20-2, 9-1) visits No. 8 Southwest Christian (19-2, 9-1).
Damascus Christian has won 12 in a row, including a 34-30 home win over Southwest Christian on Jan. 16. Both teams have two league games remaining.
The Eagles' winning steak also included the 600th win for coach Dave Wakefield. He is 608-126 in 28 seasons – eight at North Clackamas Christian and 20 at Damascus Christian – ranking him second on the state's all-time list behind Oregon City's Brad Smith (628-92).
Jeremy McDonald contributed to this report