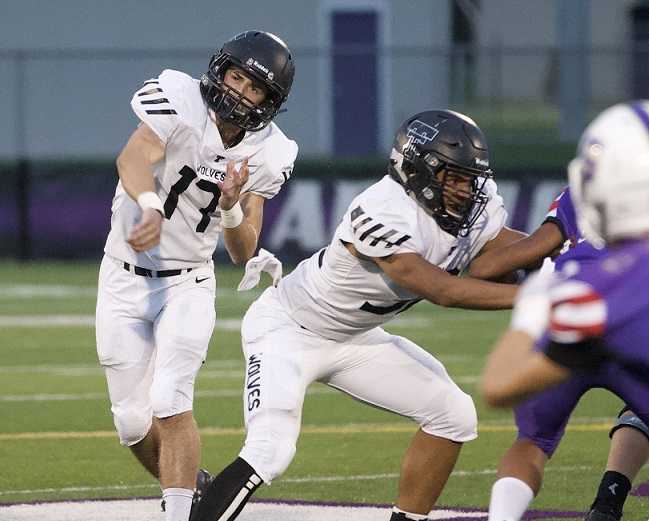 Tualatin junior Blake Jackson got the keys to the family car for the first time Friday night, then drove Sunset right off its own field in a decisive 57-28 victory.
The 6-foot, 175-pound Jackson plays a little bit of everywhere for the No. 6 Timberwolves (4-0) -- tight end, strong safety, even linebacker and, of course, mop-up quarterback -- but when regular starter Kyle Dernedde tweaked his left knee last week, he stepped behind center as if he was born there. Dernedde is taking a precautionary week off, but is expected to be back next week.
Jackson hit 13 of 15 passes for 245 yards and three touchdowns; in the Wolves' diversified offense, he also ran eight times for 73 yards and another touchdown.
"I felt really confident out there," he said. "I was ready to play. I wasn't at all afraid of messing up. These guys have my back."
By "these guys," he means an efficient offensive line that wore the smaller Apollos (2-2) down quarter by quarter. So it looked at times as if Jackson had the keys to a snowplow, too.
The Timberwolves never trailed in the game. They took advantage of two interceptions to get off to a 14-0 lead on a 40-yard fly sweep by Cade Dixon and a 22-yard off-tackle burst by Dominique Loggins.
Sunset junior quarterback Callum Craig kept the Apollos in the game the best he could. Just when it looked as if the Timberwolves would finish them off in the first quarter, he rallied the Apollos with a 71-yard bomb to Nate Archibald.
But 36 seconds later, Jackson hit tight end John Miller over the middle and watched him get the turn on the Sunset secondary and flee 70 yards down the right sideline for a 29-14 halftime lead.
Callum passed for all four Sunset touchdowns, did all the kicking and played a little defensive secondary in his spare time.
Tualatin took complete command with three third-quarter touchdowns by three different players.
Tualatin coach Dan Lever loved his line's domination, too.
"We're getting a ton of mileage off those guys," he said. "We have some 190-pound guys who are playing a lot bigger than that.
"We still have a lot to clean up and get better at, but those guys have played very well the last four weeks."