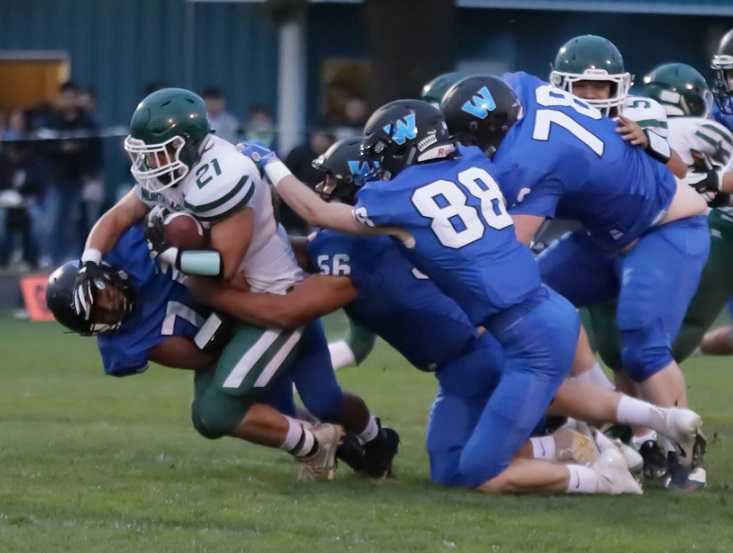 Woodburn has spent the past decade carving out a well-deserved reputation as a soccer school.
But after what happened Friday night, it's clear that football is starting to make a comeback in the Willamette Valley farming community.
The Bulldogs, playing former rival North Marion for the first time since 2009, won 21-0 in the 4A Special District 2 opener before a packed house. Woodburn prevailed in a battle of unbeaten teams to go to 4-0.
"The biggest crowd I've ever seen at Woodburn," Bulldogs coach Nick Federico said. "It was a great Friday night atmosphere. The school is catching on, the community is catching on, the old-timers are coming back. It's just a great feeling."
It was the first shutout for Woodburn since 2010, when it beat South Albany 38-0. It also was the first league win since 2011 for the Bulldogs, who moved down from 5A this year after playing an independent schedule the last two seasons. They lost 28 consecutive games in the 5A Mid-Willamette Conference from 2012 to 2015.
Woodburn's sports teams are competing in 4A in the new four-year time block because they collectively met the OSAA's criteria to play down one classification. As a result, the Bulldogs are 4-0 for the first time since 1991, which also is the last time they finished with a winning record (5-4).
Federico said the opportunity to play down is a "great thing" for Woodburn, which went 3-6 the last two seasons while playing a schedule that included four teams currently in 4A Special District 2.
"Football is such a community sport, and it's really finally gotten this community back together," he said. "It's slowly working. There were people that I hadn't seen that came out of the woodwork."
Ending up in a league with North Marion was vitally important for Woodburn, according to Federico. The schools hadn't met in football for nine years despite being six miles apart.
"We didn't have those neighbors, or that little brother that we just had to play," Federico said. "Every team has that rival, and we finally were able to get put back with North Marion. That was our main goal, is that we had to play North Marion in these four years.
"Just to have it, it was so much fun. All week long there was a buzz, just around town. We hadn't had that. We've never had that."
Woodburn built a 21-0 lead in the first half as senior RJ Veliz accounted for touchdowns rushing, passing and receiving. The Bulldogs held the Huskies to 91 yards with a defense led by junior linebacker Dyontae Navarrete.
Up next for Woodburn is a league game at No. 7 Estacada (3-1).
Down is up
Woodburn isn't the only team benefiting from moving down one classification this season. There also is:
Jefferson, which went 0-9 in last year, is 4-0 in 2A.
Pilot Rock, winless in 2015 and 2016 and 3-5 last year, is 4-0 in 1A.
South Eugene is 3-1 in 5A, matching its combined win total from the previous two seasons.
West Albany, 9-19 in the last three seasons, is 4-0 in 5A.
Forest Grove has started 3-1 in 5A after going 1-17 the last two seasons in 6A.
Hidden Valley, 1-7 last season, is 3-1 in 3A.
Bucking the trend
It's starting to look like Pendleton's 16-year drought without a playoff win is in serious jeopardy.
The fifth-ranked Buckaroos passed their toughest test of the season Friday night, going on the road for a 47-27 win over No. 6 Scappoose in a game matching unbeaten division leaders in 5A Special District 1.
Pendleton coach Erik Davis said it's his best team in seven seasons at the school.
"There hasn't been a culture of big wins for quite some time," Davis said. "Sometimes it's hard to change that culture. They've been looking for this year for a long time. They think they're good, and they're playing like it right now. To beat a good team like Scappoose with their history, it's huge."
Most impressive was the way the Buckaroos (4-0) responded to adversity, overcoming a 14-0, first-quarter deficit and four turnovers.
"What we showed was resiliency," Davis said. "Our kids kind of bowed their neck a little bit and we got our run game going. Our kids showed a lot of grit, a lot of character."
Aiden Patterson rushed for 185 yards and two touchdowns and quarterback Trent Sorey ran for 89 yards and three touchdowns as Pendleton's offensive line -- led by seniors Everett Willard (6-2, 250) and Cetch Kelly (6-2, 260) and junior Travis McGee (6-1, 295) -- dominated the Indians (3-1).
Scappoose represented the biggest obstacle on Pendleton's schedule. The Indians are the only team in the current top 10 that the Buckaroos will face all season.
Vengeful Pirates
No. 2 Marshfield served up a big helping of payback Friday with a 31-10 win over No. 6 Cottage Grove, which beat the Pirates 48-14 in last year's 4A final.
"It was quite the butt-kicking we received a year ago, so we were looking forward to playing them again," Pirates coach John Lemmons said. "We ran the ball well, and we played defense pretty darn good."
Marshfield (3-1) rushed for 422 yards, getting 254 yards on 20 carries from Josiah Niblett, and threw only six passes in winning the Special District 4 opener for both teams. The Pirates also buckled down on defense, holding the Lions to 18 rushing yards on 21 carries and 196 total yards.
The only negative for Marshfield was five turnovers. The Pirates fumbled on three consecutive possessions in the third quarter, once inside the Cottage Grove 5-yard line, which the Lions (2-2) quickly turned into a touchdown to pull within 17-10.
"It would've felt better if we hadn't turned the ball over five times," Lemmons said. "We're getting better weekly, but we still have work to do, that's for sure. The kids overall played hard, our backs and quarterbacks just need to hold onto the ball."
One for the books
Mapleton sophomore quarterback JJ Neece entered the 1A eight-man record books Friday with his performance in a 70-54 win over Oakridge.
The 6-2, 200-pound Neece rushed for 484 yards and eight touchdowns on 26 carries, caught a touchdown pass, completed 4 of 6 passes for 76 yards and had six two-point conversions as the Sailors (3-1) beat the Warriors (2-2) in the Special District 1 South game.
The 484 yards ranks sixth on the all-time list. The top five all eclipsed 500 yards, led by Dufur's John Hummel (576 vs. Klickitat, Wash., in 1968).
The eight rushing touchdowns puts him in a logjam for No. 4 all-time, behind three others with nine. The nine total touchdowns is tied with several others for No. 3, behind two with 10.
In four games, Neece has rushed for 1,104 yards and 17 touchdowns, completed 13 of 19 passes for seven touchdowns and made 12 two-point conversions.
"Very rare do you get a kid like this," Mapleton coach Jeff Greene said. "You might get one in your coaching career. He loves the game of football and he wants to get better. He's just scratching the surface. He's got great speed and he's big and strong. I know he wants to play college football."
Neece played tight end as a freshman. In one game, he spelled the injured starter at quarterback and rushed for 235 yards.
"Not only was he physically ready to go as a freshman, but mentally," Greene said. "It was crazy to watch."
Neece also has been dominant on defense with 88 tackles, one sack, two caused fumbles and two fumble recoveries. He had 14 tackles, a sack and a pass deflection Friday.
Rams rebounding
No. 8 Central Catholic has bounced back with two wins after opening the season with losses to No. 7 West Linn and Washington power Eastside Catholic.
The Rams (2-2) still need time to fit the pieces together, but coach Steve Pyne believes his team can be a factor in what he sees as a wide-open 6A race.
"We're going to be a tough team in the coming weeks," Pyne said. "You look at it and go, OK, there's Lake Oswego, Clackamas, Jesuit, Sheldon, Tigard, Tualatin – I hope we can be in that conversation.
"It's not as clear-cut at the top as it maybe has been. I think there's a half-dozen to eight teams that maybe could be there at the end, depending on how things break out."
Central Catholic beat Sherwood 44-24 on Friday as junior quarterback Cade Knighton completed 21 of 30 passes for 344 yards and three touchdowns. Junior Silas Starr caught 11 passes for 151 yards and one touchdown.
Pyne said the team's line play has steadily improved.
"We knew we'd be a work in progress," he said. "The back end of our defense has done a good job, and our skill guys have done a good job. It's not to say our O-line or D-line hasn't, it's just they've been improving week to week. We feel like we're going in the right direction. We'll see this Friday."
Central Catholic plays at No. 5 Jesuit (3-1) on Friday.
Tornado vortex
It's been a rough couple of weeks for North Medford.
For the second game in a row, the Black Tornado lost on a two-point conversion in the final seconds, falling at Mountain View 43-42 in a 6A nonleague game Friday.
North Medford (2-2) led 42-35 when Mountain View quarterback Colton Burkhardt connected for a 43-yard touchdown pass to Forrest Love with 4.9 seconds remaining. Instead of attempting an extra point and forcing overtime, the Cougars (3-1) opted to go for two, and took a 43-42 lead when Burkhardt passed to Shandon Malikowski.
Last week, the Black Tornado gave up a touchdown and game-winning two-point conversion in overtime in a 29-28 loss to Bend.
North Medford senior Eli Spence continued his outstanding season in defeat, rushing for 293 yards and four touchdowns on 38 carries. Spence has rushed for 1,038 yards this season.
A glimpse at Week 4 highlights across the state:
6A
Clackamas rallied from an 11-point deficit in the fourth quarter to beat Lake Oswego 49-39, getting the go-ahead points with 22 seconds left on a 10-yard pass from Caleb Jordan to Richard Kennewell, who finished with eight catches for 235 yards and two touchdowns. … Jake Mastrandrea caught two touchdown passes in West Linn's 45-28 win over Lakeridge, which got 134 rushing yards from Jalen John. … Malcolm Stockdale rushed for 87 yards and three touchdowns as Tigard beat Lincoln 45-13. … Ted Atkinson rushed for 144 yards and two touchdowns and Kade Wisher added 117 rushing yards and two scores as Jesuit won 56-7 over Aloha. The Crusaders held the Warriors to minus-4 rushing yards. … Reserve quarterback Blake Jackson passed for 240 yards and three touchdowns to lead Tualatin past Sunset 57-28. … Beaverton overcame a 26-10 deficit to overtake Westview 46-34. Carson Budke threw for 356 yards and five touchdowns for the Beavers. … Grants Pass cruised past Southridge 38-21 as Jarren Emptage scored three touchdowns, including an 86-yard kickoff return. Chase Coyle threw two touchdown passes for the Cavemen. … Sheldon's Michael Johnson Jr. passed for 197 yards and four touchdowns – three to Patrick Herbert -- and ran for 144 yards and one score as the Irish beat West Salem 56-21. Anthony Gould had seven catches for 135 yards and one touchdown for the Titans. … Nate Denney and Payton Davis combined to rush for 317 yards in Bend's 40-20 win over Roseburg. Cole Parker had seven catches for 142 yards and three touchdowns for Bend. … Oregon City rolled up 620 yards of offense to hand Liberty its first loss, 44-34. Zakhayas Dennis-Lee ran for 207 yards and four touchdowns for the Pioneers. … Miles Wilson ran for 183 yards and four touchdowns and Dominique Miller had two interceptions in Reynolds' 42-14 win over Mountainside.
5A
Aaron Rieskamp, filling in for Levi Nielsen, threw two touchdown passes and ran for another as Silverton defeated North Salem 34-13. Riley Kramer returned an interception 60 yards for a touchdown for the Foxes. … Nathan Overholt threw five touchdown passes, giving him 19 for the season, in Wilsonville's 51-0 win over Hillsboro. Sam Westing had three touchdown catches for the Wildcats. … Churchill's Demontre Thomas II passed for three touchdowns and ran for two scores in a 59-7 win over Ashland. … Crater handled North Eugene 26-7 as Tony Flores rushed fror 126 yards and Trever Davis passed for 214 yards. … West Albany beat South Albany 34-3 as Cassius McGinty ran for 116 yards and Carson Van Dyke threw two touchdown passes. … Lebanon got 203 rushing yards from Brock Barrett in beating McKay 44-14. … Jesse Cable had seven catches for 155 yards and three touchdowns to lead Central past Crescent Valley 28-14. … Bryce Boettcher threw for 327 yards and two touchdowns and ran for 82 yards and one score to lift South Eugene over Eagle Point 43-27. Noah Page had six catches for 144 yards for South Eugene. … Thurston intercepted four passes -- two by Jake Riley, who returned one for a touchdown -- in defeating North Bend 47-14. Cade Crist passed for 247 yards and Wes Kommer ran for three scores for the Colts. … Willamette got its first win of the season as sophomore Damein Kirkpatrick passed for 400 yards and six touchdowns in beating Springfield 60-27. Jondre Smith had 234 receiving yards and caught three touchdown passes for the Wolverines. … Matthew Prusak caught the winning touchdown pass with 45 seconds left as Ridgeview defeated rival Redmond 42-35. Prusak also had an 87-yard touchdown catch. … La Salle Prep won its third consecutive game, beating Putnam 35-7 as Ethan Edgerly threw for two touchdowns, James Menor ran for two scores and Casey Green had 12 tackles. … Forest Grove stopped Cleveland 35-0, getting 105 rushing yards and three touchdowns from Isiah Ahmed.
4A
Marist's defense came up big in a 15-2 win over Elmira, recording a safety and stopping the Falcons four times in the red zone. … Mazama rushed for 571 yards and held Phoenix to 154 total yards in a 61-13 win. Buddy Zakour rushed for 202 yards and two touchdowns for the Vikings. … Klamath Union got its first win over rival Henley since 2013, beating the Hornets 21-16. Cameron Taylor scored on a 93-yard kickoff return and a fumble return and had the game-clinching interception for the Pelicans. ... Alexander Teubner ran for 115 yards and caught two touchdown passes to lead Seaside past Astoria 55-7. ... Banks handled Tillamook 56-13 as Hayden Vandehey completed 22 of 26 passes for 301 yards and three touchdowns, two to Blake Gobel. ... Gladstone built a 21-0 lead at half and handed Estacada its first loss, 42-22. ... Newport managed only 216 yards but scored four touchdowns -- two on blocked punts, two on its only two pass completions -- to turn back Philomath 27-21. Justin Plechaty threw both touchdown passes and had the game-sealing interception for the Cubs. Colby Roe rushed for 152 yards for Philomath.
3A
St. Mary's defeated Gold Beach 49-6 as Aliiloa Kaeo-Wailehua passed for 258 yards and three touchdowns and Gavin Gajagopal rushed for 123 yards and two scores. ... Vale took down No. 1 Clatskanie 20-14, building a 20-0 lead and holding on late. Quarterback Colton Kesey ran for two touchdowns and had two interceptions for the Vikings. … Harrisburg's Dax Bennett rushed for 258 yards and four touchdowns and threw two touchdown passes to Jimmy Holland in a 54-20 win over Douglas. … Rainier shut down Corbett 48-0 as Joey Tripp ran for 124 yards and two touchdowns and passed for a score. David Katon ran for a touchdown and returned an interception 37 yards for a score for the Columbians. … Yamhill-Carlton twice overcame two-touchdown deficits to beat Taft 28-25, completing the comeback on an interception return by sophomore Mikel Rivas. … Cascade Christian's Kiegan Schaan passed for 240 yards and four touchdowns and ran for 57 yards and two scores as the Challengers racked up 493 yards in rolling past Pleasant Hill 52-13. ... Amity built a 42-0 lead at half on its way to a 48-0 win over Coquille. The Warriors ran for 522 yards, getting 226 yards and five touchdowns on 16 carries from West Streeter. Russel Brown added three tackles for loss. ... Josh Reagle ran for three touchdowns and Burns held Lost River to two rushing yards in a 25-10 win.
2A
Heppner outlasted Colfax (Wash.) 22-20 as Jayden Wilson passed for two touchdowns and ran for a score. Mason Lehman had 148 receiving yards and one touchdown catch. … Umatilla's Andrew Earl threw two touchdown passes in a 30-20 loss to Grant Union. … Culver rallied from a 16-7 halftime deficit to beat Weston-McEwen 27-16 as Jordan Vanalstyne scored two touchdowns. … Toledo sophomore Jaxon Rozewski threw for 355 yards and six touchdowns, two to Donovan Villanueva, in a 52-35 win over Central Linn. … Sheridan rushed for 303 yards to defeat Kennedy 44-7, getting 138 yards from Josh Rogers. Jacob DeBoff accounted for touchdowns running, throwing and on an interception return for Sheridan. ... Willamina shut down previously unbeaten Monroe 21-7 as Jackson Schoenbachler recorded his fourth sack on the season and Andrew Kennedy and Chance Kalawa were both in on 11 tackles. Kaleb Reid threw two touchdown passes and had an interception on defense for Willamina.
1A
Austin Leopold had three sacks in Chiloquin's 48-14 win over Prospect. … Derek Collins rushed for 226 yards and four touchdowns and threw a touchdown pass in Oakridge's 70-54 loss to Mapleton. … Wyatt Belden rushed for 396 yards and five touchdowns to spark Mohawk to a 48-18 win over Waldport. … Days Creek beat Butte Falls 44-12 behind Gerrit Wentland, who passed for three touchdowns and ran for three scores. The Wolves forced four turnovers. … Kasey Erwin rushed for 223 yards and two touchdowns and Ian Sotomayor rushed for 193 yards and four touchdowns as Lowell scored the last 50 points to beat Yoncalla 80-30. … McKenzie blanked Triangle Lake 73-0 in a six-man game behind Steven Dower, who passed for four touchdowns and ran for two scores. … Ryan Patterson rushed for 257 yards and four touchdowns as Imbler beat Ione 50-14. ... Triad defeated North Lake 64-30 as Micah Young completed 11 of 14 passes for 376 yards and seven touchdowns, four to Ethan Moritz. Tommy Morene scored three touchdowns, including a kickoff return, and had 370 all-purpose yards for Triad.