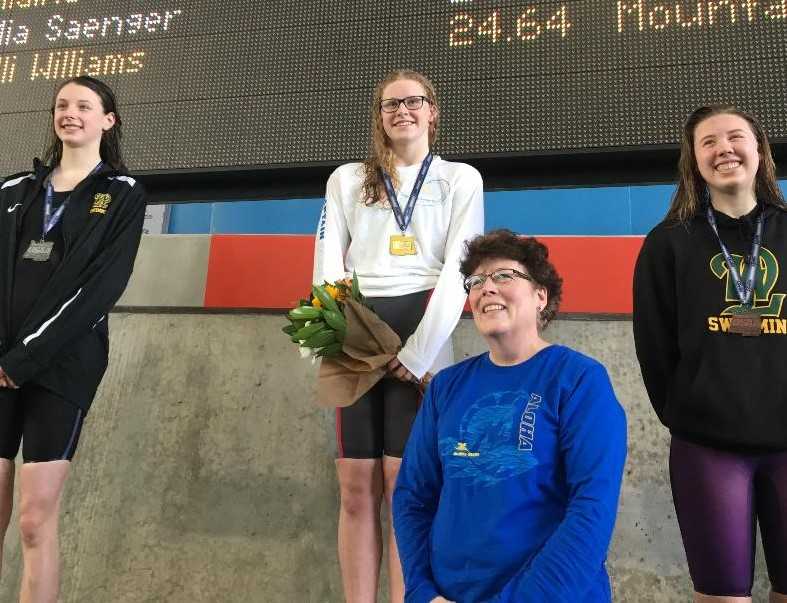 BEAVERTON – As one of Oregon's all-time great high school swimmers, Kaitlyn Dobler had accomplished just about everything she could in her four seasons at Aloha.
But one thing remained tantalizingly within her reach: the national high school record in the 100-yard breaststroke.
Down to her final swim Saturday in the OSAA/OnPoint Community Credit Union 6A championships, Dobler made it count, thrilling the crowd at Tualatin Hills Recreation Center by breaking the national record with a time of 58.35 seconds.
"I was hoping for it beforehand," Dobler said. "I just wanted to go see what I could do, and it worked out. So I'm really happy. … This was my last high school race, so it was good to finish it off on a high note."
Even before stepping onto the block for her final race, it already was a dynamic meet for the USC-bound Dobler. She reset two of her OSAA meet records by clocking 58.75 in the 100 breaststroke in Friday's prelims and 22.30 to win the 50 freestyle in Saturday's finals.
Her best time in the 100 breaststroke before the meet was 59.25, set in December 2018, but she talked openly about going after the national mark of 58.40, set by Emily Weiss of Indiana in 2018.
"It definitely was my goal," Dobler said. "I wasn't entirely sure if I could do it or not, but after prelims, I was like, 'OK, maybe I can do it.'"
Dobler swam the first 50 yards in 27.50, putting her in position to make a run at the record.
"I knew if she maintained, that was it," Aloha coach Lisa Leslie said. "It was just a little slower than we were hoping, but it was so good, we knew it had to be there based on that."
During the race, Dobler said she "honestly had no idea" of her pace.
"It felt faster than I've gone before, but I wasn't sure," she said. "When I hit the wall and I looked at the scoreboard, wow, I was just super happy."
When the scoreboard flashed 58.35, the crowd erupted. As Dobler stayed in the water, the crowd rose for a standing ovation.
"I know a lot of these people, and it's great to have all their support," Dobler said. "I was swimming it for them. It was a lot of fun."
Leslie got a soaking from laying down on the wet deck to hug Dobler while she was in the pool.
"Being proud isn't even a big enough word to say," Leslie said. "The swim is one thing. You take that beautiful swim and you put it on top of the type of young lady that she is, it just takes you to a completely different level."
Dobler ends her career with seven individual titles – four in the 100 breaststroke and three in the 50 freestyle.
Jesuit repeated as the team champion, scoring 110 points to beat Metro League rival Sunset (89.5), West Linn (63) and Bend (53).
Jesuit and Sunset have held down the top two spots in the last four meets, with Sunset winning in 2017 and 2018.
The Crusaders had only two wins – from the 200 medley relay and sophomore Fay Marie Lustria in the 100 butterfly – but dominated with their depth.
"Coming in, we just had to make sure we were consistent," Jesuit coach Bryan Butcher said. "If something didn't go like we planned, the next one would go up. They just relied on each other."
Lustria bounced back from finishing second to Sunset senior Tia Lindsay in the 200 individual medley to win the 100 butterfly. She said she battled some nerves in the 200 IM.
"But by the time I came around to the 100 fly, I was really excited," Lustria said. "The fly is my best stroke. I always like doing that event."
For the Arizona-bound Lindsay, it was her third title in the 200 IM. She was going for a repeat in the 100 backstroke, but St. Mary's Academy sophomore Anna Rauchholz beat her by .57 seconds.
Sunset continued its mastery of the relays, winning the 200 and 400 freestyle relays for the fifth year in a row. Sophomore Hannah Trainer, junior Zoey Dodson, junior Kiki Lindsay and Tia Lindsay combined for both wins.
McMinnville senior Sara Garcia Lacueva, an exchange student from Spain, won the 500 freestyle. It was her first experience at a high school state championship.
"It is really cool," she said. "Because it's high school, it's like a fun thing."
Other winners were West Linn freshman Helena Jones (100 freestyle) and Mountainside junior Jessica Maeda (200 freestyle).
5A
Crescent Valley finished first in five individual events and one relay to win the 5A title for the second year in a row. The Raiders scored 75 points to pull away from Churchill (50), Silverton (32), Springfield (29) and North Bend (28).
It is the seventh state championship for Crescent Valley, which won five in a row from 2007 to 2011.
"You're always worried something could go wrong," Raiders coach Rex Watkins said. "We wanted to get triple digits. We adjusted that goal back at Christmas time. But we're absolutely happy with the win."
Crescent Valley senior Paula Lomonaco repeated her titles in the 100 and 200 freestyle. Senior Francesca Criscione won the 100 butterfly for the second year in row and took the 200 IM. Freshman Vivi Criscione claimed a title in the 500 freestyle.
The Raiders also placed second in the 200 medley relay and 200 freestyle relay.
"Last year, winning the state championship, that was amazing because we came in second the two years before that, so finally winning it was great," Lomonaco said. "This year, we knew we had it rough because we had some people graduate, but we got some amazing freshmen coming in, and that made us a little more confident coming into state."
Wilsonville junior Abby Maoz won the 100 breaststroke for the third year in a row. Her winning time of 1:04.18 was off the 5A meet record (1:03.04) that she set in prelims, which improved on her previous meet record (1:03.66), set in 2018.
"That was a surprise to me," said the LSU-bound Maoz, who entered the meet with a qualifying time of 1:03.4. "It was a lot of fun. Yesterday was definitely better than today, but that happens sometimes."
Churchill got wins from sophomore Kylie Taylor, who won her second title in the 100 backstroke, and freshman Kelsey Wasikowski (50 freestyle).
4A/3A/2A/1A
Catlin Gabel juniors Lizzy Cook and Eva Carlson each set a pair of 4A/3A/2A/1A meet records as the Eagles edged reigning champion Sweet Home for the team crown.
Cook, who has committed to California, won the 50 freestyle in 23.09 to eclipse her state-best time set last winter. Her winning mark of 49.81 in the 100 freestyle came close to the OSAA meet record of 49.46, set by Centennial's Jamie Stone in 2016.
"To be honest, I kind of always had the overall state record in the back of my head, but I was more just focused on winning," said Cook, who is also a two-time state champion in the 100 butterfly and a 200 freestyle champion. "It was relief. My last 25 yards (of the 100 freestyle) I was kind of seizing up, and so I was super happy to just finish and have that win under my belt."
Sweet Home had a one-point edge over Catlin Gabel with a single event remaining — the 400 freestyle relay. Cook, Alyssa Sanchez, Defne Alpay and Greta Bogdanski sealed the deal with their first-place effort of 3:39.84 in the race.
The Eagles finished with 78 points, Sweet Home 65 and third-place La Grande 49.
"(State titles) are special every time, but definitely the expectation every time I swim is to win," Cook said.
The UCLA-bound Carlson recorded a classification-best time of 2:04.93 in the 200 individual medley, defending her title in the process. A day after setting the 4A/3A/2A/1A record in the 100 breaststroke during preliminaries, she swam to a first-place finish in 1:03.12. Carlson has won three state titles in the 100 breaststroke.
Sisters senior Lydia Bartlett raced to a classification-record 4:58.58 in the 500 freestyle.
Other individual state champions included Sweet Home senior Megan Hager (200 freestyle, 1:50.63) and sophomore Chloe Tyler (100 backstroke, 58.63) and Baker sophomore Brianna Stadler (100 butterly, 58.99).
-- Dan Jones contributed to this report