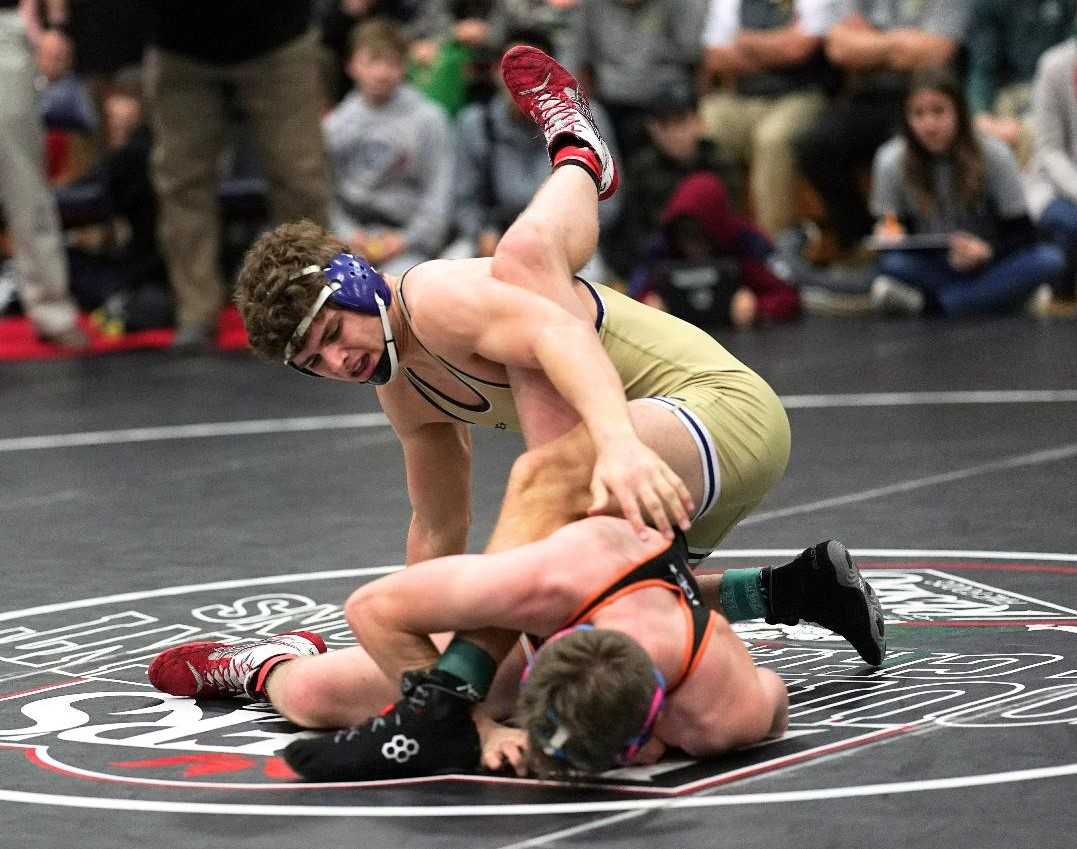 Jake Gonzales won't soon forget his first state wrestling tournament as Crook County's head coach.
Last year, with the Cowboys and Crescent Valley locked in an epic struggle down to the final match in the 5A tournament at Veterans Memorial Coliseum in Portland, Gonzales was back in central Oregon, awaiting the birth of his son, and relying on computer updates and text messages.
"It was hard," Gonzales said. "I said, 'Just call me when it's over.'"
Finally, the call came. Due to a Crescent Valley pin in the heavyweight final, Crook County finished 1.5 points behind the Raiders. The Cowboys were left to think about how one match could have given them the title, much like in 2017, when they finished a half-point behind Sweet Home for the 4A title.
"I haven't forgotten about it," Gonzales said. "One match, both of those years, a match somewhere that we could win, changes it. I let it motivate me as a coach. I can't dwell on it."
This week, Crook County will bring that mentality to Portland for the OSAA/OnPoint Community Credit Union 5A tournament at the Coliseum on Friday and Saturday. And the Cowboys know that their margin for error is as slim as ever.
Crescent Valley – with five No. 1 seeds, including 195-pound Santos Cantu III, a three-time 6A champion who transferred from Sprague – is the heavy favorite. But Crook County – with four No. 1 seeds, three of them reigning champions – is embracing the challenge.
State championships have become the measure for the Cowboys. And if they had found a way to beat Sweet Home in 2017 and Crescent Valley last year, they would be standing st seven in a row.
"You've got to go out there and perform. Nobody's going to give you a state title," Gonzales said. "They've got a great team, but we're not going to take a back seat. We're going to try to give them a run for their money. I think we can. It depends on if my guys are ready.
"We've got to get guys to the finals that we think can get in there. And a couple of those are going to be matched up with some Crescent Valley guys. We'll have to win those matchups."
The Cowboys have a 20-15 edge in qualifiers over the Raiders, but in top-four seeds, Crescent Valley owns a 10-7 advantage. When the teams wrestled a dual meet in the final of the Oregon Classic, the Raiders prevailed 50-21.
Crook County has altered its lineup with Crescent Valley in mind.
Cowboys junior Steven Ware is the top seed at 120 after wrestling much of the season at 113, where Crescent Valley sophomore Gabe Whisenhunt is the No. 1 seed. Crook County senior Zachary Mauras is seeded first at 132 after moving from 126, where Raiders junior Chance Lamer is the top seed.
At 182, Crook County senior Kyle Knudtson and Crescent Valley freshman Hayden Walters – seeded first and third, respectively – could meet for the fourth time this season. Knudtson has beaten Walters twice, including the final of the Reser's Tournament of Champions.
Cowboys senior Hunter Mode, the No. 1 seed at 138, is going for his third state title. Knudtson and Mauras are shooting for repeats, both at the same weight.
Of Mode's six losses this season, the only one to an Oregon wrestler came against three-time state champion Beau Ohlson of 6A Mountain View.
"He's taken some losses, but that's just him going up a couple weights and wrestling a tough schedule," Gonzales said.
The Cowboys, who moved up to 5A last season, know they will have their hands full at the tournament. But they are relishing the opportunity.
"I'm not scared to put it on the line," Gonzales said. "I'm not afraid to lose. Having competition is good. It motivates me. The kids understand what's ahead of them. If we can perform, it's going to be a tight race."
A breakdown of each classification:
6A
Teams to watch: Newberg, Roseburg, West Linn, Sprague
2019 team scores: Roseburg 263, Newberg 256, Sprague 188, Mountain View 151, West Linn 133, North Medford 112
2019 returning champions (2019 weight class): Nicky Olmstead, Newberg, soph. (106); Ayden Garver, Newberg, soph. (113); Beau Ohlson, Mountain View, sr. (138); Cael Brunson, West Linn, jr. (145).
Multiple-time champions: Ohlson (113, 126, 138).
Notes: The tournament should have plenty of drama as Newberg looks to end Roseburg's six-year reign. Roseburg has won 12 titles, 11 since 2007. Newberg has 11 titles, the last one in 2009. … Newberg defeated the Indians 51-21 in the final of the Oregon Classic, but Roseburg outscored the Tigers 164.5 to 156.5 at the Reser's Tournament of Champions, where both finished behind 5A Crescent Valley and 4A La Grande. … Newberg has a 6A-high 22 qualifiers; Roseburg and Mountain View are next with 17 apiece. … Newberg has a tournament-high four No. 1 seeds, but Roseburg has the most top-four seeds, with seven. … Ohlson, who moved up from 5A last year, is bidding for his fourth title. … McMinnville junior heavyweight Jacob Barnes, a semifinalist the last two years, is 44-0. He is the younger brother of former three-time state champion Brian Barnes.
5A
Teams to watch: Crescent Valley, Crook County, Thurston, Crater
2019 team scores: Crescent Valley 187.5, Crook County 186, Dallas 163.5, Thurston 152.5, Crater 119, Lebanon 115
2019 returning champions (2019 weight class): Gabe Whisenhunt, Crescent Valley, soph. (106); Chance Lamer, Crescent Valley, jr. (113); Kaden Kuenzi, Silverton, sr. (120); Hunter Mode, Crook County sr. (126); Zachary Mauras, Crook County, sr. (132); James Rowley, Crescent Valley, soph. (145); Asher Ruchti, Thurston, jr. (3A 160); Kyle Knudtson, Crook County, sr. (182); Santos Cantu, Crescent Valley (6A 195).
Multiple-time champions: Cantu (195, 195, 195); Kuenzi (106, 120); Lamer (106, 113); Mode (106, 126); Kody Koumentis, Silverton, sr. (4A 106, 4A 113).
Notes: Crescent Valley, which won its first title last year on a pin by heavyweight Bubba Wa'a in the final match, is the favorite. Of the Raiders' 15 qualifiers, 10 are top-four seeds, including five No. 1 seeds. They got a boost this season with the addition of several transfers, including Cantu, an Indiana University signee who won three 6A titles at Sprague. This season, Cantu became the third four-time champion at the prestigious Reser's Tournament of Champions, where Crescent Valley dominated the competition. … Koumentis transferred to Silverton from Marshfield, where he won 4A titles as a freshman and sophomore and finished third last year. … Thurston's Ruchti won a 3A title at Pleasant Hill last year.
4A
Teams to watch: La Grande, Sweet Home, Tillamook
2019 team scores: Tillamook 264.5, Sweet Home 241, La Grande 189, Baker/Powder Valley 129, Cascade 105.5, Junction City 101.5
2019 returning champions (2019 weight class): Mauro Michel, Cascade, soph. (106); Wesley Vasquez, Woodburn, sr. (113); Quintin Metcalfe, Tillamook, sr. (120); Jackson Royer, Sweet Home, sr. (132); Noah Thompson, Cascade, jr. (145); Travis Thorpe, Sweet Home, sr. (152); Parker Robinson, La Grande, sr. (160); Chris Woodworth, La Grande, sr. (195); James Ellis, Banks, sr. (220).
Multiple-time champions: Ellis (195, 220).
Notes: Many of the same athletes that led La Grande to its first football title since 1974 in the fall will try to take the Tigers to their first wrestling championship since 1996. The Tigers, with 11 top-four seeds, including five top seeds, have the inside track. … Sweet Home has the most qualifiers with 23, followed by La Grande (19) and Tillamook (17). … La Grande showed its power by beating reigning champion Tillamook 66-12 in the final of the Oregon Classic. The Tigers also were second to 5A powerhouse Crescent Valley in the Reser's Tournament of Champions. … Cascade's Michel (41-0) and McLoughlin/Weston-McEwen senior Jesse Jones (33-0), a 2019 Nevada state champion, enter unbeaten.
3A
Teams to watch: Burns, Dayton, Nyssa
2019 team scores: La Pine 150, Nyssa 141, Harrisburg 134, Willamina/Falls City 126, Dayton 114, Burns 111
2019 returning champions (2019 weight class): Moses Mercier, Willamina/Falls City, jr. (113); Gabe Vidlak, Cascade Christian, jr. (120); Jacob Mask, Scio, sr. (138); Elijah Cleaver, Nyssa, sr. (152); Chandler Strauss, Harrisburg, jr. (182); Leithan Briggs, Harrisburg, sr. (195); Blake Larsen, Dayton, sr. (285).
Multiple-time champions: Larsen (195, 295); Vidlak (113, 120).
Notes: It's going to take a big effort for a team to keep Burns from winning its first title since a run of 10 consecutive championships ended after 2011. Since their last title, the Hilanders haven't placed higher than sixth, but that appears certain to change this year as they have far and away the most qualifiers (15) and top-four seeds (10). The Hilanders defeated Dayton 60-24 in the final of the Oregon Classic. … Dayton has nine qualifiers and six top-four seeds. … Cascade Christian's Vidlak (42-0) is 94-1 in the last three seasons, losing only to a California wrestler in the Sierra Nevada Classic as a junior. He has signed with Oregon State.
2A/1A
Teams to watch: Culver, Central Linn, Pine Eagle, Oakland, Reedsport, Lakeview, Coquille
2019 team scores: Culver 136, Glide 71, Lowell 66.5, Joseph/Wallowa 59, Pine Eagle 58, Central Linn 57.5
2019 returning champions (2019 weight class): Chase Butner, Pine Eagle, soph. (106); Lane Downing, Culver, sr. (138); Brody Ballard, Monroe/Triangle Lake, soph. (152); Brayden Clayburn, Coqulle, jr. (160).
Multiple-time champions: None.
Notes: Culver has won 12 of the last 13 titles, the only exception being 2013. The Bulldogs and Central Linn have 10 and 11 qualifiers, respectively, with Pine Eagle next at five. … Culver dominated Central Linn in the final of the Oregon Classic, recording eight pins to win 62-18. … Pine Eagle is the only team with two No. 1 seeds, sophomores Chase (120) and Coy Butner )113). … Monroe/Triangle Lake's Ballard (41-1) and Grant Union senior heavyweight Drew Lusco (32-1) each enter with one loss.
Girls
Teams to watch: Thurston, Scappoose, Centennial, Bend, Century, Elmira
2019 team scores: Hood River Valley 48, Hillsboro 38, Bend 33, Grant Union 32, La Pine 32
2019 returning champions (2019 weight class): Ayana Medina, Hillsboro, soph. (105); Charli Stewart, Bend, jr. (120); Emma Truex, Phoenix, sr. (125); Tyler Richardson, Vale, soph. (140); Bailey Dennis, Madras, sr. (190); Raina Herzog, Cottage Grove, sr., (235).
Multiple-time champions: Truex (126, 125, 125); Dennis (170, 160, 190).
Notes: The tournament is loaded with wrestlers ranked nationally by USA Wrestling/FloWrestling: West Linn freshman Destiny Rodriguez (No. 3 at 144); Glencoe senior Olivia Robinson (No. 4 at 164); Dennis (No. 6 at 180); Milwaukie junior Fiona McConnell (No. 9 at 180); and Truex (No. 17 at 127). … It is the first high school season for Robinson, who transferred from St. Mary's Academy, which does not offer wrestling. … Truex and Dennis won exhibition titles in 2017 and 2018 and added third titles last year in the first OSAA-sanctioned girls tournament. Dennis has dropped to 170, where she could be headed for a showdown with Robinson. … Two 2019 champions eligible to defend their titles are not competing in the tournament. Newberg sophomore Sophia Redwine won a regional title at 110 but has opted to compete in the boys tournament, where she is seeded sixth at 106. Gervais junior Alexys Zepeda, a two-time junior national champion, decided not to wrestle this season. … Mountain View senior Taylor Ohlson, a 2017 state champion, qualified by taking third at regionals at 135. … In the South Regional, Thurston outscored runner-up Bend 265-131. Centennial and Scappoose tied for first place in the North Regional at 166.