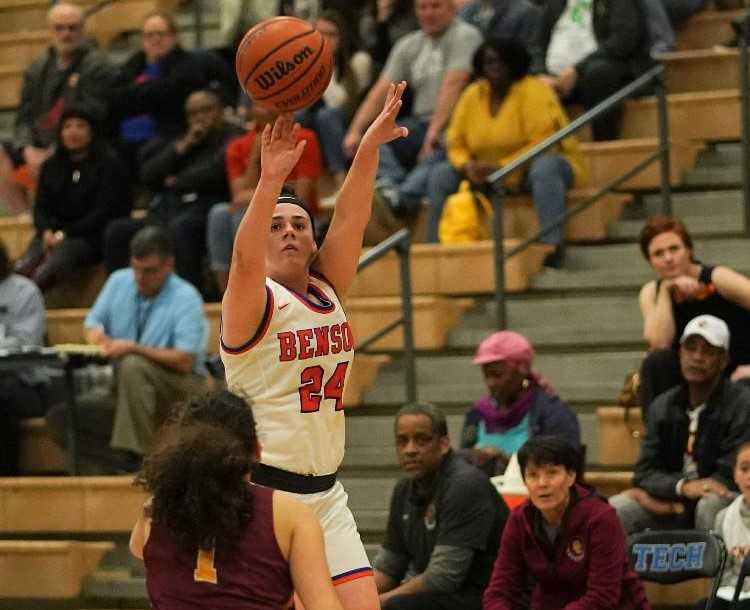 PORTLAND – Looking back on the biggest shot of Benson's girls basketball season Tuesday night, senior guard Bria Dixson sensed some heavenly intervention.
"I feel like I had a little help on that shot," said Dixson, whose three-pointer from the left corner with three seconds left helped the Techsters force overtime, where they turned back visiting Central Catholic 71-63 in the opening round of the 6A playoffs.
Dixson, a key member of Benson's state title team last year, has been playing the season with a heavy heart since the passing of her brother, Gianni, on Oct. 28. She also has been physically limited by a groin strain that keeps her from fully participating in practice.
But with No. 11 seed Benson (20-5) trailing No. 22 Central Catholic (16-9) by eight points with less than two minutes left in regulation Tuesday, Dixson provided the inspiration for the Techsters, scoring 17 of their last 21 points to usher them into the round of 16. With a win Friday at No. 6 South Salem, they can return to the 6A tournament at the Chiles Center.
"We didn't believe we were done," said Dixson, who finished with 23 points. "We had a talk with 52 seconds left, and talked about the iconic moments Benson has had. And I said, 'Let's have another.'
"Nobody was giving up. I sure wasn't going to give up. It's senior year. I wasn't going to go out like that."
Senior wing Aujae Yoakum, who led Benson with 29 points, said Dixson willed the Techsters to the finish line.
"It's like we have to match her energy," Yoakum said. "Not just one of us has to go hard, it has to be all five. I think we understand that, and we go hard for her."
Trailing 56-48 inside of two minutes remaining, Benson got a putback basket by freshman Onna Brown and four free throws by Dixson to close to within 58-54 with 52 seconds left.
It was still 58-54 when Yoakum went to the free throw line with 7.9 seconds on the clock. Yoakum made the first free throw, missed the second, and in the scramble for the rebound, Yoakum snagged the ball and passed to Dixson in the left corner.
Dixson swished a three-pointer while drawing a foul from Rams senior guard Alessandra Raimondo with 3.0 seconds left. She made the ensuing free throw to put Benson up 59-58.
"Me and Bria planned on missing the last free throw," Yoakum said. "It came off the side, I got the rebound and kicked it out to Bria for the three. She shoots with a lot of confidence, so I was confident in her."
The Rams still had life, though. In the celebration of Dixson's three-pointer, two Benson players came off the bench and onto the court, drawing a technical foul.
After a timeout, Central Catholic senior Abby Coooper – standing alone on the free throw line before a Benson crowd that was whipped into a frenzy – missed the first free throw and hit the second to tie 59-59.
"I was super nervous," Cooper said. "Obviously, I wish I could've knocked down both, and ended the game. That's definitely something I'm going to remember. I thought, 'At least tie the game, and let's see where we can go.'"
The Rams inbounded from half-court with three seconds left, but Yoakum stole the ball and missed a half-court shot at the buzzer, sending the game into overtime.
At that point, Central Catholic was playing without Raimondo, who scored a team-high 22 points but fouled out on the Dixson three-pointer, and Benson was riding a tsunami of momentum.
Brown converted a three-point play and Dixson hit a three-pointer to put the Techsters up 65-59 with 3:05 left in overtime. Dixson made 6 of 10 free throws the rest of the way to ice it.
"It was an incredible comeback," Yoakum said. "It was also just mental. We had to know not to check out and give up early. I think my team understood that. And we were on a mission."
It was a signature performance by the Montana-bound Dixson, who has had difficulty focusing on basketball this season.
"My teammates are really supportive," Dixson said. "They know when I have my days when I just can't go. But they're supportive, they're there with a hug. Somedays it's my distraction. I can't get my mind off it. It's a loss most people can't fathom at 60, so I'm 17, 18, trying to work through it. But basketball's always been my escape."
Dealing with the groin strain also has been a challenge. She said she spends half of her practice doing physical therapy and the other half jogging through sets with the team.
"It's hard. I don't get to do the conditioning, and then I'm out there in the game," Dixson said. "But we make it work."
It helps to have the 6-foot Yoakum shoulder the scoring load. The left-hander took a back seat to explosive scorers in her first three seasons but has broken out as a senior, averaging 24 points per game in league play on aggressive moves in the paint.
"I'm very surprised," Yoakum said. "Last year we had people who could go score, go get buckets, and I feel like I've been becoming one of them. I'm being confident in myself, not scared to attack the basket."
The loss was devastating for Mt. Hood Conference co-champion Central Catholic, which hasn't made the state tournament since winning the title in 2013. The Rams were eager to show how far they have come since losing at home to Benson 71-57 on Dec. 17.
"We came in and we were like, 'This is our time,'" said Cooper, who scored 13 of her 17 points in the second half. "We've been a darkhorse all season. I know I came in personally and I said, 'This is my turn to show something to Oregon. I'm going to make a statement.'"
Playing with the memory of her late father, Bob, who died in May, Cooper accepted the challenge of guarding Dixson and held the sharpshooter to six points through three quarters.
"I played for my dad tonight," Cooper said, holding back tears. "I played my heart out. I know he's looking down at me. I thought, 'I'm going to leave everything I have on the court,' and that's what I did."
Benson will try to carry the momentum from the victory into Friday's game at South Salem. The Techsters, who shared the Portland Interscholastic League title with Grant, are playing with a chip on their shoulders.
"Most people are counting us out," Dixson said. "Nobody thinks we can get to the Chiles Center. We believe we can get there. We have something to prove.
"After the seniors left last year, everybody thought this was Benson's down year. We've faced a lot of adversity, and I think that's just going to help us in the end. … I want to go all the way. That's just how I am. I like to compete. So I believe in us."