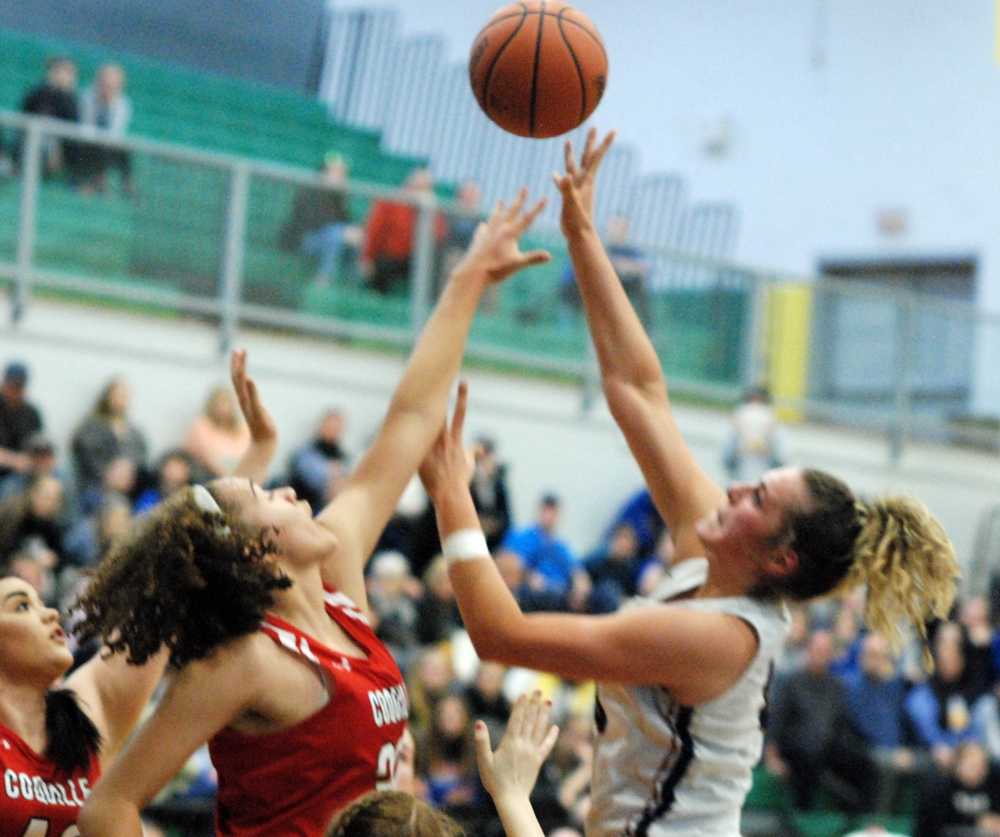 PENDLETON: You can forgive top-seeded Kennedy's players if they experienced an "Uh oh" moment in the second half of Thursday afternoon's 2A girls quarterfinal in the OSAA / OnPoint Community Credit Union Basketball State Championships at Pendleton High School. Leading Coquille comfortably by 12 early in the third quarter, the top-seeded Trojans saw that lead pared to one in just under six minutes by the same Red Devil team that last year ousted them in the semifinals when Kennedy was favored to repeat as state champions.
"I think they had flashbacks in the third quarter," Kennedy coach Kerry Hall admitted. "I think that's why there was a little bit of nerves there because that was a good game last year and we lost in overtime. I think it's been on the girls' minds for about a full year."
Ahead by just two, 32-30, going to the fourth quarter, Kennedy scored the first six points, four by standout senior Sophia Carley, to restore order. The Trojans never led by less than four the rest of the way and went on to win by a convincing margin, 50-36.
"We kind of got away from executing," said Hall about the third quarter lull. "Sometimes we go into young moments and we forget to run through the stuff that we should be running. Then you start to tighten up a little bit when things aren't going well. I trusted the girls. I knew they'd come out of it. That's what I told the girls at the beginning of the fourth quarter: 'They have the third. You have to come out in the fourth and execute.' And the girls did. They got their heads back in it and executed. We knew they would."
Coquille had the better of the play in the game's first moments. The Red Devils scored nine of the first 11 points, including triples by Drew Wilson and Carlee GeDeros. But a three-point play the old-fashioned way from Carley helped Kennedy settle down and sparked a turnaround. Kennedy, which struggled from beyond the arc, closed the first quarter on an 8-0 run, effectively using dribble penetration from its guards, to take a one-point lead into the second and kept the pressure up throughout the half, taking a 10-point lead to the locker room. Carley dominated inside, with 14 first-half points, and the Trojans held Morgan Baird, who averages more than 23 points per game, to just four before the break on 2-for-11 shooting.
Baird and her teammates came out with renewed energy in the third quarter and put Kennedy on its heels. Baird, Wilson and Saige Gallino tickled the twine for Coquille in the 15-4 run.
Kennedy went back to what it did well in the first half: feeding Carley in the high post and letting her create scoring opportunities and using its quickness advantage on the perimeter to attack the basket with the dribble. That proved the difference in the 14-point win.
Carley led Kennedy with 23 points and 10 rebounds. Ellie Cantu and Hailey Arritola combined to add 17 points, 11 rebounds and five steals to the winning effort.
Baird had 13 points for Coquille. Wilson had 11.
In other quarterfinal games:
Girls 2A:
No. 5 Bandon 43, No. 4 Gervais 34: Bandon won its 23rd game in a row thanks to a dominant fourth quarter. The teams were tied at 21 apiece after one quarter and scored 10 points combined in the third, but the Tigers won the fourth quarter, 16-9, to take the win. Traylyn Arana was the only player in double figures for either team. She scored 24, on 8-of-13 shooting from the field and 8-of-10 shooting from the charity stripe; and added nine rebounds. Isabel Vasquez had eight points and seven rebounds to lead Gervais.
No. 6 Monroe 54, No. 3 Central Linn 35: Monroe held Central Linn to 25 percent shooting for the game in the wire-to-wire win. The Dragons got 14 points from Chloe May and 13 each from Mirtha Lopez and Tyler Warden in the workmanlike effort. Monroe led by seven after one and by 12 at the half. May hit a three-pointer to open the third and Central Linn did not get closer than 13 points the rest of the way. Ryleigh Nofziger had 12 to pace Central Linn.
No. 2 Union 45, No. 10 Portland Christian 35: Union erased a 23-16 halftime deficit with an 18-5 third quarter and went on to the 10-point win, its 15th in a row. Madi DeLucia scored 10 in the first half for Portland Christian but only one after the break. Led by Taylar Daggett, Kylie Marriott and Callie Glenn, Union came out on fire to start the second half. Two early triples from Daggett gave the Bobcats momentum and they never gave it back. The Union trio each had 12 points to lead the way. Journie Conard led all scorers with 13 for Portland Christian.
Boys 2A:
No. 1 Toledo 68, No. 7 Bandon 38: The top-seeded Boomers gave up the first bucket, then scored the next nine to take control. Eddie Townsend's squad led by 10 after one and 24-8 early in the second and was never threatened against a Bandon team making its first trip to Pendleton in five years. Toledo won every quarter. Bandon was 0-11 from behind the three-point arc and had just three assisted baskets the entire game. Conner Marchant scored a game-high 24 pounds to lead Toledo, which got 23 points and 10 rebounds from Clifton Howard. Braydon Freitag and Cooper Lang paced Bandon with a dozen points apiece.
No. 4 Knappa 71, No. 5 Oakland 56: Knappa got give points from guard Devi Hoover in a 7-0 start and overcame profound trouble and an uneven performance from standout Eli Takalo to win wire to wire and eliminate Oakland for the second straight year.
Knappa's first-half lead was as much as 12 points, as the Loggers converted steals from their full-court pressure into numerous scoring opportunities. Point guard Kanai Phillip was particularly effective for Knappa in the first half, scoring, making smart passes for easy baskets and playing the full court game.
"I told him to go out and dominate and that's what he did," said Logger coach Paul Isom. "Sometimes he gets in this shell a little. He's so athletic. He's one of the best point guards in the state."
After a time out with 3:29 remaining in the half, Oakland's senior duo of Colton Brownson and Noah Strempel gave the Oakers life, starting with a nifty Strempel feed to the skywalking Brownson for a jam. Brownson followed with a three-ball and by halftime Oakland had halved the Knappa advantage to just six at 31-25.
Ninety seconds into the second half, both 6-7 wing Mason Westerholm and 6-2 post Joe Ramvick were on the Knappa bench with four fouls. The Loggers nevertheless extended their advantage. Hoover, who had a game-high 23 points, scored seven in the quarter before exiting with four fouls as well.
"It's been the story all year," said Isom. "We are really versatile. We have a bunch of guys on our bench who believe in what we're doing. The guys are pretty proud of the bench. It shows when they get on the floor and they're not panicked."
Strong fourth quarters by Phillip, who finished with 12 points and nine rebounds; and Takalo, who contributed 16 points and six boards, plus great work off the bench from 6-7 Logan Morrill, helped seal the Knappa win.
"Logan Morrill played an unbelievable game," said Isom. "He'd played spot minutes all year but in a game like this he got monster rebounds. He had an awesome game."
Strempel had 18 points, eight rebounds and six assists to lead Oakland. Brownson contributed 16 points and 10 boards.
No. 6 Columbia Christian 61, No. 3 Coquille 43: Columbia Christian led practically start to finish to down Coquille, which was making its first trip to Pendleton in 17 years.
Mo Hartwich dominated inside, Isiah Mariscal lit it up from long distance and Columbia Christian took advantage of 11 first-half turnovers from Coquille to storm to a 32-16 halftime lead over the Red Devils. Hartwich and Mariscal had a dozen points apiece and point guard Freddie Jackson had four steals and two assists in the half for the Knights, who led by 20, 32-12, before Coquille ran off the final four points before the break.
Coquille came out on fire to start the second half, getting buckets from Ean Smith, Cort McKinley and Jeremy Kistner to cut the margin to nine. But the Knights quickly restored order thanks to a stick back by 6-9 Cameron Andre-Covington and a lay-in by Hartwich off of a length-of-the- court feed from Jackson. Hartwich and Jackson were highlight reel players in the second half for Columbia, Hartwich, a seven-footer, with one block after another; and Jackson, the point guard with steals and dishes that were awe inspiring. Hartwich finished with 18 points, 14 boards and seven blocks. Jackson scored 12 and added six steals and six assists. Feisty wing guards McKinley and Jace Haagen were the bright spots for Coquille. McKinley dialed long distance four times and Haagen was a fiend taking charges. McKinley finished with 18 to pace the Red Devils. Smith added 13.
No. 2 Western Christian 54, No. 10 Santiam 33: Underdog Santiam made it exciting in the second quarter, but superior ball movement and execution in the second half pushed Western Christian to the win, its fourth in as many tries over the Wolverines this season. The defending champion Pioneers outscored their Tri-River Conference rivals by 20 after the break, giving the game the appearance of a blowout when, in actuality, it was anyone's game after the first 16 minutes.
The game started sluggishly for both teams, with the scored knotted at 4-4 after five minutes of play. When Payton Richardson scored inside, the Pioneers had their first lead of the game. Western Christian scored four more points before the end of the quarter, an 8-0 run that made it 10-4.
Chaz Storm scored from deep to end an eight-minute Santiam scoring drought almost two minutes into the second quarter. For the next five minutes, the Wolverines could do no wrong. Storm hit another triple and Ezra Downey scored off of a Colin Thurston feed, as Santiam opened up a 20-14 lead. The Wolverines could not sustain the momentum, however. Strong play off the bench from Austin Sladek and a late three-point play from Rayden Hopper helped Western Christian take a 21-20 lead into the half.
The Pioneers continued their run in the second half with crisper ball movement that led to easier baskets. The dam broke for good when Tyron Vanderhoof went hard to the hole with 4:44 remaining in the third, giving Western Christian a 13-point lead. Alexander Nicoli heated up in the fourth for the Pioneers, who led by as many as 25.
Nicoli led Western Christian with 16 points. Richardson had 12 and 10 rebounds and Vanderhoof added 10 points for the victors. Storm, a 6-6 sophomore with deep range, had 12 points to lead Santiam.