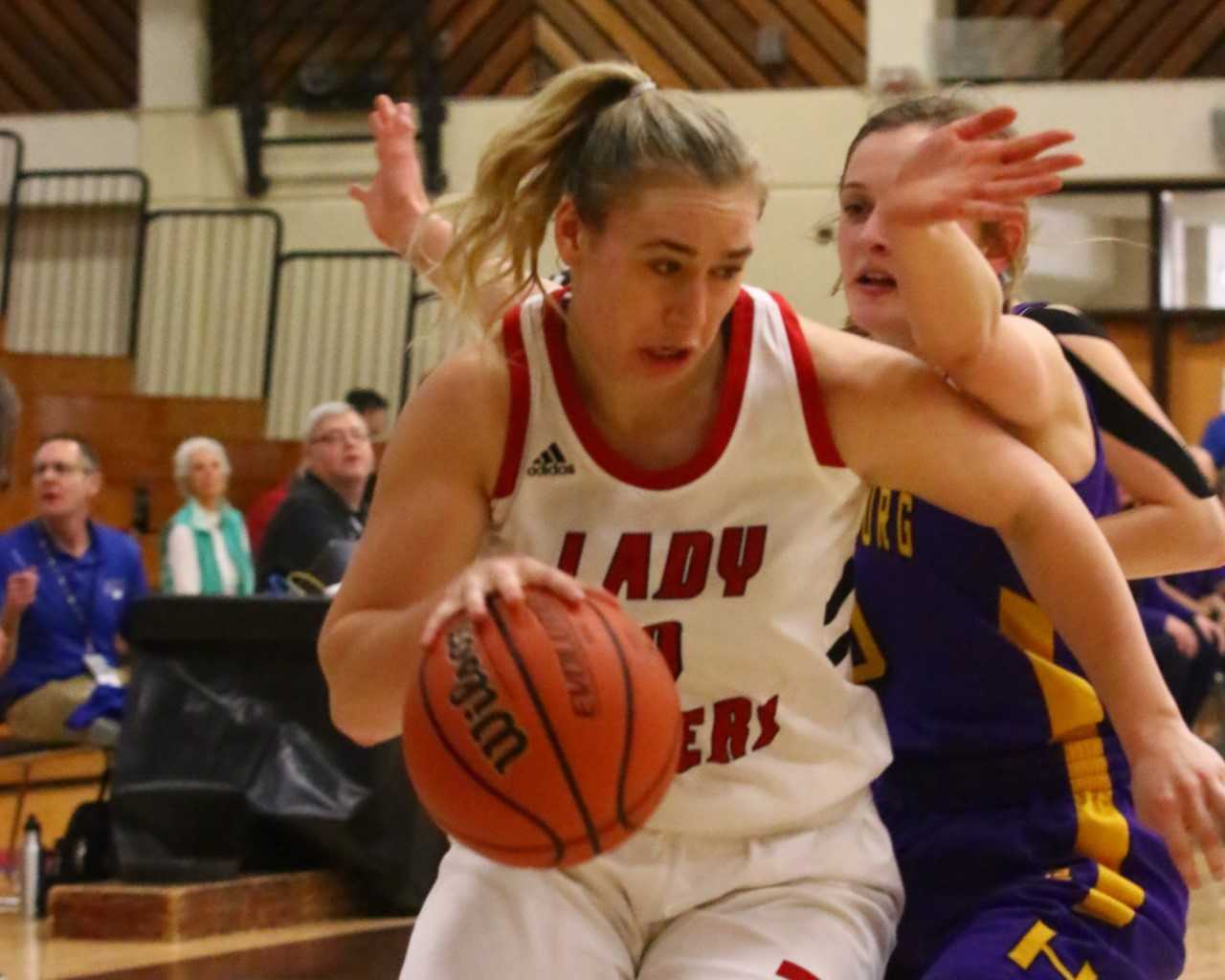 NORTH BEND -- Reigning champion and No. 1-ranked Clatskanie found out Thursday it is going to be tough to repeat with a giant bulls-eye on its back.
After building a big first-quarter lead, Clatskanie (21-2) needed a 10-0 fourth-quarter run to finish off No. 9 Harrisburg 60-47 in the quarterfinals of the OSAA/OnPoint Community Credit Union 3A girls basketball tournament at North Bend High School.
Clatskanie jumped all over the Eagles (20-7) with intense full-court pressure defense from the opening tip, building a 21-2 lead after four minutes and forcing Harrisburg to call timeout. The Tigers forced Harrisburg into 12 first-quarter turnovers.
"I think we came out with all this energy," Clatskanie junior Olivia Sprague said. "We prepared ourselves very well last week. We were just hot and ready. Our press was overbearing and we were getting our hands on balls, we were getting steals and easy layups, moving the ball really well. It was just going right for us in the beginning."
Harrisburg regrouped after the timeout to score the next eight points and closed within 24-13 at the quarter break. The Eagles stopped committing turnovers and controlled the defensive glass, limiting Clatskanie to one shot on the offensive end.
So, what did Harrisburg head coach Brody McGowan tell his squad during the timeout?
"Basketball is a game of runs," McGowan said. "You got your nervous jitters out of the way. You can come back and score your points just like they did. They dug deep. Our team motto the past few weeks has been "Grit." We've had some injuries and sickness and we really pushed through that and fought hard."
The Eagles did dig deep, keeping their composure at the start of the second quarter and chipping away at the lead to get within 33-30 at halftime. Harrisburg held a 28-20 rebounding edge and senior Mya Langley led the way with eight points, drilling two three-pointers. Hailee Johnson added seven points.
"That was our game plan," McGowan said. "I told the girls that if we outrebounded them that we would put ourselves in position to win."
Sprague led the Tigers with 13 points, adding five rebounds and four assists. Clatskanie junior Shelby Blodgett added seven points and seven rebounds, but picked up her third foul before halftime.
"Good teams that are well coached are going to make a run on you," Clatskanie coach John Blodgett said. "They had to fight to get here and be one of the top eight teams in the state and they did not just roll over. We had a little bit of a let down. We got into some foul trouble. They did a great job of being really physical."
"Our snowball broke apart and we kinda got frazzled," added Sprague. "We were a step late on the defensive end and we were a little rushed on offense."
Blodgett picked up her fourth foul early in the third quarter, forcing the Tigers to pull back from their full-court pressing defense. This allowed the Eagles to stay within striking distance, 45-39, heading to the fourth quarter.
"We have a little bit of a struggle with foul trouble," Sprague said. "It comes with our game. We are a fast-paced team, pressuring team, we want to get those steals and touches."
Coach Blodgett had faith in his daughter, leaving Shelby in the game with four fouls.
"Last year at the state tournament, she played kind of the same situation," Blodgett said. "She is a really aggressive player, especially rebounding at her height. It's a decision you got to make and I have a lot of trust that she will be able to stay on the floor. She only fouled out of one game this year. My past experience is, hey, let's leave her in and see where the cards fall. It worked out for us today."
Clatskanie pulled away by outscoring Harrisburg 10-0 over the first four minutes of the fourth quarter. Sprague opened the final stanza by completing an old-fashioned three-point-play. Senior Annabelle Martin added a driving layup and then junior Alexis Smith hit a three-pointer and a layup to complete the run.
"Once we relaxed and moved the ball to get the easy shots, do the easy things, the fundamental stuff, then we were fine," Sprague said.
The Tigers built a 55-39 lead and closed it out from there by making five of six foul shots in the final three minutes.
"Clatskanie is a great team," said McGowan. "They have two really good players and I feel like we held them below their average and we executed as well as we could and gave ourselves a shot."
Clatskanie forced 28 turnovers and committed 11. Sprague led the way with a game-high 22 points, adding eight rebounds, eight steals and five assists. Blodgett added 18 points, a game-high 15 rebounds, four assists, four steals and two blocks.
Harrisburg held a 51-34 rebounding edge for the game, but the turnovers were too much in the end. Langley led the Eagles with 15 points. Johnson added 11 points and six rebounds. Senior Hope Bucher added seven points, 14 rebounds and three assists for Harrisburg.
"One of the things we usually win is the rebounding battle," Blodgett said. "There are not a lot of games that you get outrebounded by a big margin that you win, so this might be our lucky one. We need to come out next game and focus on rebounding."
Thursday's other quarterfinals:
No. 5 Brookings-Harbor 53, No. 4 Willamina 37: Brookings-Harbor (20-6) steadily pulled away from Willamina (21-7), outscoring the Bulldogs in every quarter. The Bruins held the Bulldogs to a paltry 12 of 51 field goals and just 1 of 16 on three-pointers, while making 16 of 39 field goals and 8 of 23 three-pointers. Junior guard Lexi Schofield led the way for Brookings-Harbor with 18 points and senior Sidney Alexander added 15 points. Sophomore guard Kira Rankin led the Bulldogs with 18 points and 12 rebounds.
No. 6 Burns 50, No. 3 Pleasant Hill 38: After falling behind 12-6 after one quarter, the Hilanders slowly pulled away from the Billies over the final three quarters. Burns (23-5) held a commanding 46-21 rebounding edge over Pleasant Hill (20-4). Junior wing Allie Hueckman led the Hilanders with a game-high 19 points and 11 rebounds. Sophomore forward Kaitlyn Wright added eight points and a game-high 14 rebounds. Junior guard Angeni Yeo led the Billies with 13 points, while senior Kaylee Martin added 10 points.
No. 2 Sutherlin 66, No. 10 Vale 57 (OT): Sutherlin (24-2) came back from a five-point, fourth-quarter deficit to force overtime, then held off a determined Vale (17-9) squad to pull out a the victory in the final game of the evening. Junior guard Jadyn Vermillion led all scorers with a game-high 29 points for the Bulldogs. Vermillion added seven rebounds and five assists. Paige Bailey added 13 points and eight rebounds for Sutherlin. Junior guard Emersyn Johnson led the Vikings with 25 points, adding eight rebounds and four assists. Matyson Siddoway added 20 points and a game-high 14 rebounds for Vale.
Photos of state championship events are available online from Northwest Sports Photography at 4nsp.com