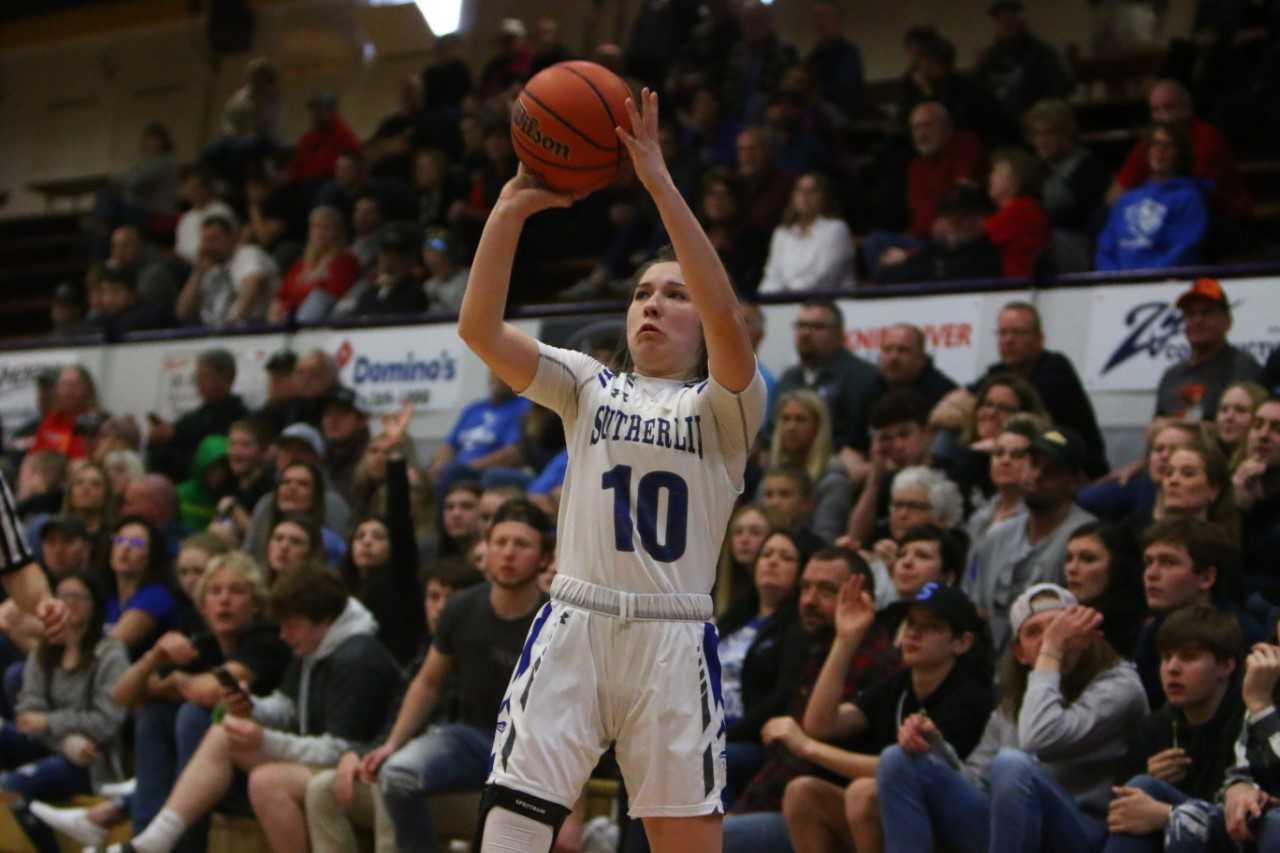 COOS BAY -- Sutherlin defeated Burns 46-35 in the semifinals of the OSAA/OnPoint Community Credit Union 3A girls basketball tournament at Marshfield High School on Friday.
The No. 2 Bulldogs (25-2) earned a finals match-up against top-seeded and reigning champion Clatskanie at 5:45 p.m. Saturday. It will be their first final since they won four consecutive 4A titles from 2014 to 2017.
Clatskanie handed Sutherlin its only loss to a 3A team this season with a narrow, 69-65 overtime victory on Jan. 20. Sutherlin coach Josh Grotting kind of gave a nervous chuckle when asked if he was looking forward to the rematch with Clatskanie.
"I want to say yes, but it is just 24 more hours to stress out for awhile," Grotting said. "I don't know what we are going to do with them. We have a lot of thinking to do tonight. We have a lot of respect for them and hope we can compete with them like we did in January."
Grotting's players are happy to get a chance to avenge their earlier loss on the biggest stage tomorrow night.
"This is exactly what we wanted," senior guard Kiersten Haines said. "I'm super excited to get a rematch and see how we battle it out tomorrow."
"We have been waiting all year for this rematch," added 6-foot-1 junior post Amy Dickover. "We are super excited to go out there and give it our all and hopefully come out with a win."
The Hilanders (23-6) had trouble penetrating the Bulldogs 2-3 zone defense early, committing nine first-half turnovers, while failing to get good looks at the basket. Haines drilled two early three-pointers from the same spot on the left side, giving Sutherlin a 13-6 lead after one quarter.
"After last night we were pretty embarrassed with our defensive performance, so that was one thing we knew we needed to be a lot better with today," Grotting said. "I was proud of our kids. (Allie) Hueckman is a really good player, so we kind of tried to key things toward her. All of our kids did a really good job, much better than yesterday."
Both teams went scoreless for more than five minutes in the second quarter as defense took over. Sutherlin took a 17-10 lead into the halftime locker room. The Bulldogs held Heuckman to five points in the opening half.
"We really pride ourselves on defense," Dickover said. "No matter how well our offense is going it keeps us in the game."
Sutherlin extended its lead in the third quarter to 34-22 as Dickover scored nine points on inside baskets and free throws. Burns stayed within striking distance behind the shooting of Hueckman, who had 10 points in the quarter.
Burns was unable to make a sustained run and Sutherlin put the game out of reach by making 7 of 9 free throws in the final stanza. Dickover led the Bulldogs with 14 points as all five starters scored at least six points apiece.
"It makes us tough to guard, when we have multiple people who can score," Haines said. "There is not really a team out there that has five defenders that can guard us all."
Haines finished with 12 points. Freshman point guard Micah Wicks added six points, four assists and four rebounds. Junior forward Paige Bailey added seven points, five rebounds and a game-high five steals. Junior guard Jadyn Vermillion added seven points and a game-high five assists.
"I'm so proud of everyone," Haines added. "We were hustling and getting in the way of their offensive play. We came in with a strong mentality today and we got to work and did it."
Hueckman, a 5-10 junior wing, led all scorers with 20 points for Burns. Sophomore forward Kaitlyn Wright added seven points and a game-high nine rebounds for the Hilanders.
Burns lost in the semifinals for the second straight season, but with all five starters returning next season, the Hilanders will be in the hunt to return to Coos Bay.
Friday's other semifinal:
No. 1 Clatskanie 61, No. 5 Brookings-Harbor 38: The top-seeded and reigning champion Tigers (22-2) took control of a close game with a 15-4 run over the first five and a half minutes of the third quarter to earn a shot at defending their title tomorrow night against No. 2 Sutherlin. Clatskanie junior forward Shelby Blodgett exploded for 17 points in the quarter, making three three-pointers. Clatskanie dominated on the boards (40-26), including 24 offensive rebounds, while forcing the Bruins (20-7) into 27 turnovers for the game. Blodgett finished with a game-highs of 24 points and seven steals, adding six rebounds. Junior post Kaity Sizemore finished with eight points, including buzzer-beating baskets at the end of the first and second quarters and a game-high 13 rebounds. Junior guard Olivia Sprague added 15 points, 12 rebounds and four steals. Senior guard Sidney Alexander led the Bruins with 20 points, making 6 of 11 three-pointers. Junior forward Shelby Jirsa added 10 points for Brookings-Harbor.
Photos of state championship events are available online from Northwest Sports Photography at 4nsp.com