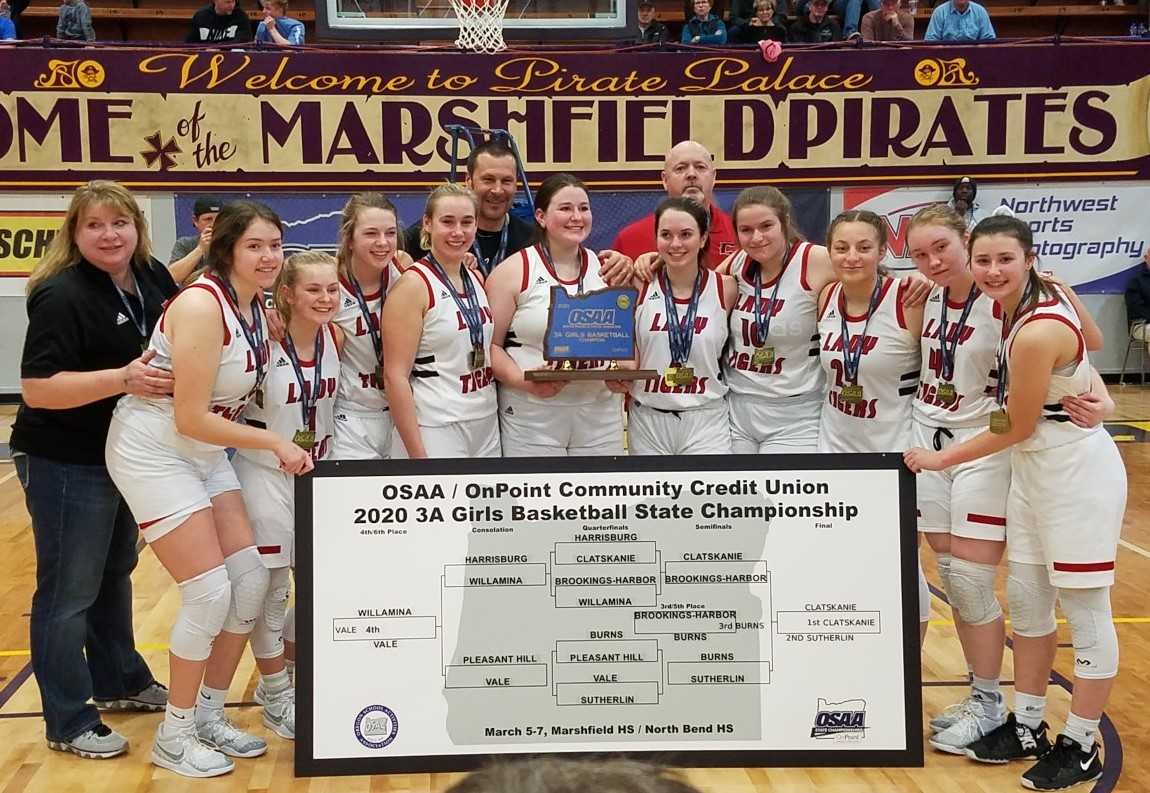 COOS BAY -- Clatskanie finished off stubborn Sutherlin 51-40 to capture its second consecutive title in the OSAA/OnPoint Community Credit Union 3A girls basketball final Saturday at Marshfield High School.
Clatskanie (23-2) came out with its intense full-court pressure defense to jump out to an early 8-2 lead as four different players got baskets. Sutherlin (25-3) settled down and evened it up at the quarter break, 11-11, as freshman point guard Micah Wicks scored six points.
Junior guard Olivia Sprague ignited the Tigers, drilling three three-pointers in just over two minutes of game time in the second quarter, turning a tie game into a 25-13 lead with a 14-2 run.
"That was huge. We just needed a spark," Clatskanie coach John Blodgett said. "That's a really good team, we just couldn't get over the hump and then she hits three in a row to give us a little margin and we just fed off of that."
"Those were great shots," Sutherlin coach Josh Grotting said. "We felt like we had a hand in her face. She didn't really have a chance to catch it and spot up. She is a good shooter. Those are shots that were not going in for her the past two days and then today, when she needed them to, they did. That's a credit to her and her team."
Clatskanie went into halftime with a 31-18 lead, but was in some foul trouble. Two key players had three fouls and junior Shelby Blodgett had two. Foul trouble didn't slow down the Tigers, though.
After Sprague drained another trey to start the third quarter and Blodgett added consecutive baskets on a rebound put-back and a steal and layup, the Tigers lead had ballooned to 17 points. Sutherlin did not fold, closing the deficit to six points with a 17-6 run of their own over the end of the third and most of the fourth quarter.
Bulldogs senior sharpshooter Kiersten Haines had two three-pointers and 10 points during the run. Junior guard Jadyn Vermillion banked a three-pointer at the third quarter buzzer and Sutherlin made 4 of 4 free throws to start the fourth quarter.
"That's our kids. That is why I love coaching them," Grotting said. "I wouldn't want to be with any other group of girls. We just battled the whole time. Not disapointed, not one bit."
"We just don't give up," added Haines. "We are super mentally tough and we remained composed. We wanted to get the job done and unfortunately fell short today."
Blodgett got a steal and layup with a minute remaining to put the Tigers back up by eight points and Clatskanie closed it out by making 3 of 4 free throws in the final 40 seconds.
"It feels great. It's one of those things that we thought we could do, but all year we had a target on our back and some ups and downs, a couple close losses," coach Blodgett said. "We just had to come out every night and give the best we had. I feel like we were the best conditioned team, we worked really hard, ran a lot and controlled the things we can control and the girls played their hearts out and we end up with a state title."
So, how does it feel to win back-to-back state titles?
"I can't even explain, it's amazing," Sprague said. "It's the best feeling. Nothing compares to this."
"It's amazing, one of the best feelings I've ever had," added Shelby Blodgett.
With four junior starters, Clatskanie plans on being back in Coos Bay next season.
"We are going to be back here next year and we are going to be even better than we are this year," Shelby Blodgett said.
"I've been to a lot of state tournaments around the state and this is the best venue that I've been to," coach Blodgett said. "All the stuff they do for us and we take none of it for granted. We put in a lot of work and we are thankful and blessed to be here. We are going to work our butts off to be back here next year."
Clatskanie had big advantages in rebounding (44-28), points in the paint (28-4) and second chance points (20-3).
"We gave up so many second chance points," Grotting said. "It wasn't like we were standing around not doing anything, we were battling. Clatskanie did a great job."
Blodgett finished with 18 points and game-highs of 15 rebounds and seven steals. Sprague finished with 16 points, eight rebounds and a game-high five assists. Junior post Kaity Sizemore added a double-double with 12 points and 10 rebounds.
Haines led the Bulldogs with a game-high 19 points, making 5 of 14 three-pointers. Wicks added eight points, four rebounds and three assists. Junior post Amy Dickover had six points, 14 rebounds and a game-high six blocks. Vermillion added seven points.
Sutherlin returns the majority of its lineup intact next season also, so there is a chance that we could see these same two teams back on the biggest stage again next season.