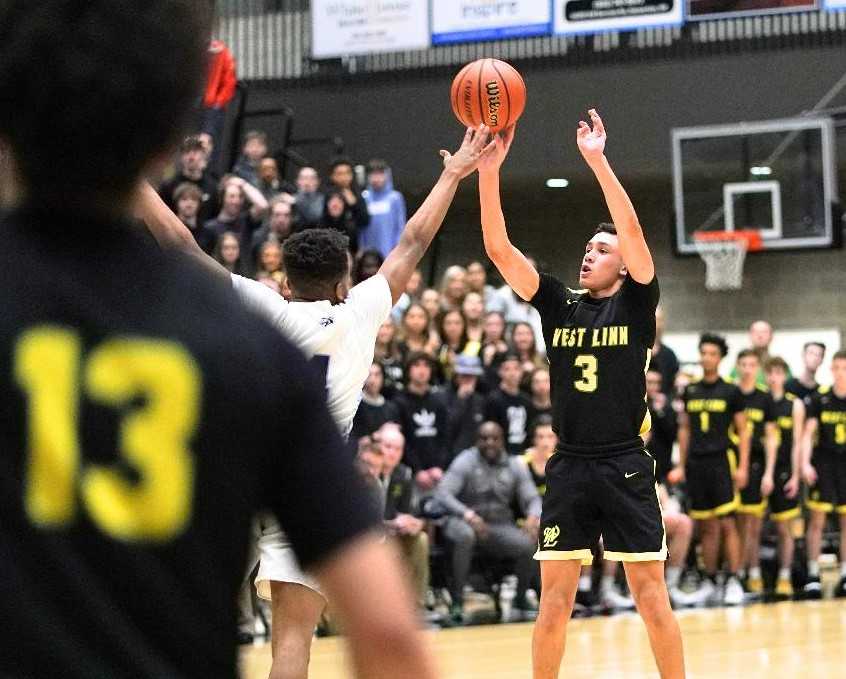 Recaps from Saturday's 6A, 5A and 4A boys basketball playoff round of 16. Winners advance to their respective eight-team state tournaments next week.
We will add details as we receive them. Coaches may email [email protected] with information.
6A
No. 1 Jesuit 61, No. 16 Summit 55: Liam Ruttledge made three three-pointers and scored 30 points, 17 in the fourth quarter, as the reigning state champion Crusaders held off the Storm. James Lang added 10 points for Jesuit, which led 22-21 at half and 41-38 after three quarters. Jacob Tompkins led Summit with 21 points.
No. 9 West Linn 68, No. 8 Mountainside 50: Micah Garrett had 20 points and freshman Jackson Shelstad added 18 points for the Lions in the road win over the Mavericks, who were bidding for their first state tournament appearance. Shelstad hit a long three-pointer at the first-quarter buzzer for a 38-15 lead, and the Lions were in control throughout. Bennett Giebels had 18 points and seven rebounds for Mountainside.
No. 5 Central Catholic 58, No. 12 Tigard 43: Game story
No. 4 Clackamas 69, No. 13 Grant 66: Ben Gregg scored 26 points to lead the Cavaliers, who also got 13 points from Ryan Lewis and 12 points from Jackson Jaha.
No. 3 Jefferson 86, No. 14 Sherwood 69: Nate Rawlins-Kibonge had 20 points, 11 rebounds and three blocks, freshman Marquis Cook had 16 points and 10 rebounds and Keyshawn Hall had 16 points for Jefferson. Blake Jensen and Caden Davis had 17 and 14 points, respectively, for Sherwood.
No. 6 Barlow 54, No. 11 Westview 43: Jesse White scored 23 points and Joey Wolcott added 15 points, making three three-pointers, for the Bruins, who never trailed in extending their winning streak to 15. Westview got 20 points from Wayne Jamison and 10 points from London Smalley.
No. 7 Lake Oswego 75, No. 10 South Eugene 57: Casey Graver made four three-pointers and finished with 28 points, seven rebounds and three steals to lead the Lakers. Grant Brauner had 14 points, Jack Chlumak had 13 points and seven rebounds and Trace Salton added 11 points, 10 rebounds, three steals and two blocks for Lake Oswego. Sam Harris scored 20 points for the Axe, making four three-pointers, and Josh Paul added 13 points.
No. 2 South Salem 68, No. 18 Oregon City 56: Down 41-40 after three quarters, the Saxons went to a full-court trap, which led to transition three-pointers and easy baskets. South Salem pulled ahead and made 15 of 16 free throws in the fourth quarter to seal the win. The Saxons got key contributions from Trey Galbraith (15 points, five assists), Cole Hardy (15 points, seven rebounds), Emorej Lynk (10 points, 10 rebounds, four assists) and Nick Zuro (13 points, nine rebounds). Andre Best scored 24 points for Oregon City.
5A
No. 1 Churchill 85, No. 16 Crescent Valley 36, Friday: Brian Goracke made four three-pointers and scored 20 points, Samaje Morgan had 15 points, eight assists and five steals and Silas Bennion had 12 points and eight steals for Churchill. The Lancers also got 15 points from Isaiah Wallace and 13 points from Dylan Carson.
No. 8 Crook County 81, No. 9 Milwaukie 66: In their first ever home playoff game, the Cowboys – under first-year coach Jason Mumm – earned their first trip to the state tournament by downing the Mustangs. Kevin Sanchez scored 30 points, making 17 free throws, and Caleb Arnold added 19 points for Crook County. Milwaukie made 13 of 34 free-throw attempts.
No. 5 West Albany 52, No. 12 Springfield 49: The Bulldogs made the key plays down the stretch to top the Millers. Koby Ruiz made a three-pointer to put West Albany up 48-47 with 1:16 left, but Springfield's Trey Bryant answered with two free throws to regain a 49-48 lead. TJ Zimmerman converted a three-point play to give the Bulldogs a 51-49 lead, Luke Killinger added a free throw to make it 52-49, and the Millers missed a three-point attempt on their final possession. Killinger (15 points), Ruiz (12 points) and Zimmerman (12 points) led West Albany. Marcel Hill and Clayton Becerra scored 14 and 13 points, respectively, for Springfield.
No. 4 Wilsonville 66, No. 13 Corvallis 38: Dakota Reber scored 17 of his game-high 19 points in the second half to lead the Wildcats, who led 31-23 at half and outscored the Spartans 35-15 in the final two quarters. Reber had a personal 12-0 run with a three-pointer, three consecutive dunks and a three-pointer. Andrew Classen scored 18 points and Keegan Shivers added 12 points, six rebounds, five assists and four steals for Wilsonville. Spencer Vingelen had 11 points for Corvallis.
No. 3 Crater 57, No. 14 La Salle Prep 30: Nate Bittle had 17 points, 12 rebounds and five blocked shots for Crater, which led 12-0 after one quarter and 24-8 at half. Kruger Edwards scored 14 points and Jayden Vranes added 11 points, five assists and three rebounds for the Comets. La Salle got 17 points from Nic Boyd.
No. 6 South Albany 61, No. 11 Parkrose 59: Arbey Mercado made two free throws with 17 seconds left to put South Albany ahead 60-59 and Kaleo Sugioka drew a charging foul with seven seconds left. After Kenyon McGlothan split two free throws with 6.5 seconds remaining, Parkrose's DaMontae Burns attempted a three-pointer from about 30 feet, but it was blocked, giving the RedHawks the win. Ayden Foster had 22 points and McGlothan added 17 points for South Albany. Burns scored 24 points, making five three-pointers, for the Broncos.
No. 7 Willamette 57, No. 10 Pendleton 50: Luke Smith scored 27 points, going 8 for 8 from the free-throw line in the fourth quarter, to propel the Wolverines past the Bucks. Pendleton got 18 points from Dakota Sams and 15 points and 14 rebounds from Tanner Sweek.
No. 2 Silverton 90, No. 15 Redmond 50: The Foxes shot 67 percent (28 of 42), including 13 of 23 from three-point range, to overwhelm the Panthers. David Gonzales had 21 points, six assists and four rebounds and Jordan McCarty had 19 points, six assists and four rebounds for Silverton, which also got 13 points and six rebounds from Grant Dunn and 11 points from Nathan Brown, who made three three-pointers.
4A
No. 1 Marist Catholic 52, No. 16 La Grande 33, Friday: JJ Anderson scored 20 points, making 7 of 8 free throws in the fourth quarter, and Ben Morehouse added 11 points for the Spartans, who pulled away after leading 21-16 at half. Kaleb Myer had 14 points for La Grande.
No. 8 Gladstone 71, No. 9 Seaside 67: After Seaside's Ryan Hague tied the game at 67-67 with a three-pointer, Gladstone's Jeremy DeVoe and Brandon Wanless each made two free throws in the final 22 seconds to give the Gladiators the win. Gladstone opened a 47-36 lead in the third quarter on back-to-back three-pointers by Wanless and Ethan Bulisco, but the Seagulls rallied to lead 64-63 on a jumper by Hague with two minutes left. DeVoe scored 21 points for Gladstone, which also got 18 points from Wanlass and 14 points from Sabastian Peiffer. Hague and Brayden Johnson scored 17 and 14 points, respectively, for Seaside. The Seagulls appeared in the last four state finals, winning in 2017 and 2018.
No. 12 Stayton 52, No. 5 Banks 50: Logan Classen scored with 5.1 seconds left to give Stayton the road victory over the Braves. Jacob Axmaker scored 18 points to lead the Eagles.
No. 4 Henley 64, No. 13 Baker 52: Braden Lawrie had 18 points and seven rebounds, Matthew Neubert scored 18 points and DJ Hall added five points and 13 assists in the Hornets' win. Henley led 54-30 in the fourth quarter before Baker got within 57-47 with 2:02 left. Caden Long scored 25 points for the Bulldogs.
No. 3 North Marion 85, No. 14 Hidden Valley 73: Sergio Jimenez scored 38 points to lead the Huskies to the win. North Marion trailed 33-32 at half but took control with a 24-11 edge in the third quarter. The Mustangs battled back to within two points late, but a steal and three-point play by Tanner Saucedo opened a six-point lead with one minute left.
No. 6 Woodburn 67, No. 11 Marshfield 63 (OT), Friday: Joevanny Marroquin scored 23 points, including five three-pointers, and Jonathan Marroquin added 22 points, four in overtime, as the Bulldogs prevailed. Mason Ainsworth scored 21 points for the Pirates, who rallied from a four-point defict in the last two minutes of regulation to force overtime.
No. 7 Klamath Union 69, No. 10 Cascade 68: The Pelicans earned their first state-tournament berth since 1984 when a long jumper by Cascade's Elijah Nolan in the final seconds was ruled a two-pointer. The Cougars led 57-42 late in the third quarter before Klamath Union went on a 17-2 run to tie 59-59 on a layup by Jacob Cook. In the final minute, Xavier Arvizu scored on a drive and Garrett Short split two free throws to put the Pelicans up 69-66, setting up Cascade's final possession.
No. 2 Philomath 48, No. 15 Phoenix 45: Down 45-42 late, the Warriors averted an upset by outscoring Phoenix 6-0 in the last 3:27. Michael Lundy made a layup, Ty May scored inside and Dylan Edwards added a basket with 43 seconds left to put Philomath ahead 48-45. Phoenix's Ethan Hutsell misfired on a late three-point attempt. May scored 16 points and Lundy added 11 points for the Warriors. Hutsell led his team with 11 points.